Giant mango tree
Resembling a spreading banyan, the tree still bears fruits in Gopalganj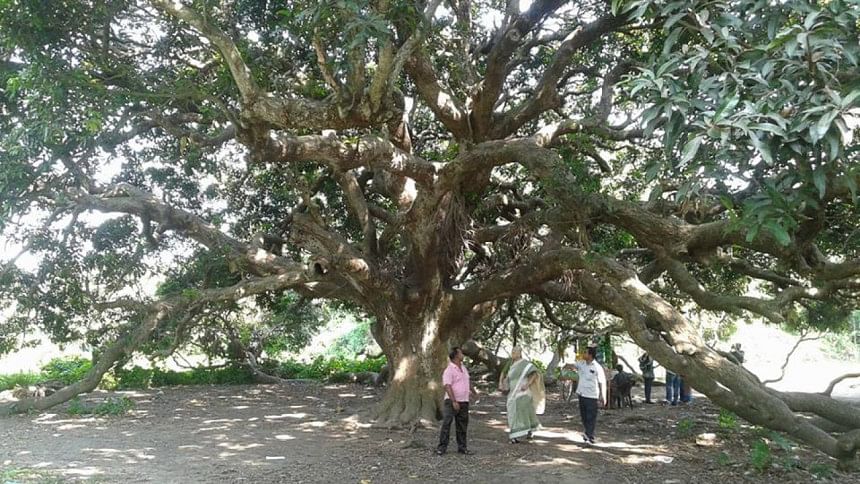 Standing under the awfully giant mango tree, a newcomer might mistake it for a banyan tree at first glance.
While the people of Hironokandi village in Kashiani upazila of Gopalganj proudly call it their heritage, even the elderly villagers cannot say much about the mango tree, except that their fathers and grandfathers had seen it in a similar condition.
One would get to the extraordinary tree after walking 300 metres on a road towards east from Hironokandi Bus Stand on Dhaka-Khulna Highway, following direction of a signboard.
Although it is locally called a century-old mango tree, several villagers think the tree would be about 200 years' old. Its nine large branches touch the earth like that of a banyan tree around its trunk.
"This mango tree was planted by one of our forefathers. But I do not know who actually the man was. My father and my grandfather also saw this tree in the same condition," said Badsha Sheikh, owner of the mango tree.
"Around 150-200 people come to see this mango tree daily. Sometimes people come here for picnic. On special occasions like Pahela Baishakh and two Eid festivals, thousands of people gather near this mango tree.
"This old tree still bears delicious fruits. Every year I collect about 500-700 maunds (one maund = 40 kg) of mango from it," he said.
Housewife Kulsum Begum said she has seen the mango tree in the same condition since she came to Hironokandi 52 years ago.
"I feel very happy to see that many people come to see this mango tree every day," said Md Sohan Khan, a student of Majra Alhaj AG High School.
Kartik Das, a resident of Faridpur town, who came to see the tree, said, "I did not see any mango tree like it before. I am really happy to see it."
Villagers have demanded that the government take steps to preserve the tree to help it survive for many more years.
Moheshpur Union Parishad Chairman Kazi Abul Kalam Azad said, "This tree is a heritage of our locality. Every day hundreds of people come to see it. I want that the government authorities preserve the tree and make a tourist spot here."
Jahangir Alam, range officer of Gopalganj Forest Department, said he will talk with the higher authorities for preservation and maintenance of the tree.