'Machete wielders' in Sholakia attack
The machete link, which has been seen in the covert killings of secular activists, foreign nationals and members of religious minority, has been found again in the attack on Sholakia Eidgah where four people including two policemen have been killed during Eid.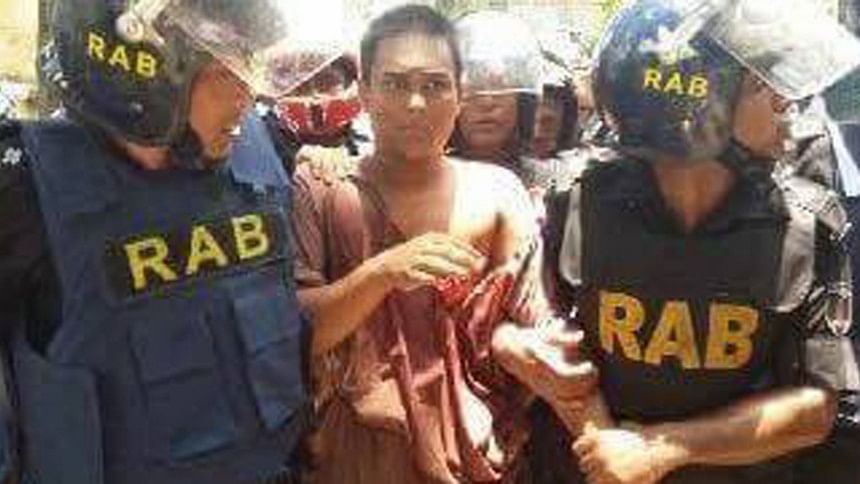 A machete was found with the four suspected assailants, who attacked Sholakia Eidgah today, leaving four people dead, and were caught from the spot.
- 3 'attackers' held at Eidgah
- 1 pistol, 1 machete found with them
- Special pocket in dead attacker's trouser can hide machete
- Machete was first used in killing blogger Rajib Haider
"A machete and a modern pistol were found in their possession," Abu Sayem, additional superintendent of Kishoreganj police, told The Daily Star.
They were held from the spot and were being interrogated in police custody. However, police denied to reveal their identities or origin.
The suspected assailant, who was killed in action, said to have had a specialised pocket in his trousers that could sheath a machete, Bangla daily Prothom Alo reports.
The machete link was found in the covert killings of secular activists, writers, foreign nationals and members of religious minority throughout - believed to be militant work.
The machete first appeared in the murder of a blogger - Rajib Haider - back in 2013 and continued to strike writers, other activists. Islamic State and al-Qaeda in the Indian Subcontinent claimed responsibility of the murders.
The use of sharp weapons - swords - were found in the latest incident of Dhaka restaurant attack - which also was claimed by the Islamic State.
However, today's attack at Sholakia is yet to be claimed by any terrorist or militant group.