Substandard foods: HC wants explanation from BSTI, BFSA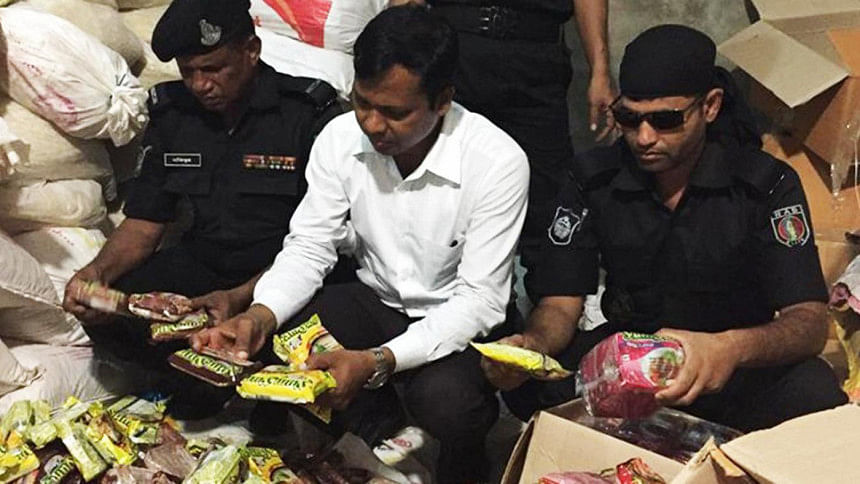 The High Court today wanted to hear statements from Bangladesh Standards and Testing Institution (BSTI) and Bangladesh Food Safety Authority (BFSA) about 52 food products that were found substandard.
The court asked two high officials, who are not on below the rank of deputy director, each from BSTI and BFSA, to appear before it on Sunday to place their explanations about the substandard food products.
The HC also asked Deputy Attorney General Mokhlesur Rahman to communicate with the two officials of BSTI and BFSA to make sure of their presence before the court on that day.
The bench of Justice Sheikh Hassan Arif and Justice Razik-Al-Jalil passed the order during hearing a writ petition filed seeking its directive on the government to seize or withdraw 52 substandard food products from markets all over the country.
The bench also said it will pass the order on the petition after hearing statements from BSTI and BFSA officials on this issue on Sunday.
Barrister Shihab Uddin Khan argued for the writ petitioner.       
Earlier in the day, Conscious Consumers Society, a rights organisation, filed the writ petition with the HC.
The rights organisation, in the petition, also requested the HC to pass an order upon the authorities concerned to stop production of the substandard food products until those are not made perfect and standard.
The organisation filed the petition as it did not get any reply to its legal notice served on May 6 for seizing or withdrawing the substandard food products from the markets all over the country.
The items include mustard oil, drinking water, vermicelli, turmeric, chili and curry powder, salt, ghee, flour, noodles, and biscuits.
The rights group on May 6 served a legal notice to authorities concerned asking them to seize or withdraw the substandard food products from markets within 24 hours.
Barrister Shihab Uddin Khan sent the legal notice on behalf of CCS saying that BSTI has reportedly found 18 substandard food items and directed 47 food manufacturers to give the reason for the violation of the relevant standard.
He also requested to take legal action against companies producing the substandard items within 24 hours.