Star photojournalist Amran Hossain receives Bangladesh Press Photo Award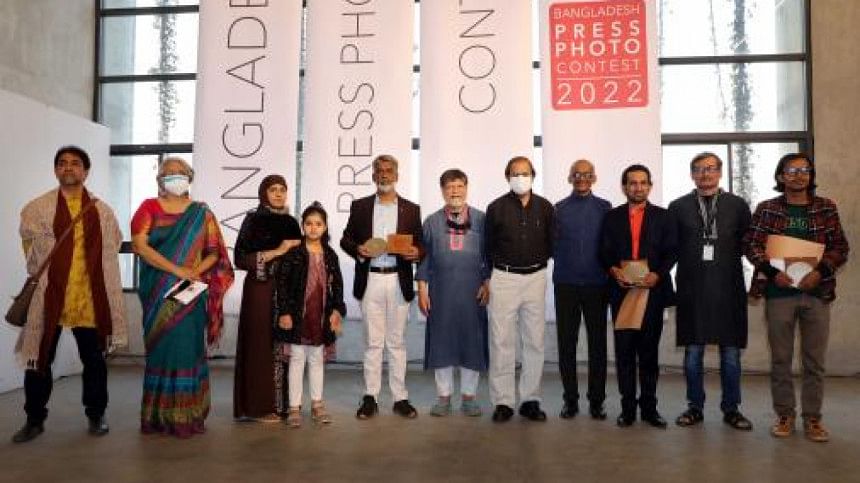 Amran Hossain, The Daily Star's senior staff photographer, has received Bangladesh Press Photo Award -- in the Picture of the Year 2021 category -- today.
Drik Picture Library, which arranged the contest, handed the award to Amran and three other photographers at a programme today.  
Amran's photo was of a seven-year-old girl who at a programme in August last year struggled to hold back tears as she demanded safe return of her father, who disappeared in 2013.
Sourav Lasker of New Age received the award in arts, culture and sports category, Jibon Ahmed of daily Manabzamin won in the public interest journalism category while Md Zakirul Mazed of Weekly Citizen received award in the politics category.
Amran received prize money of Tk 1 lakh, a crest, a certificate and a copy of the yearbook, while the other winners got prize money of Tk 50,000 each, with crests, certificates and copies of the yearbook.
Drik Managing Director Shahidul Alam, two jury members -- photographer Abir Abdullah, Chief photographer of Dhaka Tribune Syed Zakir Hossain, Prof Syed Manzoorul Islam, Prof Gitiara Nasreen, among others, spoke in the programme.
A total of 291 contestants had participated in the contest with 1,403 photos submitted in different categories.
An exhibition with 34 selected photos started at Drik Gallery today which will remain open for all from 3pm to 8pm till March 2.