Home and its place in Bangla literature
When we study the effects of urbanisation on formerly relevant concepts of home, newer images pop up and we find them coexisting with the previously established one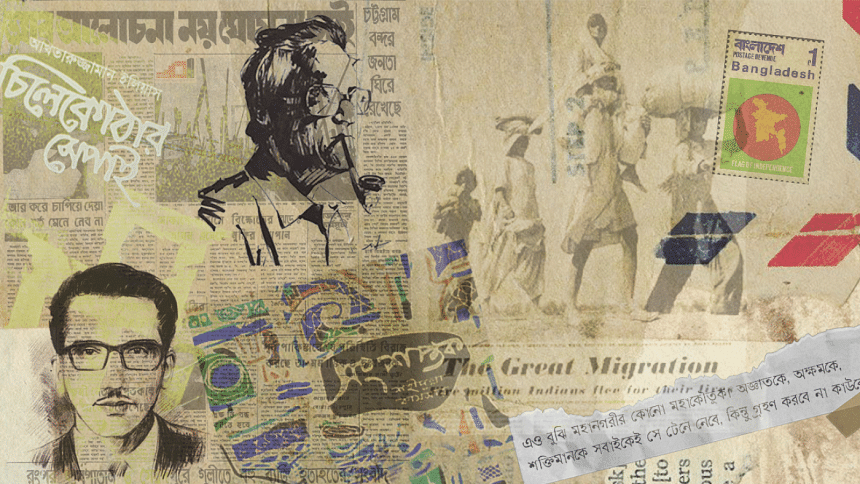 We associate the word 'home' with feelings of safety, comfort and familiarity. While this welcoming and positive connotation may be the most popular idea we see in literature, in reality, it's a rather multifaceted concept that calls for numerous interpretations. 
In Bangladeshi literature, the mention of home (as a concept) typically involves characters attached to ancestral homes that have been preserved in the same family for several generations. Their stories revolve around reminiscence of golden days that the homes and the inhabitants have seen.                                                                                                                                                                                                                                                                                                                                                                                                                                                        One of the first authors who tried to break free from the idea of home being confined within a certain place is Shahidullah Kaiser. His renowned novel Shangshaptak (1965) is one of those few works in Bangladeshi literature that showed images of Bengal before the Partition and the effects that mass migration had left on its people after it. 
The story takes place at Bakulia and Taltoli first, then shifting to Kolkata, and lastly, to Dhaka. In the first half of the novel, we see a rather tranquil image of the protagonist Malu's home. The idea that what makes a home is not the place, rather its people, is a popular idea in western literature. In the South Asian novel, Shangshaptak, a similar concept emerges through Malu's description of his surroundings as well. 
In the second half of the book, when the Partition starts, only then does this concept gain more of a shape as Malu is suddenly uprooted from his home. After this, whenever he is in the presence of people from his childhood, he is overcome by a sense of familiarity and nostalgia even though he is disjointed from his childhood home. After moving around quite a bit, he finally settles in Dhaka and gets married to his beloved, Rihana. But after she leaves Malu, shattering the welcoming aura of her presence, the protagonist's home again turns into a mere house. The author writes, "Malu was surprised. When has this love created a home in him?" This is where Shahidullah Kaiser again illustrates a clear image of the relationship between home and humans.
When we study the effects of urbanisation on formerly relevant concepts of home, newer images pop up and we find them coexisting with the previously established one. Like in Akhteruzzaman Elias's novels and short stories, we find many of the characters residing in Dhaka for livelihood and turning this city into their home. Through the stories of their everyday lives, readers are introduced to previously unexplored sides of Dhaka and the rapid changes that have been taking place since the war.
Akhteruzzaman Elias shows that these changes are often controlled by the activities of people and it's more prominent in the underbellies of any city as these areas gain notoriety solely due to their residents' criminal activities. In one of his short stories 'Ferari', we get to read about Hanif accompanying a local goon, Dumlalu, to a mugging but the expedition fails after a microbus interrupts. Later, Dumlalu explains to Hanif the nature of the activities going on inside the vehicle. Sharp-edged dialogues describe rapes and regular abductions carried out by a malicious section of neo-middleclass students. The story ends with Hanif desperately trying to leave behind a home—the place/society—that is a reflection of the dark nature of the people he lives among. 
We can explore the uncomfortable characteristics of home in another short story of his, 'Raincoat.' Set in 1971, it starts with a shift in the protagonist's hometown when military forces occupy and terrorise its residents. When he gets called to his work after a grenade explosion that happened nearby, he reluctantly sets out not wanting to face what awaits him in the city he has called home all his life. The atrocities taking place in his home shatters in the readers' minds, the illusion of a home always being the source of safety and comfort.
In classic Bangla literature, 'home' often plays a simple role and stories have played out against different settings of it. But rapid urbanisation changed the direction of the storylines due to its complicacies. This shift breeds a concern as an afterthought—at this rate, how long till the simple rural image of home completely fades away from the world of Bangla literature? Contemporary works have been concentrating more on portraying the altered worlds that show the contrast between lives before and after this change when, in fact, it has become even more essential to re-embrace the relieving aspect of it in this age of rising crises. The hope to never lose the simplicity of this concept in the crowd of the more urban and complex ones is what the readers are still nourishing.
Mehjabin Biva is an architecture student who thinks someday she will use all the materials she hoarded. Send her Marie Kondo videos at mehjabinbiva@gmail.com.