How I became Tamijer Baap in 'Khowabnama'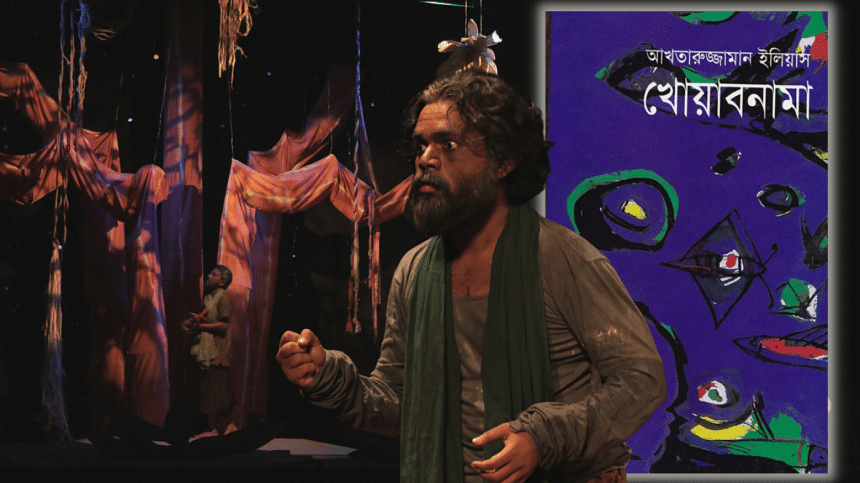 He doesn't have a name of his own in the story. Instead, he's given an identity founded upon his son's—Tamijer Baap. Yet he is one of the main characters of Akhtaruzzaman Elias's novel, Khowabnama (Mowla Brothers, 1996).
Tamijer Baap lives in the 1940s, a tumultuous time amidst the Tebhaga Movement, and the Partition on the horizon. But he dwells in a different world. He lives two lives—a regular life of a Bengali peasant, and another of fantasies and magical realities. Every night he leaves the house in his sleep and wanders around Kaltahar, the village lake, to find Munshi. He sees Munshi standing on a huge tree, shackled, fire burning his body. Munshi died in Fakir Bidroho, an uprising against the British. Through the passing of a hundred years he has become a myth. Every night, Tamijer Baap sees Munshi. But no one else does.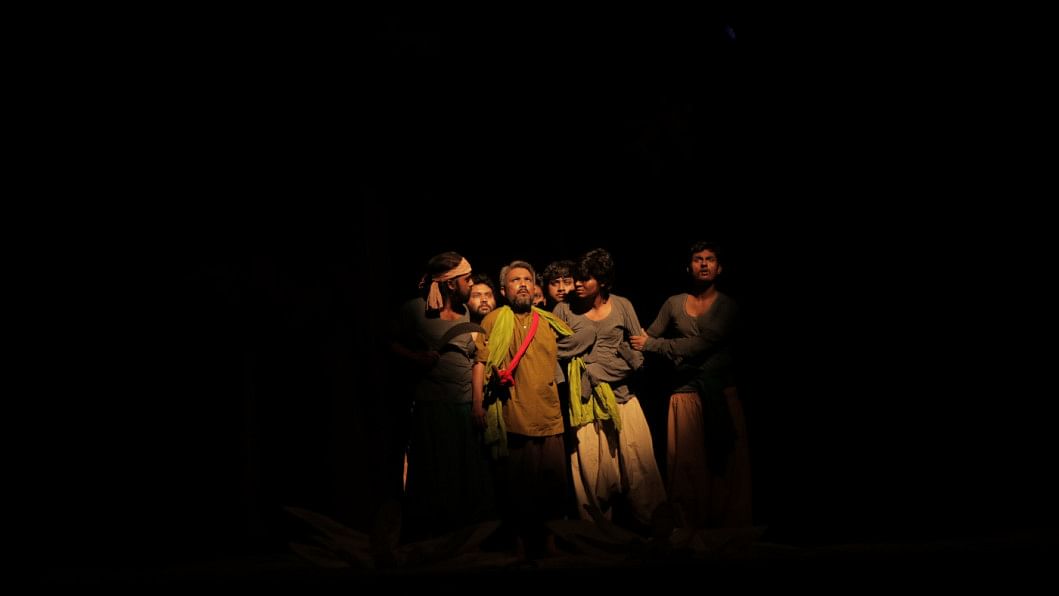 It was a dream for me, an actor, to portray Tamijer Baap. But I was scared. There was talk for quite some time that the rehearsals of the stage adaptation of Khowabnama would start in Prachyanat; it was back in October 2019. Kazi Toufikul Islam Emon, the director of the play, called an audition. I was a new member then, a mere six-month-old addition. I had auditioned for several roles but funnily enough, never for the role of Tamijer Baap. I never imagined myself being selected. When the rehearsals began, however, Emon Bhai asked me to read out the character's lines. When the rehearsals of blocking (working with performers to figure out the actor's movements, body positions, and body language in a scene) started, I was still the one rehearsing this role. That's when actual fear crept in—could I portray such an important character? Could I live with Tamijer Baap?
Though the main rehearsal lasted two months, Prachyanat has been working for the last several years to bring 'Khowabnama' to the stage. Md Shawkat Hossain Sajib wrote several drafts turning the novel into a script, along with the choreography and practice of Snata Shahrin. Rahul Anand was composing the music, alongside Neel Kamrul and Chetona Rahman Bhasha. There were lights, costumes, props, and plans. The rehearsal floor of the Prachyanat felt like a festival, and Emon Bhai was taking it forward according to his plan.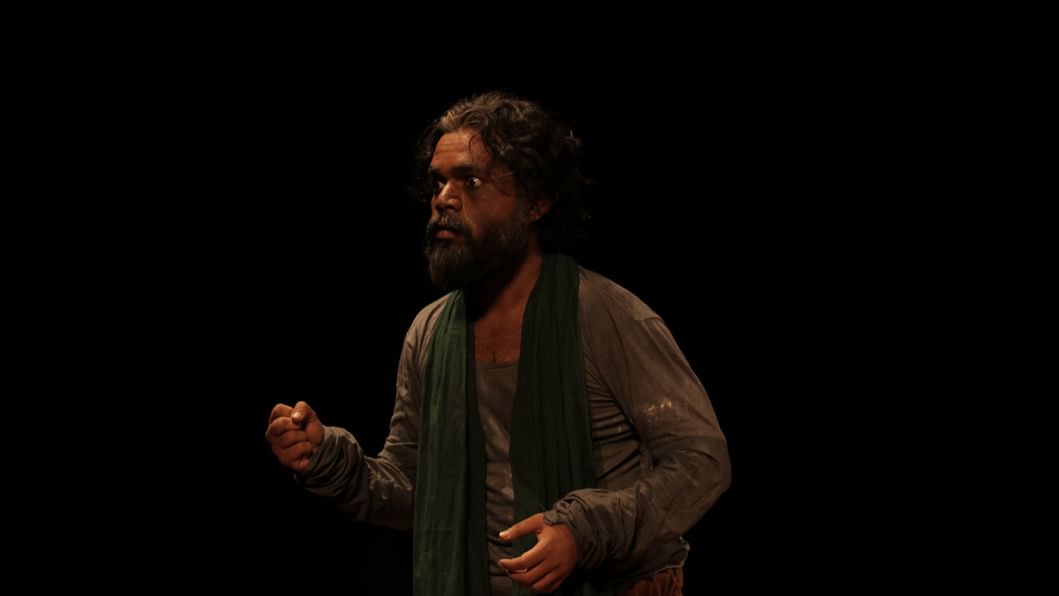 As for Tamijer Baap—I realised I had to see him first in order to portray him. I found myself looking for him beyond the pages of Elias's novel, among the old men who beg on the streets of Dhaka, or in the madman lying on the footpath, trying to say something  in a huff or lost in a hallucination on the open road. I observed them.
My childhood memories of the village also aided me in so many ways. In my village of Naikanibani, too, there are lakes like Katlahar; there are rivers with fish, and people who go fishing. They helped me envision Tamijer Baap. I could finally locate fragments of him in my mind. I brought Tamijer Baap to my home. He sat with me in my room, sometimes got up and walked, and I observed him. I tried to hear how he spoke.
At first he did not talk. And then, one day when he got angry, I saw that his way of speaking was very much like my grandfather's. Even more strangely, I noticed that he spoke like my father when he was sick or helpless! In my imagination, Tamijer Baap had a full beard and long hair. I started growing out my hair to match that picture—which, in the present time, now falls below my shoulder.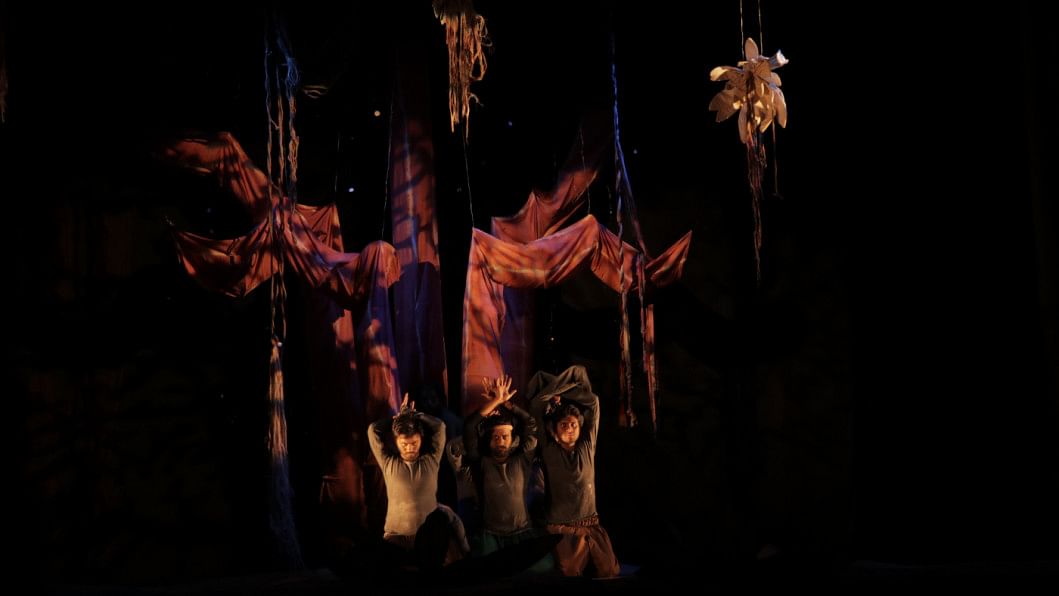 Our continuous rehearsals ended and the first show was held on December 3, 2019. The atmosphere felt electric with excitement. We, the performers, hugged each other before the show, sharing words of encouragement. From the side of the curtain, I heard the audience; one of my co-artists said, "It's housefull today!" We entered the stage, my sight blurred by the flashing lights. The performance started, and in the meantime, I delivered the first dialogue of the play, "Shopner aralei ki Munshi roya jabe chirotakal?"
I still try to see Tamijer Baap. In the last three years, there have been ten more shows of the play 'Khowabnama', but there is still a lot left to see of him. My journey with Tamijer Baap persists.
Prachyanat's 'Khowabnama' will be performed today, September 15, at Bangladesh Shilpakala Academy at 7:00 pm.
Saim Bin Mujib is an actor, traveler, trekker, and a journalist at The Daily Star.