Jalal-Ud-Din Ahmad: A headmaster's memoir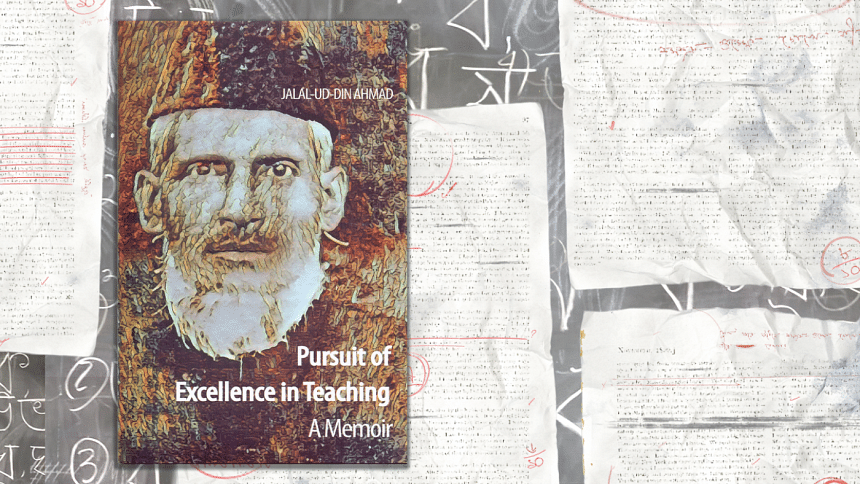 Pursuit of Excellence in Teaching: A Memoir (University Press Limited, 2021) chronicles the life and legacy of Jalal-Ud-Din Ahmad, a gifted educator who grew up to be the first graduate in his village in Feni, East Pakistan, and whose humble beginnings culminated in his winning the Presidential Award for "Best Headmaster in Pakistan" in 1967.
The contents of the memoir are recounted by Ahmad himself, but they were recorded by his son, Dr Fakhruddin Ahmed during conversations taped in 1987. The project came to a halt, however, following Jalal-Ud-Din Ahmad's passing in December of 1992. Dr Fakhruddin Ahmed, a Rhodes Scholar and columnist, would not return to the project for over two decades before 2014, when efforts for the prospective book began again, and would continue for seven more years of editorial work. The headmaster's oral accounts constitute 99 percent of the finished book, the remaining one percent comprising updates between 1987 and 1992, as related by the editor.
Jalal-Ud-Din Ahmad's journey, as simple and humble as it was, was also one of turbulence. The beginnings of the memoir attest to this: "The theme of my life can be summed up thus: all my life, I had to struggle mightily to keep abreast of poverty; I made enormous sacrifices in pursuit of a decent education; in my professional life, powerful people pressured me relentlessly to break school rules and bend to their will; I played by the book, kept my focus on being an excellent teacher for my students, and sought Allah's guidance to successfully thwart them". This opening statement not only prepares us for the inspiring narrative about to unfold, but it also allows us a glance into the struggles of the man, and how they shaped his philosophy towards life.
Ahmad had been a citizen of three countries, starting from the British colonial era to present-day Bangladesh. He captures the essence and sociopolitical events of the times he witnessed in his memoir, from the mechanisms of the local schooling system to the culture of jagirs, and his transition through Daganbhuiyan Middle English School, Mongolkandi High School, Noakhali's Arun High School, and his matriculation and entrance into the University of Dhaka as a student of Mathematics Honours.
Another case in point would be Ahmad's descriptions of the Feni town of the 1920s, and the famine of 1943 during the Second World War, an event of such profound human suffering that it prompted Ahmad to take charge of the Union Food Committee and give aid where he could. Later, while serving as founding headmaster of the Kemal Ataturk High School, Ahmad was pressured to join politics by the school secretary, an offer which he refused, recalling his reasons as plainly as possible: "Any political preference on my part would have interfered with the integrity of my academic work and diminished my authority as impartial administrator", he wrote. "Life is too short for two careers." Despite his ethical ideologies, the school secretary would later try to frame him with false accusations.
Ahmad tried to be sensitive towards financially-constrained students, from whom he kept two separate accounts of fees so they could sit for their exams and pay them back later at their convenience. When this policy was abandoned by the order of the administration, Ahmad would often loan the students out of his own pocket. "We were trying to educate a very poor population, and my policy was to get every student to pay their tuition without disrupting their studies", he writes in one chapter.
His passion as an educator later took him to war-ravaged Feni Model High School, where he successfully brought about significant changes and reconstruction, introducing sports and extra-curricular activities and shifting attention towards every student. This was a core part of his teaching philosophy, which helped elevate the Feni Model High School to the ranks of University of Chicago's Pilot School, a change that benefitted both students and teachers. Headmaster Ahmad's is a journey that can inspire and guide our present day educators and policymakers.
For me, the most intriguing part of this memoir was Jalal-Ud-Din Ahmad's children sharing the memories of their father. Well-established individuals with distinctive personalities and careers in their own right, his children are nonetheless influenced by the legacy of their father. In prose that is heartfelt albeit occasionally repetitive, in his preamble to the text and his editing of the book, Dr Fakhruddin Ahmed celebrates his father's achievements but also takes time to be critical of some of his actions, namely his strictness and the way he punished his children. This allows the reader to look at Jalal-Ud-Din-Ahmad through a more humane and nuanced lens. Dr Fakhruddin Ahmed's efforts to preserve his father's memories and his legacy are visible within every aspect of the production of this book. It is heartwarming.
Nahaly Nafisa Khan is sub editor of  Toggle, The Daily Star.