A new digital font brings back the letterpress typeface of old Bangla books
The font can be installed on and used with Kindle without breaking juktakkhor apart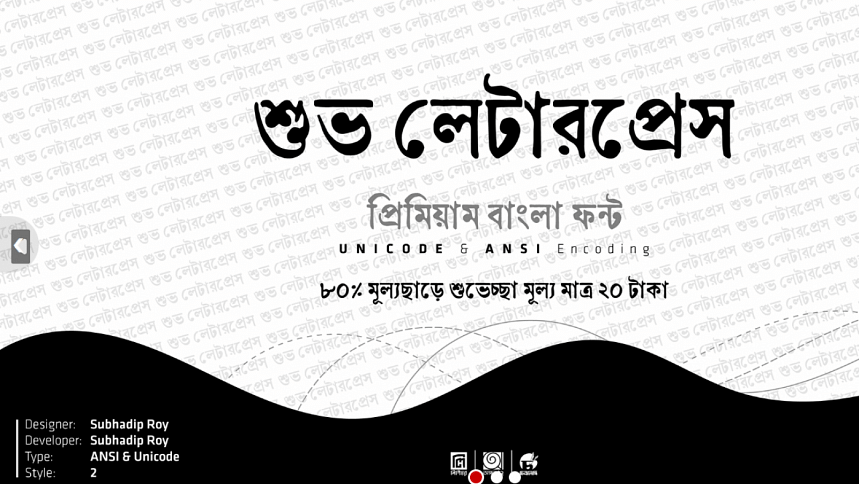 A new Bangla font has been released recently, imitating the once used letterpress typefaces which appeared in old Bangla books. Named SubhaLetterpress, the font was created by designer and developer Subhadip Roy. It is currently available online at Lipighor, which, according to their website, is the largest Bangla font foundry with 221 Bangla fonts—some fonts are available for free while others need to be purchased. 
It isn't too difficult these days to find letterpress and typewriter fonts in English that mimic nostalgic, vintage typography; there is, in fact, a wide array of fonts that one can choose from if that is the aesthetic they are seeking. This has not been the case with Bangla fonts, as most devices come pre-installed with standard or Adorsho Lipi fonts, and have far more limited options for customisation.
As one Facebook user, Amor Asad, pointed out in their post, printing presses of the past had separate blocks for each letter and character. The blocks were arranged, inked, and pressed onto the paper for printing. This gave the typeface its distinct, separated appearance, which SubhaLetterpress replicates for electronic devices. He further adds, the font can be installed on and used with Kindle without breaking juktakkhor apart, which is not always possible with Bangla fonts. It can also be used to read ebooks on phones with Moon+ Reader.
SubhaLetterpress is available on lipighor.com at a whopping 80 percent discount, being sold for a small fee of BDT 20. However, some users have reported error messages appearing on the website following payment, possibly due to the website servers being overwhelmed due to the increased traffic. 
This can be resolved by sending a message to Lipighor's Facebook page or chat box with proof of payment, after which the font will be sent to the purchaser via email.
Amreetha Lethe Chowdhury is an intern at Star Books and Literature and the Editor-in-Chief at The Dhaka Apologue. Find her @lethean.