Sister Library discusses menstrual and reproductive rights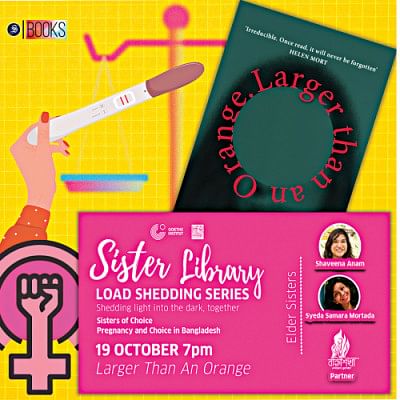 The recent encroachment on female reproductive rights in the US has ripple effects across the world, particularly in countries that rely on donor funding. We will be seeing how the dismissal of Roe v. Wade will impact projects and lives in Bangladesh for a long time to come.
We chose this topic for the October 19 online reading of Sister Library because we felt that we were in a safe enough position to.
We have spoken to several group owners who have experienced mysterious moderation from Meta/ Facebook of posts related to abortion. One such group is a women's only support group where members can ask anonymous questions. The 'disappearance' of information on safe abortions, after care, health issues related to abortion, is strange, unaccounted for, and dangerous.
According to a study funded by WHO, almost 90 percent of abortions in countries with liberal abortion laws are considered safe, compared with just 25 percent of abortions in countries where abortion is banned, or permited under certain circumstances. This does not take into account the suicide deaths that are caused by fear or lack of after-care.
For women looking for answers in Bangladesh, the choice is meagre. Abortion is not legal, but menstrual regulation is. You will face questions about your marital status. You might be turned away if the status is not right. You might be turned away without your husband. If you make it past the screening and get the procedure, don't wait for aftercare. Don't expect support. Go home. Don't tell anyone.
Lucy Burns, the author of Larger Than An Orange (Penguin, 2021), captures the physical, mental and spiritual impact of an abortion on her, which lasted over two years. Her painful diary is speckled with compulsive-obsessive behaviour and self-destruction. It is a very hard read, and Sister Library will only be reading parts to illustrate how difficult this experience is, even in countries where there are robust medical systems, free mental health care and acceptance of female sexuality.
The reading, led by Shaveena Anam and Syeda Samara Mortada, is an effort to support female autonomy and safety.
Syeda Samara Mortada is a feminist activist, and a SRHR expert currently working as the partner-Coordinator of Bonhishkha, a feminist organisation in Bangladesh that works towards achieving equality of genders. Shaveena Anam is a feminist, facilitator and trainer, currently working with Acumen Academy Bangladesh. We hope to create a resource bank in Bangla of links, articles and references to support women as they face the decision, make the choice and recover from it.
Katerina Don is the curator of HerStory Foundation.