The fires of Partition in East Bengal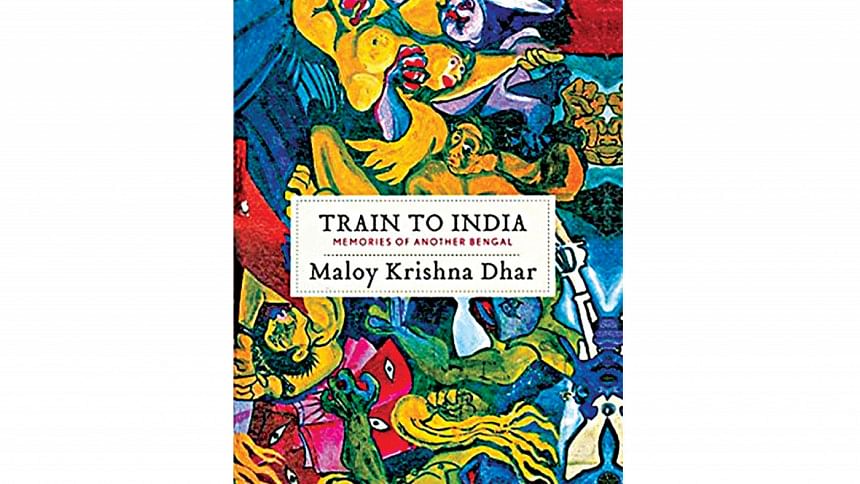 Three years before Maloy Krishna Dhar's death, his memoir, Train to India: Memories of Another Bengal (Penguin India, 2009), came out. Born in a sleepy village of Kamalpur in the Bhairab-Mymensingh region next to Meghna and Brahmaputra, Dhar had an illustrious career as a teacher, journalist, intelligence officer, and writer.
The memoir was inspired by his first visit to an independent Bangladesh in 1997, 47 years after he left East Bengal with his family for Agartala. Nazar Kaka, his "father's artistic companion", ignited the desire in him to weave the memories of his childhood against the backdrop of a seething landscape. Since he was less than ten of age during the years—which constituted some key events and developments—leading to the Partition, Dhar resorted to his father's notebook and the memories of Commodore Abdur Rauf (Retd) of the Bangladesh Navy, a former freedom fighter hailing from Bhairab, to stitch an accurate narrative.
One of Dhar's earliest encounters with the implications of religious divides came on August 14, 1947, when his country was "packaged in a wrapper of fundamentalism, sealed and waxed with rotten human flesh and blood," and East Pakistan was created. One of his neighbours, a Christian woman named Manorama, was being sexually assaulted by "Razakars". Dhar, ten years old then, rushed to her aid and was thrashed to unconsciousness by the attackers. In early November that year, a group of "frenzied Bihari Muslim mob" attacked a fishermen's colony, abducting two young girls. These incidents left Dhar dazed by how quickly people could change due to religious solidarity.
A village that had seen no manifestation of hatred along religious lines was now suddenly simmering with it. Encroaching Bihari settlers claimed that "dark-skinned Bengal Muslims" were "half-Hindus" and inferior. Sexual assault, robbery, property-grabbing, and other varying degrees of conflicts continued among the natives and settlers. An invidious affront to language and culture was widely felt by the imposition of an alien tongue. "How could a Mymensighia Bengali dialect speaker imagine forgetting his uniquely flavoured language? Could anyone compose Mymensighia Geetika and Bhatiali songs in Urdu or English?" Festivals everyone partook in unanimously were now suddenly policed by religion. Hate politics seeped into traditional myths. At the Bhairab railway station, outrageous, graphic pamphlets stoking the fire of communal violence were being disseminated.
The infamous Direct Action Day in 1946 that had resulted in widespread violence in Calcutta and Noakhali is portrayed in a grim light in Train to India. Dhar recalls how he witnessed The Chittagong Mail arrive at the Bhairab station with bloodied and mutilated corpses. On their departure to India from the same station, he fended off marauding attackers with his pocketknife in a bid to save his mother.
This memoir is not meant to chronicle the "great human exodus" from East Bengal, but to illuminate Dhar's personal accounts and all that he learned from his parents and their contemporaries in the face of mounting uncertainties. In doing so, he paints a vivid picture of a Bengal convulsing in the throes of communal hatred. The graphic, violent scenes evoke the spirit of Saadat Hasan Manto's writing, except here, they are first-hand accounts, as seen by the eyes of a young child.
Train to India deftly contextualises the cultural, linguistic, traditional, and emotional ties of the people in Bengal. The ushering of a hostile season, the carnages of liberation from the British, and the politics of division pulsate in the memoir in a "non-academic" and up-close-and-personal form. Remarkably, the book is entirely East Bengal-centric, unlike popular Partition literature centred in present-day India and Pakistan. Bangladeshis interested in learning about Partition should give this hauntingly beautiful memoir a chance, instead of looking towards predominantly Indian and Pakistani literature first.
Shah Tazrian Ashrafi is a contributor to Daily Star Books.