The story behind "Everyday Stories"
A fictional retelling of six women's experiences from Korail
HerStory's most recent publication, Everyday Stories (April 2022), is a fictionalised account of the experiences of six young women from Dhaka's Korail, the largest informal settlement in the country. With the stories of these six women, who are members of the Shaheed Rumi Memorial Library, the book brings out the rampant patriarchy and subsequent gender-based violence that our women find themselves faced with every day. Daily Star Books talked to Sadia Sharmin, the author and illustrator of the book, to understand more about her experiences, inspirations, and the story behind Everyday Stories.  
DS: How did you come across the women you wrote about and the library on which the book is based?
Sadia: Back in 2016, I was working with Habitat Firm, Berlin—a research-based, academic platform, pursuing a cross-culture fellowship where an interdisciplinary team of artists, photographers, and architects worked together to understand the many facets of the settlement. 
After completing the fellowship, I met a network of community-based organisations, where I was introduced to a group of people. 
When interviewing a mother one day, her 10-year-old daughter started talking about a science fiction book by Zafar Iqbal. Immediately, I was astonished at the eloquence with which she was describing the book at such a young age. I felt that it might've been due to a long formed habit of reading and discussing books. 
When I asked, she told me they have a library where reading and stimulating discussions go hand in hand. It was 2018, and that's how I came across Shaheed Rumi Memorial Library.
DS: How did the idea of Everyday Stories occur to you?
Sadia: We started art sessions with the kids in the library. I planned to conduct a participatory community mapping with them as they know a lot about the settlement, things that we usually don't notice as outsiders. We used to do the mapping on different aspects, one of them being marking the places unsafe for women.
The mapping became a medium of storytelling for the girls. I used to spend a lot of time with them apart from the sessions. A lot of such stories were shared, of which I kept notes and recordings. 
In 2020, when the pandemic hit, our in-person sessions came to a halt. CREA, BLAST and Brac made a call for a project on Gender-based violence, and that's when I thought about sharing the stories in some format, be that illustrations or writings. 
I submitted my proposal responding to the call and even got a small grant. I spent three months on the entire production with the grant, when I transcribed the interviews, turned them into stories and made the illustrations.
DS: Why did you choose these particular six individuals to be featured in the book? 
Sadia: The regular participants of our discussions in the library were aged between 8 to 22 years. All the characters in the book are based on real people. Among them, four are teenagers and only two adults. They came to be the central characters of the book because they were more interested in sharing their stories in detail during our sessions and interviews. 
All these girls had difficulties, each unique in their circumstances—one couldn't play football for public shaming, one was a victim of child marriage, and another was a victim of sexual assault. Then there was one who was shamed for her different style of clothing. 
Each of them represented a unique crisis that women in our country are most frequently faced with, and when I had their stories assembled, I knew this was what I was looking for. 
DS: How was the experience of creating the book and connecting with these individuals on a personal level?
Sadia: I wanted this book to be a combination of fiction and reality. The stories came out of Korail but are about matters that all women can relate to. Despite the privileges I grew up with, I, too, had to face certain difficulties being a woman—there is a common struggle for women belonging to all ages and socioeconomic classes. 
It was a very emotional experience for these girls to be coming out with their stories. They often broke down in tears while sharing their stories of trauma, and it was often overwhelming for me to hear them.
Illustrating something like sexual harassment was a bit of a challenge. I had to think about sensitising their experiences for the readers and make their trauma come alive. However, with the dialogues as well, my approach was to be comprehensive as I aimed to establish the content as educational for school-going children. Thinking about the end goal helped me balance my emotions.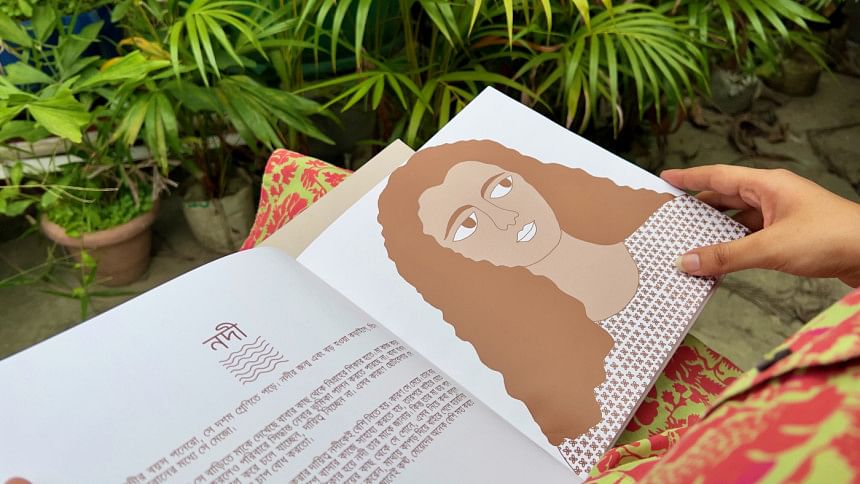 DS: How would you describe the experience of collaborating with the HerStory team?
Sadia: I am extremely lucky to have teamed up with HerStory. The writing and illustrations were already done by December 2020. I was connected to the HerStory team a year later, through Rotary Club's Dhaka Pathfinders in December 2021. 
Habitat Firm printed four draft copies of the book and sent them to me from Berlin. I shared the draft copy with Katerina Don, curator of the HerStory Foundation. She liked the book and it turned into a very spontaneous collaboration. 
DS: What are your plans for the series?
Sadia: I see this book as a conversation starter. The plan is to run reading sessions and workshops on the book which has already taken place in the Rumi Library during its soft launching. The sessions would be designed in a way where the readers would read the book and share their stories as well. 
Sadia Sharmin also shared that contributing to this project has brought a lot of change in the mindset of the community's young people and their parents. "I believe this to be something of impact, and this is something that I plan to carry on", she said. 
Everyday Stories is available at the outlets of Bookworm Bangladesh, along with HerStoryBd's Facebook page and their website. 
Nafaly Nafisa Khan is a sub editor at the metro desk, The Daily Star.