Beauty Circus: Jaya happy with first-day reaction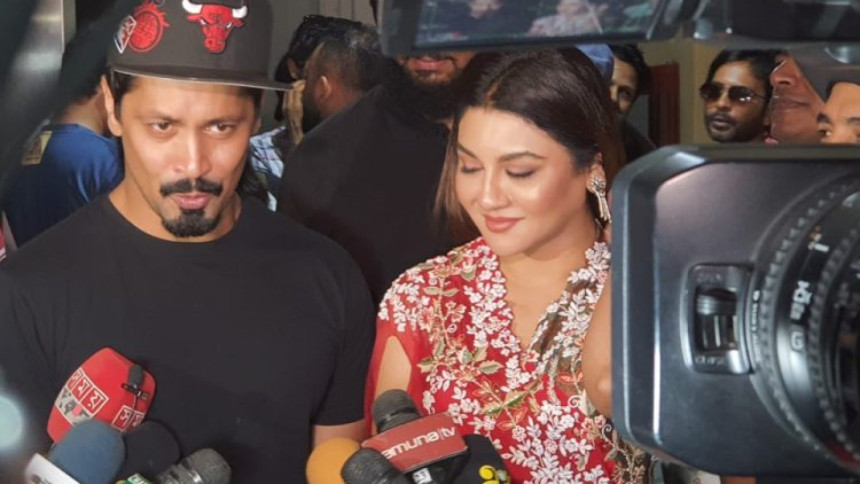 Mahmud Didar's much-awaited film "Beauty Circus" was released across 19 halls yesterday. Jaya Ahsan, ABM Sumon along with its director, watched the first-day show along with the audiences at the Bashundhara city branch of Star Cineplex.
However, Jaya Ahsan was left disappointed with the Star Cineplex authorities for not putting on any evening shows of the film. Cineplex is running only two shows of the film, starting with an 11 am show and a 4:50 pm show. This timing can be a bit off for the audiences, as most prefer to watch movies in the evening.
"Look, people don't get much time to watch movies in the daytime, so evening time remains the optimum opportunity for most to view the film. However, we don't have any evening shows at any of the branches of Star Cineplex. I think there might be something off about the whole issue. Both the movies were released on the same date, and thus both should have a fair chance. I really want both the movies to do well at the theatres," said the actress.
 "The Star Cineplex authorities should give the audience the opportunity to watch the film in the evening. We really want the audience to decide the fate of the movie. I am really thankful to Star Cineplex for at least allocating many morning shows to our film," added the actress.
On the other hand, Dipankar Dipon's movie "Operation Sundarban", which was released on the same day, comprises 6 shows in its first week, including a 7 pm slot in all of the branches of Star Cineplex.
However, Jaya Ahsan was really happy with the first-day reaction to "Beauty Circus".
"I am pleased that our hard work has paid off. I was really overwhelmed seeing the dangerous stunts on the silver screen. I was completely immersed in my character, so I did not even ponder over how risky these scenes actually were.," said Jaya Ahsan.
"Beauty Circus" is a government-granted film, produced by Impress Telefilm. The production of the film took about five years.
The film's star-studded cast includes Jaya Ahsan, Ferdous, ABM Sumon, Gazi Rakayet, and Humayun Sadhu. "Beauty Circus" tells the tale of an indomitable woman's struggle for survival and revenge, as she fights to become the captain of a circus.