DIMFF and TikTok collaborate on filmmaking and content creation campaign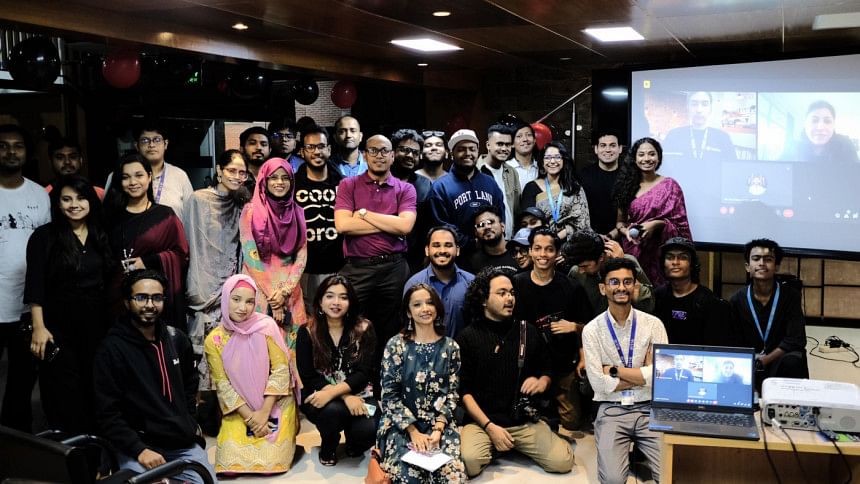 The Dhaka International Mobile Film Festival (DIMFF), in collaboration with TikTok, organised a content creation campaign, titled #CreateOnTikTok, for content creators, industry professionals, and film enthusiasts to delve into the vibrant realm of TikTok and filmmaking.
The workshop, held last Friday (November 17) at the University of Liberal Arts Bangladesh (ULAB), attracted participants from schools, colleges, and universities, as well as the Digital Content Creators (DCC) team. TikTok's collaboration with DIMFF marked the beginning of the event, featuring two informative sessions that connected both in-person and virtual attendees.
The virtual segment commenced with Pooja Dutta discussing TikTok's global impact, portraying it as a platform for learning and new experiences. Dutta expressed excitement about the collaboration with DIMFF. Saul Moross emphasised the cultural influences that engage global audiences, underscoring the power of hashtags in fostering community unity. Jansen provided insights into film production, emphasising the significance of inspiration and offering practical production tips. Sarah Fleihan explored TikTok content creation, acknowledging the platform's monumental success and focusing on the importance of creativity, story structure, and community guidelines.
In the offline session, Digital Content Creators Isfar Mostakim and Noushad Hossain showcased the user-friendly features of Capcut, a video editing app, highlighting its quick render times, AI-powered editing capabilities, and convenient usability. Shotok Khan, the entertainment lead for South Asia at TikTok, shared valuable insights on leveraging TikTok as an income-generating platform, emphasising creating long-term video content and promoting a "TikTok University" course. Abdullah Al Mahmud, the representative of #CreateOnTikTok from TikTok, shared information on submitting films on the TikTok micro-site and concluded the event with gratitude, promising a grander affair in the campaign's closing event.
Film submissions for the campaign are open until December 10, 2023. Creators can submit their films by visiting the DIMFF social media pages or the TikTok micro-site.
DIMFF also announced the distinguished jury board for the #CreateOnTikTok campaign, comprising Director Zahid Gogon, Film Critic Sadia Khalid Reeti, and Director Nazmul Hasan Shukorno. The jury will select three winners, each receiving advantages from the campaign.