Tanjin Tisha seeks legal assistance from DB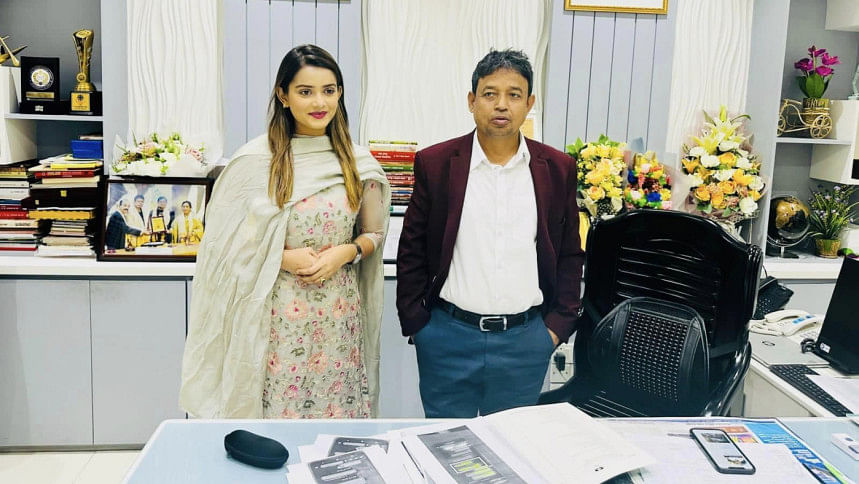 Popular actress Tanjin Tisha has sought legal support from the Dhaka Metropolitan Police's Detective Branch (DB), revealing a challenging chapter in her life that unfolded recently.
Last Wednesday night, Tisha found herself admitted to a Dhaka hospital after reportedly taking sleeping pills, a decision believed to be linked to relationship issues with actor Mushfiq R Farhan.
Earlier this month, on November 16, the actress was reported to have faced a harrowing incident involving a suicide attempt, sparking widespread discussions and raising concerns for her well-being. Tisha received medical attention and later shared her ordeal on Facebook, shedding light on recent health struggles, the chaotic state of her personal life, and the intrusion of various unrelated phone calls.
Amongst the distressing events, Tisha revealed an encounter with a TV journalist who sent her an insensitive and uncomfortable text message. The ensuing phone conversation between them escalated into a heated argument.
In a subsequent Facebook post, Tisha expressed regret for unintentionally expressing herself emotionally during the argument with the journalist. Despite the tumultuous situation, she conveyed her deep respect and appreciation for the media's role in her success, asking for understanding if her unintended words caused any discomfort.
The experience prompted Tisha to seek legal assistance, leading her to meet with Harun Or Rashid, additional commissioner of DB, to discuss the issues she currently faces.