5 killed as Cyclone Midhili crosses coast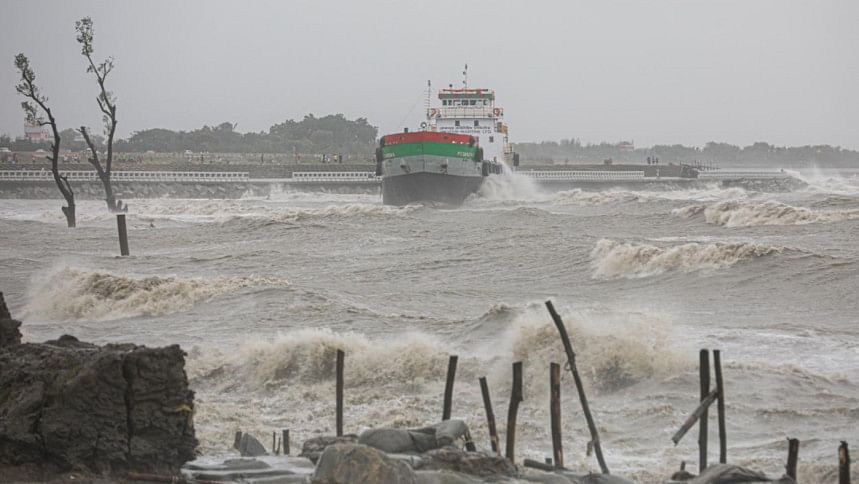 At least five people were killed as cyclone Midhili crossed the country today, inundating low-lying areas in many parts of several southern districts.
The cyclone that caused heavy rains disrupted normal life, halted cargo handling in Chattogram port and river transport services across the country.
A special bulletin from the Met office said the cyclonic storm completed crossing the coast at 3:00pm and weakened into a deep depression.
The highest wind speed was recorded in Patuakhali, at 102km per hour, the Met office said.
In Cox's Bazar, four of a family died when a mud wall of a house collapsed amid heavy rains early today.
The incident took place around 3:00am in Panirchhara area of Hnila union under Teknaf upazila, said Rashed Mahmud Ali, the local chairman.
The dead are Anwara Begum, 50, her son Shahidul Mostafa, 20, and daughters Nilufa Yasmin, 15, and Sadia Begum, 11, he added.
Locals said incessant rain hit the area since yesterday morning due to a depression in the Bay of Bengal.
The rain weakened the wall and then it collapsed on the victims, they said.
An elderly man was killed as a tree branch fell on him in front of his house at Moghdhora village in Sandwip upazila in Chattogram around 6:00pm.
The victim is Abdul Ohab, 65, said Shahidul Islam, officer-in-charge of Sandwip Police Station.
In Patuakhali, the agriculture department fears a damage to the Aman crop. At least 5 percent of the total Aman crop is in ripe and another 20 percent in semi-ripe condition.
Patuakhali Agricultural Extension Department (DAE) fears a fourth of the rest 75 percent crop will be damaged badly, as heavy rains caused by the cyclone left many crops lying on the ground.
Some vegetable crops have also been damaged. However, it will take some time to assess the extent of the damage, said Nazrul Islam, deputy director of Patuakhali DAE.
In Barishal, heavy rainfall caused by Madhili, meaning a huge tree, flooded low-lying areas of the city.
Most of the city roads, including Battala Road and Sadar Road, got inundated following heavy rains since last afternoon.
Earlier, the Bangladesh Inland Water Transport Authority suspended operation of all the launches on different routes including Dhaka-Barishal due to the cyclone.
The Chattogram port authorities had also halted loading and unloading activities.