Morocco earthquake: No Bangladeshis harmed
Says Bangladesh Embassy in Rabat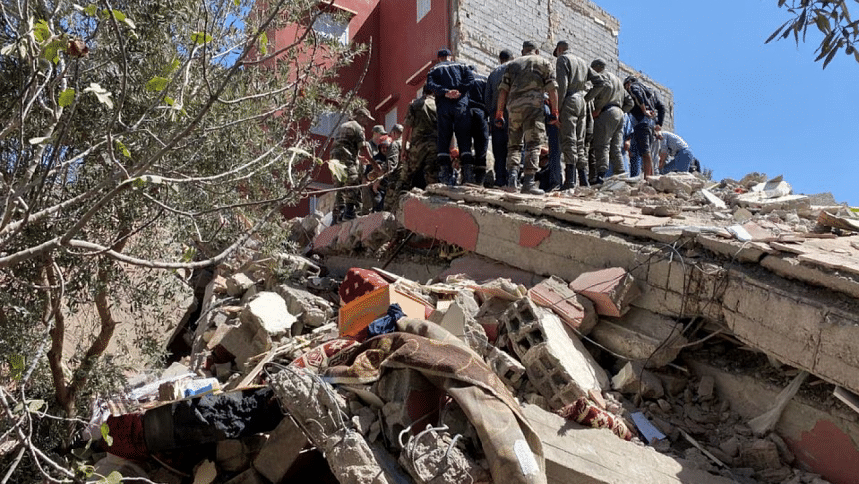 No Bangladeshis were injured in Morocco during Friday's devastating earthquake that claimed hundreds of lives, Bangladesh Embassy in Rabat said this evening.
"All Bangladeshi expatriates are safe," Ummul Husnaeen, chargé d'affaires at Bangladesh Embassy in Rabat, told The Daily Star in a WhatsApp message around 6:48pm.
She said the embassy has been in contact with the Bangladeshis present in the country and remained alert to provide any sort of support given the current situation.
There are about 50 Bangladeshis enlisted with the mission who live in different parts of Morocco, the official said.
A few of them are business people, one a computer engineer, and several others are in blue-collar jobs, she added.
The 6.8-magnitude quake struck a mountainous area 72km southwest of tourist hotspot Marrakesh at 11:11pm (2211 GMT) Friday, AFP reports quoting the US Geological Survey report.
Strong tremors were also felt in the coastal cities of Rabat, Casablanca and Essaouira.
According to the official, the tremor was felt in Rabat, which is several hundred kilometers away from the epicentre, as residence there stayed outside till dawn out of fear.
Referring to Moroccan authorities, the Bangladesh mission said the death toll from the earthquake reached to 820 as of 10:00am (local time) today.