Depression over bay intensifies into Cyclonic Storm 'Midhili'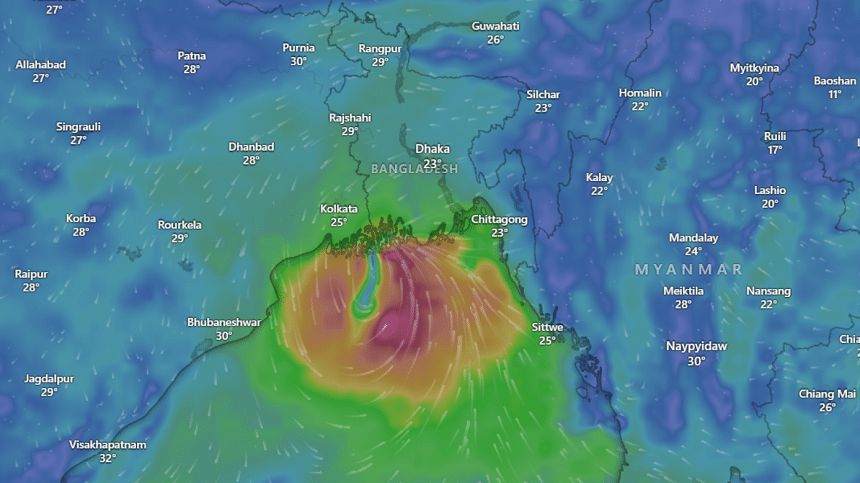 The deep depression over the Bay of Bengal has intensified into Cyclonic Storm "Midhili".
"The deep depression over northwest bay and adjoining area moved north-northeastwards further and intensified into Cyclonic Storm 'Midhili' over the same area," said a special bulletin by the Bangladesh Meteorological Organisation (BMD).
The cyclonic storm was centred at 6:00am today about 470 km west-southwest of Chattogram port, 445 km west-southwest of Cox's Bazer port, 330 km southwest of Mongla port, and 330 km southwest of Payra port, it added.
This is likely to move north-northeastwards and intensify further, according to the BMD special bulletin.
The maximum sustained wind speed within 54 km of the deep depression centre is about 62 kph rising to 88 kph in gusts or squalls. The sea will remain very rough near the deep depression centre.
Maritime ports of Chattogram, Cox's Bazar, Mongla, and Payra have been advised to keep hoisted local cautionary signal no. 4.
Meanwhile, the cyclonic storm "Midhili" brought a cold downpour in the middle of November in Dhaka.
According to the BMD weather bulletin, the capital and neighbouring areas experienced 2 mm rainfall in the last 24 hours.
The temperature was recorded at 23.4 degrees Celsius around 6:00am in the mornings, reads the BMD bulletin.
More rain and thundershowers are likely over the area in the 6 hours, starting at 7:00 this morning.
The daytime temperature may fall by 1-2 degrees Celsius over the area.
Meanwhile, all fishing boats and trawlers over North Bay and the deep sea have been advised to remain in shelter until further notice.