Beat him until he was motionless
Anik, key accused in Abrar killing, tells magistrate; Buet protests relaxed for 2 days for admission tests; three dorm rooms of BCL men sealed off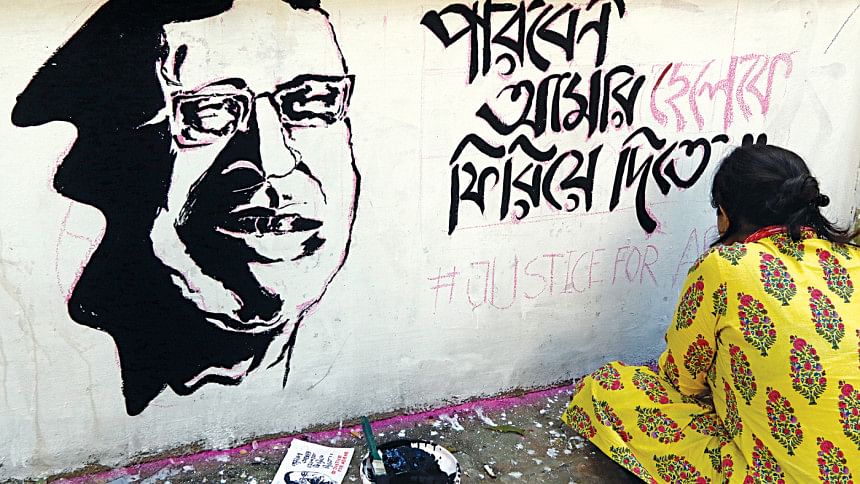 Buet unit Chhatra League leader Anik Sarkar yesterday confessed that he and some other accused kept hitting Abrar Fahad with cricket stumps until he became motionless.
In his confessional statement, the information and research secretary of the unit also said he beat up Abrar indiscriminately in two phases and stopped only after the victim vomited multiple times, said court and police sources.
Anik, a batch-15 student of the university's mechanical engineering department, was sent to jail after Metropolitan Magistrate Atiqul Islam recorded the statement.
With Anik, three leaders of Buet Chhatra League have given confessional statement in Abrar Fahad killing case.
The other two are Deputy Social Welfare Secretary Ifti Mosharraf Shakal and Sports Secretary Meftahul Islam Zion.
In his statement recorded on Thursday, Shakal, a batch-16 student of the university's biomedical engineering department, said it was Anik who hit Abrar the most. He said Anik struck Abrar over 100 times with a stump in his knees, legs, soles of feet and arms.
On Friday, Zion, a batch-15 student of the naval architecture and marine engineering department, told a magistrate that he also beat up Abrar with a stump.
Investigators had earlier said Anik hit Abrar around 200 times with a cricket stump.
Abrar, a second-year student of Buet's electrical and electronic engineering department, was beaten to death by a group of BCL men at the university's Sher-e-Bangla Hall during October 6 night and early hours of October 7.
Later, his father filed a murder case against 19 Buet students, mostly BCL leaders of the Buet unit, and several other unnamed accused with Chawkbazar police station. 
The gruesome murder triggered a firestorm of protest on university campuses across the country.
Law enforcers suspect Abrar was attacked because of one of his recent Facebook posts, which seemed critical of some recent deals with India.
Yesterday, Anik told the magistrate that he and some other students suspected Abrar to be a Chhatra Shibir activist because of a Facebook post of the victim. They decided to beat Abrar up a few days before his murder.
After Abrar returned to his room at Sher-e-Bangla Hall from his home in Kushtia on October 6, the accused decided to call him to a room.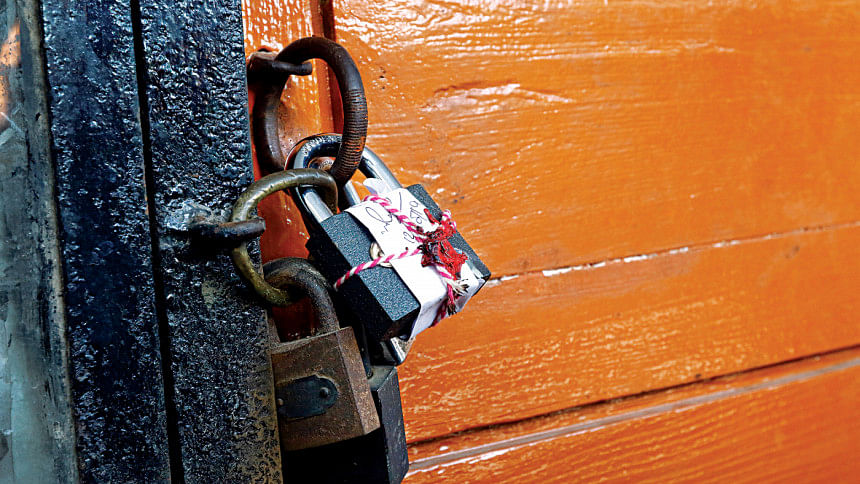 As per the decision, Abrar was called in room number 2011 around 8:30pm that day. There, he was beaten indiscriminately for several hours which led to his death, said court and police sources.
Meanwhile, the Dhaka Metropolitan Police has formed a six-member committee, headed by a joint commissioner of the Detective Branch, to assist the murder investigation.
PROTESTS RELAXED
Agitating Buet students demanding justice for Abrar yesterday relaxed the protests for today and tomorrow taking the university's admission tests into consideration.
At a sit-in, the demonstrators also said they would provide all sorts of assistance to the examinees and their guardians during the tests tomorrow.
"We are relaxing the protests for the time being as the process of implementing our demands has started," a representative of the students said at the programme.
Meanwhile, Buet in a statement yesterday said the admission tests would be held as per schedule.
Since the murder, the students have been protesting to press home their 10-point demand.
But after a meeting with Vice Chancellor Prof Saiful Islam on Friday evening, the protesters set aside five demands which they said the university could meet in a short time.
The 10-point demand include banning organisation-based politics at Buet, issuance of circulars on expulsion of Abrar's killers, cancellation of dormitory seats of illegal occupants, sealing of offices of political organisations and assurance from university that it will provide compensations to Abrar's family and bear all the costs of running the legal battle over the murder.  
The other demands include opening of a dedicated website for posting complaints about ragging and other forms of torture on the campus and installation of CCTV cameras on all floors of each hall of the university.
The university authorities have already taken steps to meet some of the demands. For example, the VC on Friday announced that all political organisations and their activities are banned on the campus.
Yesterday, the authorities issued five circulars on the demands.
In one of the circulars, the university's Directorate of Students' Welfare said it would start evicting illegal occupants from halls and seal off offices of student organisations yesterday.
Highest punishment would be handed down to those involved in ragging, it said.
The university has suspended 19 students. They will be expelled following an ongoing probe and in line with the decisions of a disciplinary committee and the university syndicate, one of the circulars said.
The university authorities will bear all the costs of running the legal battle over the murder and provide necessary compensations to Abrar's family, another circular said.
The university also said a dedicated website for lodging complaints would be opened soon.
BUET SEALS OFF THREE ROOMS
The Buet authorities yesterday sealed off three rooms of two dormitories for illegal occupancy.
Buet BCL President Jami-us-Sani told The Daily Star that he lived at room number 321 of Ahsan Ullah Hall, but the room was sealed off yesterday as his studentship ended a while ago.
The room of the unit's General Secretary Mehedi Hasan Rasel -- room number 3021 of Sher-e-Bangla Hall -- was also sealed off over the same reason, Jami said.
Rasel has recently been arrested in connection with the murder.
Another room of Ahsan Ullah Hall -- 121 -- was sealed off because it was being used as an office of the BCL, Jami added.
Earlier in the morning, the agitating students resumed the demonstration for the sixth consecutive day.
They erased graffiti drawn by Chhatra League on the boundary walls of a hall and replaced it with another one depicting Abrar murder.
ONE MORE ARRESTED
Police yesterday arrested one more accused in the murder case in the capital's Uttara area. The arrestee is Buet student Moyaj Abu Hurayra, 20.
With him, a total of 19 people have been arrested over the murder.
Besides, a Dhaka court yesterday put another accused -- Majedul Islam Majed -- on five-day remand. He was arrested in Sylhet on Friday
Meanwhile, Pragatisheel Chhatra Jote, an alliance of left-leaning student organisations, yesterday protested the Buet's move to ban politics on its campus.
Its leaders alleged that the Buet students did not have grievances towards student politics other than that of Chhatra League.
At a press conference at the Madhur Canteen, they also demanded a ban on Chhatra League's politics at all educational institutions across the country.
Ducsu Vice-President Nurul Haque Nur, at a separate press conference in the capital, claimed that the demand to ban politics was raised because of BCL's criminal activities.