Bangabandhu's March 7 speech now world heritage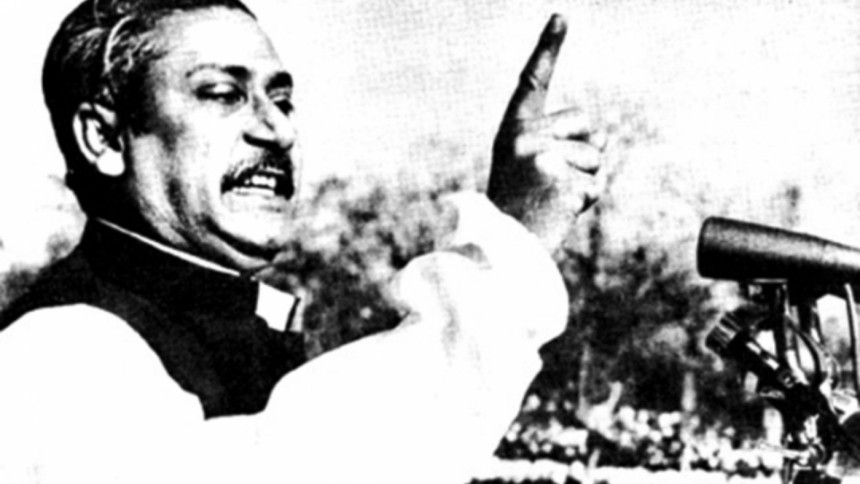 The Unesco has recognised the historic March 7 speech of Bangabandhu Sheikh Mujibur Rahman as a world documentary heritage.
The speech has been included in the Memory of the World International Register, a list of world's important documentary heritage maintained by Unesco.
Director General Irina Bokova of Unesco announced the decision on Monday at the Unesco Headquarters in Paris, says a foreign ministry press release.
On March 7, 1971, Bangabandhu in his fiery speech called on the freedom-loving Bangalees to wage a decisive struggle against the Pakistani oppressors. The speech set the tone for the Liberation War that would officially begin later that month on March 26.
"Ebarer sangram amader muktir sangram, ebarer sangram swadhinatar sangram [The struggle this time is a struggle for emancipation, the struggle this time is a struggle for independence]," Bangabandhu proclaimed in a thunderous voice at a mammoth rally at the Racecourse Maidan (now Suhrawardy Udyan) that day.
"Turn every house into a fortress, resist the enemy with everything you have … Having mastered the lesson of sacrifice, we shall give more blood. God willing [Inshallah], we shall free the people of this land," Bangabandhu went on to proclaim.
The speech touched every Bangalee's heart across the then East Pakistan, now Bangladesh, and mobilised the whole nation, excepting a few pro-Pakistani elements, to prepare for the Liberation War.
"The world will now get to know more about our Father of the Nation Bangabandhu Sheikh Mujibur Rahman and our glorious Liberation War," Foreign Minister Abul Hassan Mahmood Ali said in the press release.
The minister said the March 7 speech provided inspiration to the Bangalees in their quest for freedom and emancipation. The speech also energised the entire nation and prepared the people for the forthcoming Liberation struggle, he added.
It also served as the ultimate source of inspiration for the countless freedom fighters, he said, adding that Bangabandhu's speech is played throughout the country on different national occasions and continues to reverberate in the hearts and minds of the Bangalees.
"This speech continues to enthral our people and will continue to inspire succeeding generations," the minister observed.
The Memory of the World International Register is a list of documents having global significance. The objective of creating the International Register is to ensure preservation of, and access to, documentary heritage in various parts of the world, reads a press release.
The International Advisory Committee (IAC) is responsible for recommending whether or not a document qualifies for inclusion in the Memory of the World International Register. 
The IAC during its meeting on October 24-27 recommended the March 7 speech for inscription on the Memory of the World International Register.
With 78 new nominations, the Memory of the World Register now includes as many as 427 documents and collection from all continents.
While endorsing the latest recommendations, the Unesco director general stated, "It is my deep and firm conviction that the Memory of the World Programme should be guided in its work to preserve documentary heritage and memory for the benefit of present and future generations in the spirit of dialogue, international cooperation and mutual understanding, building peace in the minds of women and men."