Horrific accounts of cruelty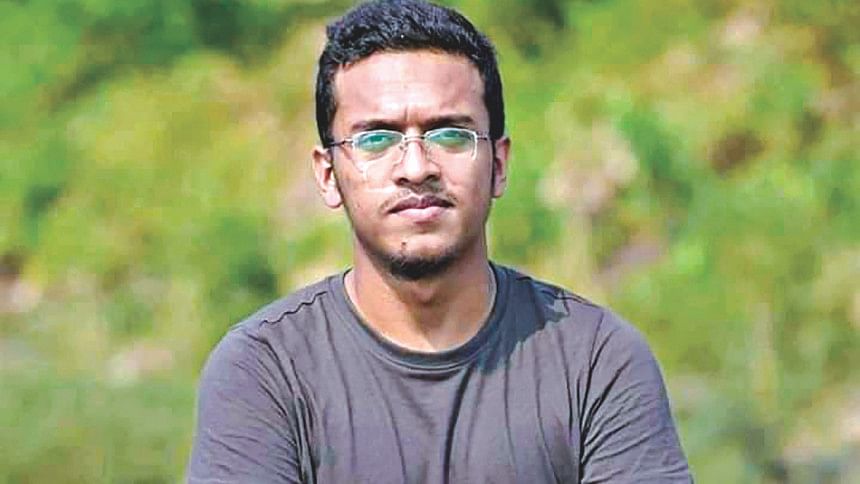 Meftahul Islam Zion, a key accused in Buet student Abrar Fahad murder case, yesterday told a magistrate how Abrar was beaten to death with cricket stumps and skipping rope by him and some other Chhatra League leaders and activists.
Zion, sports secretary of Buet Chhatra League, and a batch-15 student of naval architecture and marine engineering department, confessed to the magistrate that he himself beat up Abrar with a cricket stump, said sources involved in the investigation.
The attackers pressed Abrar to give them the names of Buet students involved in politics of Chhatra Shibir.
At one stage of non-stop beating, Abrar fell sick and lied down on the floor of room-2011 at Sher-e-Bangla Hall. But the BCL men pulled him up and started assaulting him again, the sources quoted Zion and Ifti Mosharraf Shakal as saying in their confessional statements to two magistrates.
Shakal, deputy social welfare secretary of Buet BCL, gave his statement to another magistrate on Thursday.
Facing torture for a few hours, Abrar started vomiting. He threw up thrice before becoming motionless.
Among the attackers, Buet BCL Information and Research Secretary Anik Sarkar hit Abrar the most. He indiscriminately struck Abrar with a stump in his knees, legs, soles of feet and arms.
Failing to endure the torture, Abrar randomly mentioned some names.
At one stage, Anik went out of the room. He returned there within 20 minutes, and again beat up Abrar indiscriminately.
Zion then slapped Abrar and hit him with a stump in his knee.
After recording the confessional statement of Zion, Metropolitan Magistrate Sarafuzzaman Ansary ordered the authorities to send him to Dhaka Central Jail in Keraniganj.
Abrar's father filed the murder case against 19 Buet students and several other unnamed ones with Chalkbazar Police Station on October 7.
TWO MORE ARRESTED
Meanwhile, detectives yesterday arrested accused Majedul Islam from Sylhet and Shamem Billah from Bhomra land port in Satkhira.
With them, 18 students, including 14 FIR-named accused, have so far been arrested in connection with the murder.
Majedul is a student of materials and metallurgical engineering and Shamem Billah of naval architecture and marine engineering.
Besides, two other accused Amit Saha and Hossain Mohammad Toha were placed on five-day remand each by a Dhaka court yesterday.
Amit is a student civil engineering and also the deputy law secretary of Buet Chhatra League, and Toha is a student of mechanical engineering.
Shakal, a student of biomedical engineering, in his confessional statement said he took part in the beating.
He told the court that Abrar was taken to room-2011 of Sher-e-Bangla Hall sometimes after 8:00pm on October 6. His two mobile phones and a laptop were also taken there. Buet BCL deputy office secretary Mustaba Rafid and mechanical engineering student Khandakar Tabakharul Islam Tanvir checked the mobile phones.
Muntasir al Jemmy of the same department checked the laptop.
In his statement, Shakal also said when they were checking Abrar's devices (mobile and laptop), Mehadi Hasan Robein and Zion came to the room. Robein asked them to press Abrar to know the names of those involved with Shibir at Buet. At that time, Robein slapped Abrar several times.
He told the court that there was no cricket stump in the room where Abrar was beaten up. Someone brought stumps from outside.
Shamsul Arefin alias Rafath, a second-year student of mechanical engineering department, gave him a stump and he hit Abrar four to five times with it. The stump broke.
At one stage, Robein contacted Buet BCL General Secretary Mehedi Hasan Rasel over the phone.
Shakal also told the court that he went to the canteen to have dinner around 10:30pm. He found Abrar was very sick and lying on the floor when he returned to the room around 20 minutes later.
He scolded Abrar and forced him to stand up and slapped him several times. Then Muzahidur, a third-year student of electrical and electronics engineering department, started whipping him with a skipping rope. Shakal again hit Abrar in his legs and knees with a cricket stump. At that time, Tabakharul slapped him.
Around 11:00pm, Anik again entered the room and hit Abrar around 100 times with stumps. Everybody in the room was frightened seeing the way Anik beat him up. Anik left the room around midnight.
As Abrar complained of breathing problem, Shakal put a pillow under his head. Minutes later, Abrar started vomiting. As Shakal informed Anik of the matter over the phone, Anik told him to give Abrar a bath and rub ointment in the wounds. Abrar vomited again. Then Robein said he was "feigning".
Abrar was then taken to room 2005. Amit sent a text to continue torturing Abrar to get information.
Knowing about Abrar's bad condition, Amit asked them to drive him away from the hall. After that, Robein and Anik came to the room. Seeing Abrar, they said he was all right and left the room.
Shakal said as Abrar vomited again, Robein asked them to bring him downstairs to hand him over to police. Some students tried to take him to the ground floor. As they failed, he was carried to the staircases between the second and the ground floors.
Then Abrar said he was feeling very bad.  
Rasel talked to policemen at the hall gate.
Ismail and Monir called for an ambulance. As the ambulance was late, Tamim brought in the doctor of Buet medical centre on a motorcycle. The physician checked Abrar's pulse and declared him dead, said Shakal.