From land of death, despair
Elderly Rohingyas say they never witnessed violence of this scale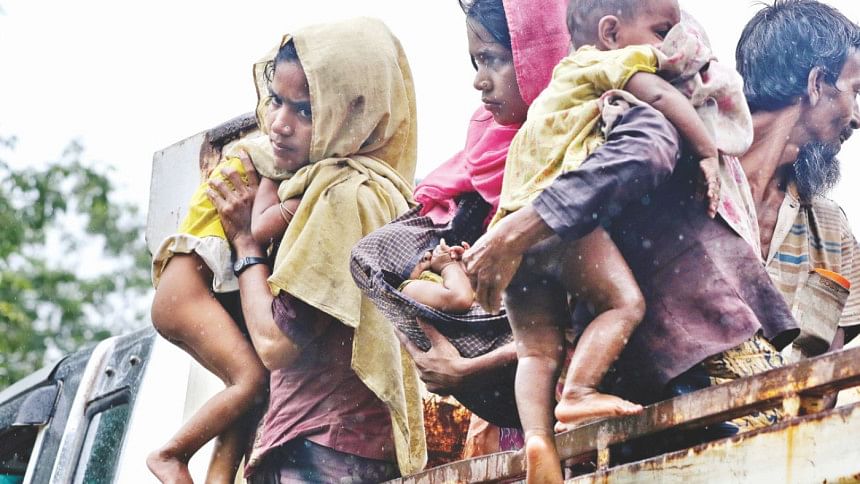 While growing up in Myanmar's Rakhine, Noor Sabah, now 70, was constantly reminded the country didn't own her. Her movement was restricted and her access to education, health and other basic services was limited. People of her community also had to pay extra tax for getting married and building homes.
Braving all these odds, they lived there for generations.
Though Rohingyas had to face atrocities by the Myanmar security forces even in recent years, Noor never thought she would ever have to leave her birthplace this way.
"There had been violence against Rohingyas in the past. But this time, it has been the worst. We had to flee to save our lives. We had no other option," said the woman who entered Bangladesh a week ago along with her 80-year-old husband, a son, a daughter-in-law and five grandchildren.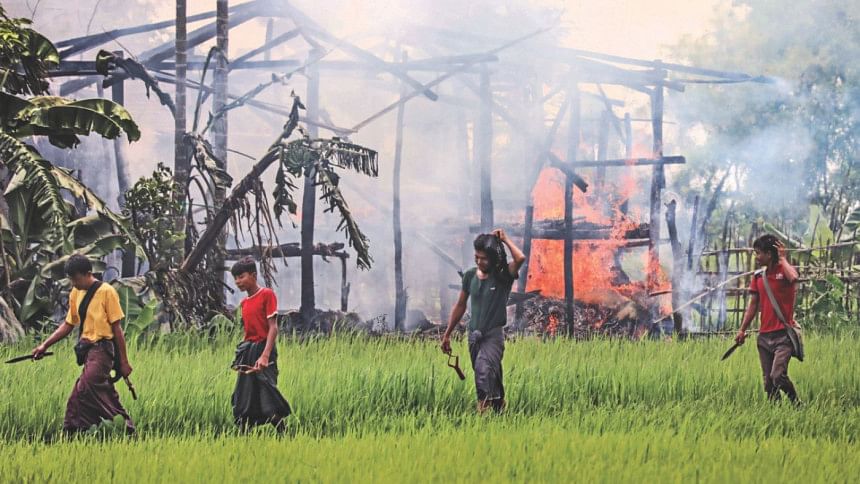 Like her and her husband, there would be several thousand elderly men and women among around 270,000 Rohingyas, who fled to Bangladesh since August 25 when Myanmar security forces began a crackdown against the minority group in response to alleged attacks by Rohingya insurgents.
"I lost my home, relatives and neighbours. I had to run away from my own country at this age. It is the biggest tragedy of my life," Noor sobbed.
All the Rohingyas, who talked to The Daily Star correspondents, came up with a common version of what happened to their people in Rakhine.
They said members of the Myanmar security forces stormed into their homes, searched for young and adult men, and killed them. In many cases, the security forces members violated women and burnt down villages after villages inhabited by Rohingyas, they said.
UN Special Rapporteur on the Situation of Human Rights in Myanmar, Yanghee Lee, in a statement yesterday said the number of people killed in violence since August 25 in Myanmar could be more than 1,000.
Newly arrived Rohingyas echoed the same view.
Noor Sabah's husband Fazal Ahmed, of Kuarchong village in Maungdaw, said he saw burning homes all around the village on August 27.
Suddenly, he heard that Rohingya men were being murdered one after another. As quickly as possible, he ran to his home and fled to a nearby hill along with his family members.
"We hid there for three days. After we came down to see our home, we found nothing but ashes.
"There were some 1,300 houses in our village. Almost all of them were burnt down," Fazal said while sitting beside Cox's Bazar-Teknaf Road at Kutupalong in Ukhia yesterday morning.
"It was the moment we decided to flee."
However, their journey was not smooth.
While coming down the sloppy hills, Fazal slipped twice and hurt himself. His son Noor Ahmed carried him a long distance. 
The Rohingya family could bring with it only some rice, dry fish and old clothes. They somehow cooked the rice and survived the days of the hazardous journey.
"We spent nights in fear in the jungles with our elderly parents and children," said Noor Ahmed.
After walking for almost five days, the family reached the Rezu Amtoli border in Bandarban's Naikyangchhari, where they stayed for two days and came to Kutupalong only yesterday, hoping for better facilities from the Bangladesh authorities.
The Bangladesh Border Guard personnel provided them with some flattened rice and molasses. They are surviving now with that.
"It is quite tough to live this way," said Fazal.
Mohammad Salimullah, 45, who was a madrasa teacher and imam of a mosque at Dakkhin Merullah in Maungdaw, said they had been facing troubles in their locality for the last six months.
"We could not sleep at night," he said. Myanmar police frequently used to search their homes for adult men and picked them up. All of the youths went missing.
He said 18 youths of his village were killed on August 31.
Salimullah claimed the Myanmar security forces dropped something from helicopters and their homes caught fire.
On September 1, he left home for Bangladesh with his elderly mother, wife and children.
"We faced many challenges in Myanmar. But this time Myanmar army and police have been their worst to the Rohingyas."
Salimullah's mother Jamila Khatun, 70, said, "My life is almost over. I could have stayed there [Myanmar] and just died. But I didn't want to get separated from my son."
Meanwhile, with thousands of Rohingyas continue to enter Bangladesh, Human Rights Watch yesterday in a statement said military atrocities on Rohingyas have hallmarks of ethnic cleansing.
A UN official said the flow of the refugees may continue for two more weeks. The 270,000 new Rohingya are an addition to around 5 lakh others who escaped violence in Myanmar between 1978 and 2016.
"We are facing challenges to provide basic services to so many Rohingyas who arrived only in two weeks," he told The Daily Star yesterday, requesting anonymity.
Vivian Tan, a spokeswoman for the UN High Commissioner for Refugees, said the estimated number of Rohingya who fled to Bangladesh since violence erupted on Aug 25 had risen from 164,000 because aid workers had found big groups of uncounted people in border areas, Reuters reported.
On Thursday, UN spokesman Stephane Dujarric said the UN was extremely concerned about the reports of continuing violence, especially violence that targets civilians in Myanmar.
"The reports of land mines are not one we can confirm, but, obviously, if they were to be true, those would be extremely troubling if they were to be confirmed."
On Wednesday, Stephane said the World Food Programme was appealing for $11.3 million to support the influx of new refugees and those already living in the Rohingya camps.
Meanwhile, up to eight villages were burned down yesterday in a part of northwest Myanmar where large numbers of Rohingyas had been sheltering from a wave of violence engulfing the area, a witness and three sources briefed on the matter told Reuters.
The fires were blazing in the ethnically mixed Rathedaung township, where populations of Rohingya Muslims and Rakhine Buddhists live side by side.
'NO RESTRICTIONS ON ROHINGYAS ENTRY'
Disaster Management and Relief Minister Mofazzal Hossain Chowdhury Maya yesterday said the government had a plan to allocate land for building a camp in Kutupalong for all the Rohingyas.
"At this moment, the government's priority is to bring all the Rohingyas in Bangladesh to a particular place," he said.
The forest department has 5000 acres of land in Kutupalong. A portion of the land would be allocated for all the Rohingyas, Maya told reporters after visiting Kutupalong Registered Rohingya Refugee camp in Ukhia yesterday afternoon.
"Rohingyas are human beings. So, we cannot force them to go back. The government will provide them with all kinds of cooperation," he said.
He said there was "no restriction on Rohingyas' entry to Bangladesh and the refugees would be given shelter as long as they wanted".
The minister said Bangladesh was trying to solve the Rohingya problem. "The international community should put pressure on Myanmar so that it takes back the Rohingya people."