Stay govt bid to change court venue
Khaleda appeals to the HC about Niko graft case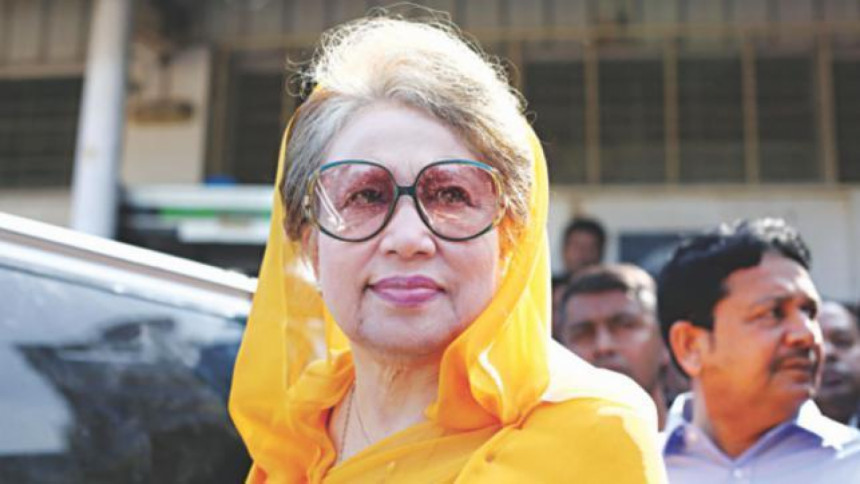 BNP Chairperson Khaleda Zia yesterday filed a writ petition with the High Court challenging the legality of a government notification that says the Niko corruption case trial against her will be held at a special court inside Keraniganj Central Jail.
On May 13, the law ministry issued the gazette notification, saying that trials of 17 criminal cases, including the Niko, against Khaleda would be held at a special court set up at building-2 of Keraniganj Central Jail for security reasons.
The trial in the Niko graft case was being held at a special court set up inside the old Dhaka central jail and the trials of the 16 other cases were taking place at a makeshift court at the Government Alia Madrasa in the capital's Bakshibazar.
In yesterday's petition, Khaleda appealed for staying the notification's effectiveness and issuing a rule asking the government to explain as to why the notification should not be declared illegal.
Citing the petition, Khaleda's lawyer Kayser Kamal told The Daily Star that the notification of transferring the court for holding the Niko case trial was contradictory to the relevant provisions of the constitution and the Code of Criminal Procedure (CrPC).
Under the provisions, trial of any case will have to be held in open court.
The trial of Niko case in a Keraniganj jail room cannot be a public one and it was against the constitution and the CrPC, Kayser said, adding that the gazette was "illegal and unconstitutional".
He said the HC bench of Justice Farah Mahbub and Justice Md Khairul Alam might hold hearings on the petition today.
The trial court is scheduled to hold hearings on the Niko corruption case against the BNP chief on May 30.
Khaleda has been undergoing treatment at Bangabandhu Sheikh Mujib Medical University (BSMMU) since April 1.
A day after the gazette was issued, Home Minister Asaduzzaman Khan said she would be taken to the Keraniganj Central Jail after being discharged from the BSMMU.
"The government would convert the old central jail, where Khaleda Zia has been kept since last year, into a museum. All preparations have been completed to move her to Keraniganj Central Jail," he told reporters at his secretariat office.
Khaleda landed in jail on February 8 last year after a Dhaka court sentenced her to five years' imprisonment in the Zia Orphanage Trust graft case.
On October 30 that year, the HC enhanced the punishment of Khaleda to 10 years' imprisonment in this case.
A Dhaka court on October 29 last year convicted Khaleda and sentenced her to seven years' imprisonment in the Zia Charitable Trust corruption case.