Pilgrims thrown into disarray
90 agencies fail to send a single pilgrim; show-cause notice to 377 hajj agencies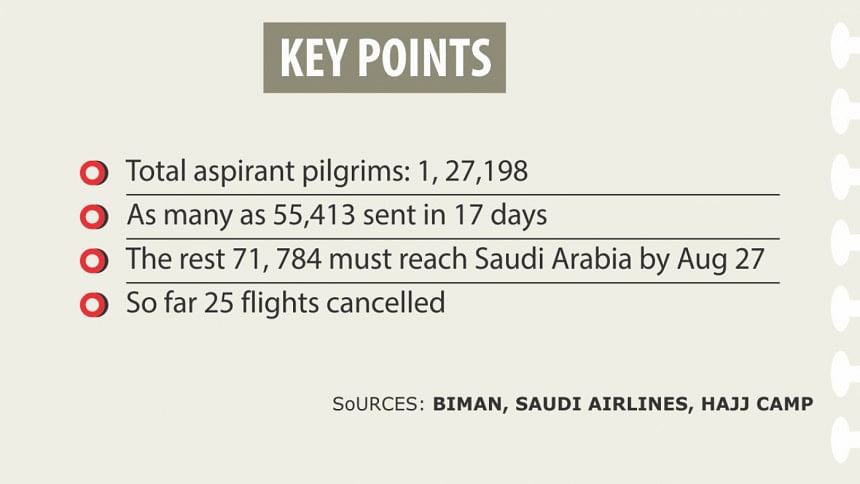 As many as 90 hajj agencies could not send a single of the 13,415 pilgrims till yesterday despite getting their visas weeks ago, as the tour operators failed to book flight tickets and arrange their accommodation in Saudi Arabia.
Eight other agencies have been able to arrange flight for one pilgrim each though they obtained visas for 1,157, according to a list prepared on Thursday by the Hajj Office, which operates under the religious affairs ministry.
Ten hajj operators have managed to send between three and ten of the 1,250 pilgrims they are supposed to send.
This grim picture of poor management explains why hajj flights continue to be cancelled at the last moment.
On the same day the Hajj Office prepared the list, Hajj Camp Director Saiful Islam served 377 hajj operators with show cause notice for creating "obstacles in the smooth hajj management."
And yesterday, Motiur Rahman, the religious affairs minister, warned of action against the hajj agencies involved in irregularities and fraudulence, which includes cancellation of the licence, fine and forfeiting of the deposit money.
The government selected 635 private operators to carry 1.23 lakh pilgrims this year. Another 4,200 are going under state management. 
"We have already summoned some of the agencies to explain why they have failed to send hajjis even after getting visas," Saiful told The Daily Star yesterday.
As of last evening, some 57,200 pilgrims have been sent to Saudi Arabia since hajj flights began on July 24. Biman and Saudi Arabian Airlines, the two airlines that are carrying the pilgrims, will have to send the rest 71,784 in the next 15 days.
A number of top Biman officials said sending all the pilgrims will be a big challenge this year as there was a huge backlog of 10,000 hajjis due to frequent cancellation of hajj flights because of hajj agencies' failure to arrange the trip.
On several occasions, Civil Aviation and Tourism Minister Rashed Khan Menon promised to resolve the issue. But the problem persists with another hajj flight cancelled yesterday, taking the number of flight cancellation to 25.
These flights could have carried over 11,000 passengers.
Biman's last hajj flight is on August 26 and that of the Saudi Airlines on August 27.
Religious Affairs Secretary Abdul Jalil said 95,201 pilgrims have got visas so far against 1.2 lakh applications.
Shahadat Hossain Taslim, secretary general of Hajj Agencies Association of Bangladesh (Haab), told The Daily Star yesterday they already started holding meetings with the listed 377 hajj agencies, many of whom failed to send majority of the pilgrims registered with them.
The hajj operators with whom they have already sat have promised to send the pilgrims within the August 26 deadline, he added. 
"We will not spare anyone if they fail to send the pilgrims on time due to negligence on their part," he warned.
Mohammad Moin Uddin Chowdhury, owner of Al-Mabrur Hajj Travels International that has failed to send a single pilgrim so far, told this newspaper on Thursday that issues related to moallem (tour guides) and house rent were to blame for the delay.
Asked why they could not send any of the 264 pilgrims despite getting visas, he said they rented houses for the pilgrims in Makkah and Madina from August 13 (tomorrow).
On whether there will be any problem if most hajj agencies prefer to send pilgrims at the fag end of the deadline, he said Biman would have to manage it if such a situation arises.
Several officials of hajj agencies that have failed to send hajjis so far said they were trying to find houses, hotels as well as tour guides at cheap rates. 
As many as many pilgrims want to perform hajj with the lowest hajj package, agencies also try to find hotels and houses at cheap rates. Otherwise, they cannot make that big a profit, said sources at the Haab.
The lowest government-set package is Tk 3,17,000, from which agencies can make a profit of Tk 40,000-50,000 per pilgrims. However, hajj operators can charge more depending on the quality of the accommodation and the food they provide.
"We will have to give service to the pilgrims and make some profit. We cannot spend from our pockets to give better services to hajjis," a hajj operator said, asking not to be named.
This year, many hajj agencies failed to get Saudi hajj guides at the lowest rate of 720 Saudi Riyals, as most of them were already hired by India and Pakistan, said Taslim, the Haab secretary general.
"To get the lowest rate, around 100 hajj agencies waited till the last moment thinking that the Bangladesh or Saudi authorities will intervene to find a solution. But their wait went in vain and in the end they had to get them for SR 1,500. This is why those hajj agencies could not complete their job earlier," he said.