Dengue claims 6 lives in 24hrs
869 new patients hospitalised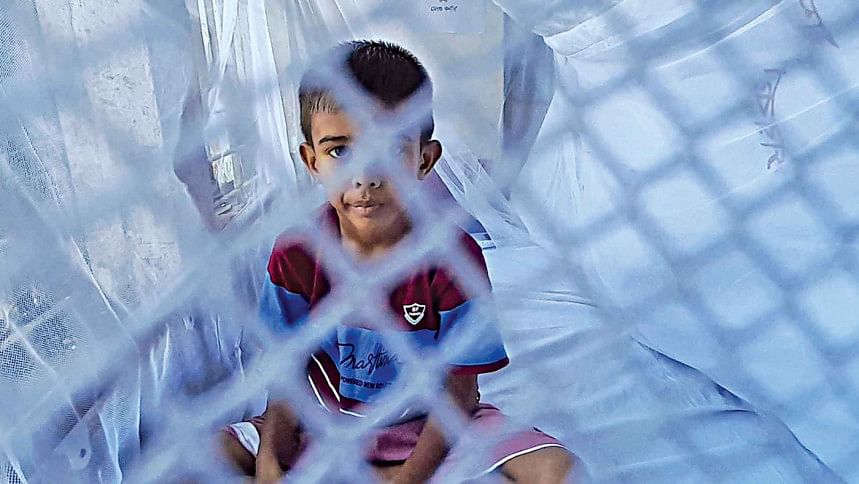 At least six dengue patients have died and 869 were admitted to hospitals across the country in the last 24 hours till yesterday morning.
With this, the total number of dengue cases rose to 36,131, of which 11,278 are from outside Dhaka.
Meanwhile, the total number of deaths rose to 134, according to the Directorate General of Health Services.
Of those, 79 were in Dhaka, 23 in Cox's Bazar, 14 in Chattogram, five each in Barishal and Khulna, three in Mymenshingh, two in Rajshahi and one each in Narsingdi, Narail, Bogura, Kishoreganj and Feni.
A total of 32,400 patients have recovered from the disease, of whom 9,905 are from outside Dhaka.
Some 3,597 dengue patients -- 1,318 of whom are outside Dhaka -- are still undergoing treatment.
Experts urged the authorities concerned to conduct extensive drives to identify clusters of Aedes mosquitoes immediately.
They also suggested taking effective measures to destroy all Aedes breeding sources.
During a monsoon survey conducted by the DGHS between August 11 and 23, Aedes mosquitoes were found in 13.4 percent of houses in Dhaka North City Corporation (DNCC) and 11.75 percent of houses in Dhaka South City Corporation (DSCC).
The survey included 1,319 households from 40 DNCC wards and 1,830 from 58 DSCC wards.
It also found 13 DNCC and 14 DSCC wards with high Aedes mosquito densities to be at high risk.