Don't refer dengue patients to Dhaka, DGHS tells health officials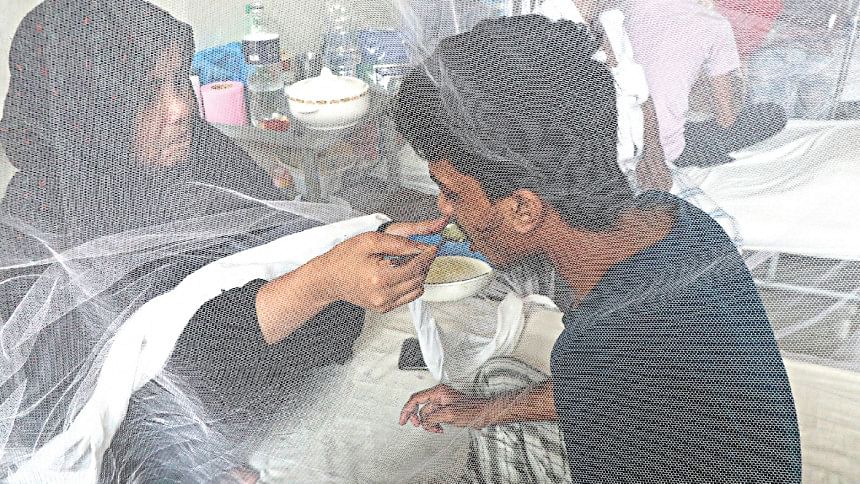 The health directorate has instructed all health officials across the country not to send any dengue patients to Dhaka from outside the capital for treatment.
"Instead, we have strictly instructed them to ensure treatment to critical patients to save lives at local hospitals. Every public hospital, including upazila health complexes, has adequate arrangements to manage dengue patients," said Prof Ahmedul Kabir, additional director general (planning and development) of the Directorate General of Health Services at a press conference today.
The instruction was given at an online meeting today with all civil surgeons, upazila health and family welfare officers and other health officials working in different parts of the country.
Kabir said wasting time in transporting critical dengue patients to Dhaka was futile.
"This puts the life of patients at risk," he added.
He also said there is no shortage of normal injectable saline in the country.
"But some dishonest people are trying to create a fake crisis. We have instructed the civil surgeons to take actions against those involved in the malpractice," Ahmedul Kabir said.
Answering a question about cheating patients in the name of treatment at the intensive care units (ICUs), he said, "Many private hospitals are cheating patients for financial gain. We have instructed health officials to take stern action, including [imposing] fines and even detention with the help of law enforcement agencies."
In response to a query about patient exploitation within ICUs, he stated, "Numerous private hospitals are engaging in deceptive practices for financial gain. We have directed health authorities to take decisive measures, such as imposing fines and, if necessary, involving law enforcement agencies to ensure accountability."