Potato price keeps ticking up despite cap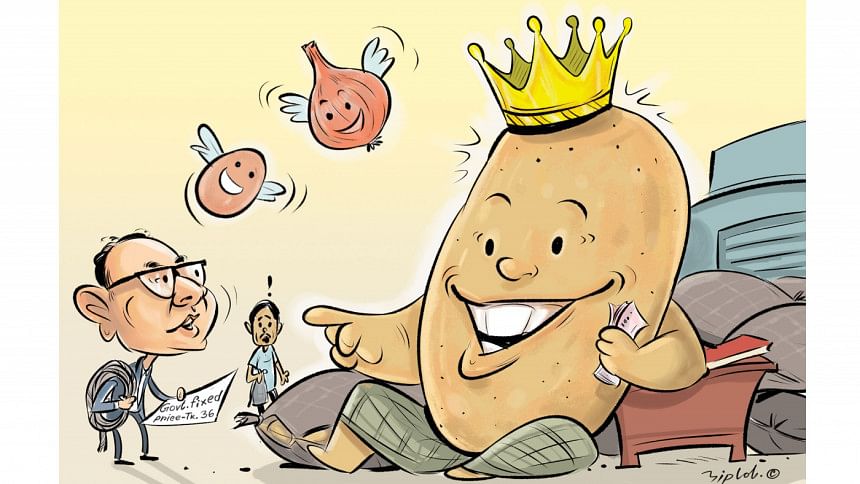 The price of potato went up further after the government on Thursday announced a price cap for the tuber and began market drives to check the soaring price of the tuber.
On Thursday, the government fixed the price of potatoes, long considered the cheapest staple on the dinner table, at Tk 35-36 a kilogram, after prices were going beyond the reach of the poor and the low-income demographic at Tk 42 to Tk 45 a kg.
Yesterday, a kg of potato sold for Tk 45 to Tk 50, the highest since October 2020, according to data from the state-run Trading Corporation of Bangladesh.
Wholesalers and retailers say that it is not possible to bring down the price of potatoes without increasing the supply.
"You cannot bring down the price in this way," said Mohammad Sabur, a wholesaler in Karwan Bazar.
Sabur has been able to procure half the quantity of potatoes that he normally does.
"This is why the price is rising," he said.
What cost Tk 2,900 last week cost Tk 3,000 yesterday, said Humayun Kabir, a retailer in the West Tejturi Bazar area at the capital's Farmgate.
He is selling potatoes, which he sources in sacks of 65 kg, at Tk 46-50 a kg.
"The price keeps rising at the wholesale level -- what can I do other than raise the price too? I bought a sack of potatoes last week for Tk 2,900. Today, I got the same sack for Tk 3,000," he said yesterday.
And it is unlikely that the price would be coming down any soon.
After the government announced the price cap, potato sales at the various cold storages in Munshiganj district, which accounts for about one-third of potato supplies, have almost stopped.
No one took out their potato from the cold storage in the last two days, said Abdul Malek, manager of Tongibari Cold Storage at East Mukterpur in Munshiganj.
"Maybe they are not able to sell their potatoes or did not want to," he added.
On September 13, potatoes from the cold storage were selling at Tk 36-37 per kg, said Mostafa Azad Chowdhury, president of the Bangladesh Cold Storage Association.
Three days later, the Directorate of National Consumers' Rights Protection instructed the potato traders to sell at Tk 26 to 27 per kg from September 17.
The traders say that they will incur huge losses if they sell at the price instructed by the DNCRP.
"For this reason, many businesspeople have stopped selling potatoes -- they are observing the situation," Chowdhury added.
Price control does not go with the concept of a free market economy, said Ghulam Rahman, president of the Consumers Association of Bangladesh.
"The government should create a formal supply chain. Then many problems will be solved and consumers will also benefit," he said, adding that the government's current steps are doomed to failure.