Subsidised Beef, Eggs: Relief to some of middle class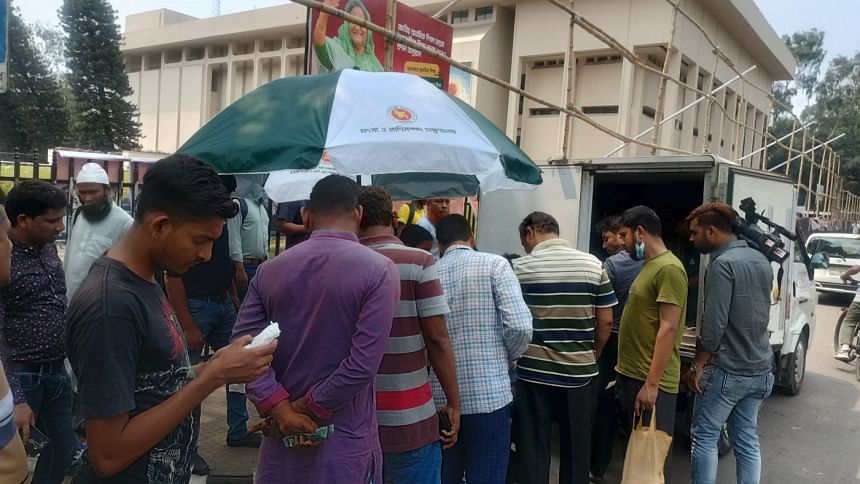 MA Khair Chowdhury passed the Segunbagicha kitchen market disappointed.
"It's quite impossible to buy daily essentials from the market due to the high prices."
He walked a few steps and then, in front of Segun Restora, heard about a van of the Department of Livestock parked nearby. He rushed to the spot and bought 1 kg beef and a dozen eggs from the refrigerated van.
He said, "I heard about these vans meant to provide goods to people with low incomes.
However, even those who seemed to have higher incomes were buying products from the van, because of the price hikes of the daily commodities, Khair said.
On the first day of Ramadan, the Department of Livestock started selling products at reasonable prices at 20 places in the capital. Beef can be purchased at Tk 640 a kg, mutton at Tk 940 a kg, dressed broiler at Tk 340 a kg, milk at Tk 80 a litre, and egg at Tk 10 per piece.
While visiting some points where cheaper milk, meat and eggs were being sold this morning, this correspondent spoke with people waiting to buy the products and found that there were more people with jobs and steady incomes than those with low incomes.
Although prices have been fixed at a rate cheaper than the market rate, they were still out of reach for most.
Mazedur Rahman, who works at the Ministry of Religious Affairs, has come to the mobile sales centre on the road opposite the Bangladesh Secretariat. He had planned to purchase chicken and eggs at lower prices but he returned home only with a dozen eggs and one kg of chicken.
Another Secretariat staffer, Kaizul Haque, bought 30 eggs, 1 kg beef and 1 kg chicken from the van. But he could not purchase mutton as the meat was sold out.
Md Jashim, a banker, was in the middle of the line at the Segunbagicha sales centre. He bought milk, eggs, and meat around 10:30am yesterday.
He said the beef was Tk 750 to Tk 800 outside. "It is a relief that we are getting the daily essentials here at a cheap rate."
Arohi, a housewife, said the way the prices of daily commodities have increased, it is difficult to manage the family's expenses. "Now, the family expenses will be reduced to some extent. I got milk, meat, and eggs. Everything seems fresh. Better than the market."
Masud Rana, the cashier of the sales centre opposite the Bangladesh Secretariat, said hundreds of people purchased products from the van yesterday.
"We sold 100kg of beef, 50kg of dressed broiler chicken, 1,500 eggs, 150 litres of milk and 20kg of mutton. We don't know who is rich or poor. I sell products to those who stand in line," he added.
The Department of Livestock will sell milk, eggs and meat at affordable rates at 20 spots in the capital, until the 28th day of the holy month of Ramadan.
The places where the items will be sold are Abdul Gani Road, Khamarbari, Japan Garden City in Mohammadpur, Mirpur's 60-feet road, Maternal and Child Health Training Institute in Azimpur, Noyabazar in Old Dhaka, Arambagh, Notun Bazar, Kalshi in Mirpur, Khilgaon Railgate, Lucas Mor in Nakhalpara, Kitchen Market in Segun Bagicha, Bosila in Mohammadpur, Diyabari in Uttara, Jatrabari, Gabtoli, Hazaribagh, Korail Slum in Banani, Kamrangirchar and Rampura.