'Pink eye' prevalence in the port city
Mostly children, their parents getting infected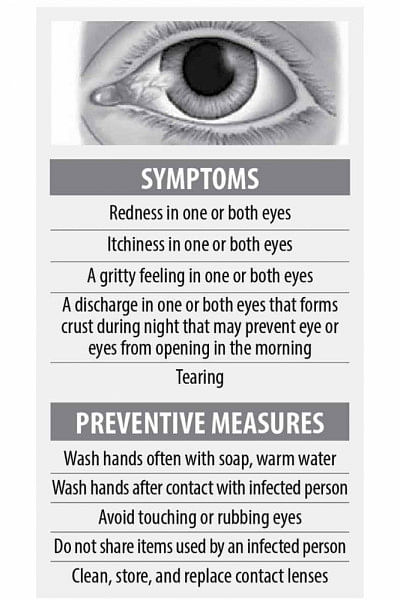 There has been a sudden increase in conjunctivitis (inflammation of the conjunctiva of the eye) patients in Chattogram city for over two weeks.
Children are seen to be infected mostly in the disease, popularly known as pink eye, making the guardians concerned.
Many are afraid of sending their children to school lest they should get infected by their classmates.
The infected are mostly receiving treatment at home, said sources.
According to Chattogram Medical College Hospital (CMCH), around 100 patients with  conjunctivitis are coming to the outpatient department of the hospital each day for the last couple of weeks. The number of patients was around two to three just a month ago.
According to ophthalmologists, conjunctivitis or pink eye is a medical condition when an inflammation or infection takes place in transparent membrane (conjunctiva) of the eye.
Doctors said the sudden increase is due to a viral infection. However, the good news is that most patients are being recovered within a week, they added.
Md Islmail, a resident of Sholashahar, said his daughter got infected with pink eye last week, and after two days, he himself had conjunctivitis.
Ismail said both of them got recovered in five days, after receiving primary treatment at home.
Palash Majumder, another guardian, echoed the same.
 Debugging an age old myth surrounding pink-eye, Prof Dr SM Tareq, former head of ophthalmology at CMCH, said, "Although the disease is highly contagious, just looking at someone's eyes does not contaminate the disease."
"Only direct contact with the infected eye can spread the disease," he said.
Dr Tareq said sometimes antibiotic drops are required for the treatment of patients to prevent them from secondary infection. Most patients get cured by primary treatment in house, he said.
Echoing the same, Dr Delwar Hossain, a consultant of ophthalmology at Chevron Eye Hospital Chattogram, said, "Every year this viral infectious disease is seen during summer but this time its has increased in autumn."