The dangerous rise of dengue
Twenty-four dengue patients have died so far in the country, of whom, 21 died in the last eight months.
The number of dengue cases was 6,257 till September 22, which is half the total number of infections this year, according to the Directorate General of Health Services (DGHS).
Among the deaths, 18 occurred in Cox's Bazar, four in Barishal, three in Chattogram and 21 in Dhaka.
Experts urged the authorities concerned to take immediate measures against the spread of the disease and identify and neutralise clusters of Aedes mosquitoes.
A monsoon survey of the DGHS, conducted between August 11 and 23, found the presence of Aedes mosquitoes in 13.4 percent of houses under Dhaka North City Corporation (DNCC) and 11.75 percent of homes under Dhaka South City Corporation (DSCC).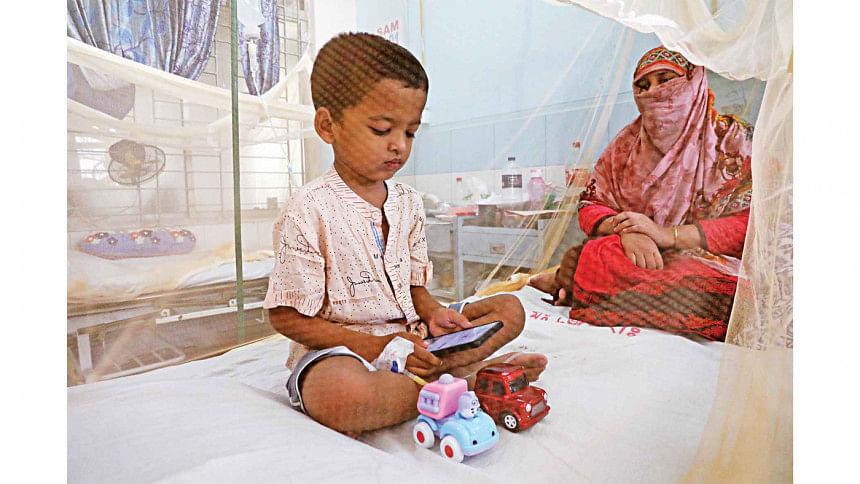 For the survey, a total of 1,319 households of 40 DNCC wards and 1,830 households of 58 DSCC wards were surveyed. It also found 13 wards under DNCC and 14 wards in DSCC to be highly risk-prone as the density of Aedes mosquitoes was found to be higher in those wards.
Entomologist Manzur A Chowdhury said dengue has already turned into an epidemic.
"It is claimed that Bangladesh is still in better condition compared to other countries when it comes to the dengue situation. But the reality is that many of our dengue cases remain unrecorded. In other countries, every single case is counted in the data," he added. 
Stressing the need for identifying the clusters, Manzur said the authorities will have to collect the addresses of dengue patients for identification purposes.
"They will also have to take effective measures within a 500-yard radius of the homes. This measure, called hotspot management, will be crucial in raising awareness," added Manzur.
Dr Md Ekramul Haque, deputy programme manager of malaria and ATD control programme at DGHS, said they have already sent dengue diagnosing kits to upazilas and asked all the hospital authorities to arrange separate wards for dengue patients if necessary.
He said the number of dengue cases this year is high in September due to the late rain.
"Many hospitals have already arranged for separate dengue wards. We have also directed the hospital authorities at district levels and in Dhaka to arrange for separate wards where the number of dengue patients is high," said Ekramul.
He also informed that they are going to conduct immediate advocacy programmes in this regard in 10 areas of the two city corporations.
Last month, DNCC Chief Health Officer Brig Gen Md Zobaidur Rahman said apart from their regular and special drives, they have purchased 30 boats to clean waterbodies and use insecticides properly.
The authorities have also introduced a "bell system", where mosquito-control workers use bells while spraying larvicide to improve monitoring and inform residents about the activities, he explained.
Md Abu Nasher, DSCC public relations officer, said apart from their routine anti-mosquito drives, they are taking different measures to control Aedes mosquitoes, including drives around houses of dengue patients.