$27b health budget in the works
The five-year health sector plan yet to be approved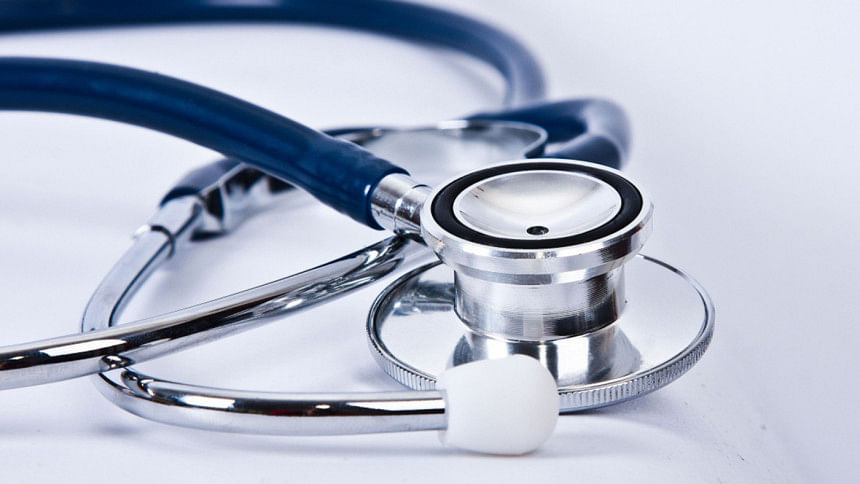 The government is preparing a $27 billion budget for the upcoming five-year health sector plan, up 52.5 percent from the ongoing programme that ends in June 2024.
The ambitious plan, centred on achieving universal health coverage with a special focus on urban primary health care and mitigating the impact of climate change on health, is slated for implementation in July 2024.
Tangible progress will remain elusive without a clear roadmap and effective coordination among different programmes within the health sector plan, according to experts.
"The upcoming health sector plan is crucial for achieving universal health coverage by 2030, but, like the current one, it lacks coordination among different components and a clear roadmap," said Syed Abdul Hamid, a health economics professor at the University of Dhaka.
The upcoming Health, Population and Nutrition Sector Programme (HPNSP), which would be the fifth of its kind, lacks a clear plan to tackle health emergencies like Covid-19 and the dengue outbreak or emergencies due to natural calamities.
"Covid-19 and the current dengue outbreak have shown us the necessity of special allocation for health emergencies. There should have been a separate operational plan for this," Hamid added.
All health sector programmes, including the current one, failed to improve access to health care for the lowest quintile of society, said Be-nazir Ahmed, health system expert and former director of disease control at the Directorate General of Health Services.
"This issue primarily stems from systemic gaps in our healthcare management. Consequently, funds are allocated and increased, yet discernible improvements in quality remain elusive."
He warned that without addressing the systematic gaps, the upcoming health sector programme will also fail to deliver any tangible outcome.
The proposal though is not final yet and is awaiting approval from the Executive Committee of the National Economic Council by the first quarter of the following year, The Daily Star has learnt from officials informed.
The proposal is being discussed with donor agencies for financial support, they added.
World Bank, a key partner in Bangladesh's healthcare endeavours, estimates the budget for this plan to range between $24 billion and $27 billion.
The government primarily finances the majority of the budget, with development partners currently contributing 5 to 10 percent in the form of soft loans.
Nevertheless, the government is actively engaged in discussions with the partners to secure additional funding.
Officials from the finance and health ministries have indicated that the development partners have expressed interest in providing more funds, potentially in the form of loans with higher interest rates.
The ongoing health sector plan faces a financing gap of $460 million, which needs to be addressed before its conclusion in June 2024, according to the WB, which has provided $550 million towards it.
Despite significant progress in the healthcare sector, Bangladesh still faces disparities in healthcare access and service quality, according to the WB report.
While the coverage of basic child immunisation increased from 85 percent between 2007 and 2017-18, disparities persist.
Access to antenatal care (ANC) remains unequal, with only 40 percent of pregnant women in urban slums receiving four or more ANC visits compared to 53 percent in non-slum areas in 2021.
Moreover, urban areas face unique challenges, with a growing burden of non-communicable diseases (NCDs).
In 2017-18, nearly half of older urban women had hypertension, and diabetes affected 13 percent of urban adults in 2018, with most unaware of their condition, according to the Bangladesh Demographic and Health Survey 2017-18.
Addressing these disparities and the growing NCD crisis is a critical aspect of the government's healthcare strategy.
Besides, densely populated urban areas in Bangladesh, especially Dhaka, face ongoing challenges with diseases like water-borne illnesses, dengue and Covid-19.
Dengue outbreaks, once controlled, have resurged in recent years, particularly in urban areas, exacerbated by limited disease and vector surveillance, alongside climate change and rapid urbanisation.
Besides, environmental issues like improper medical waste management and climate change's impact on public health further complicate urban healthcare.
In this context, the upcoming sector programme will contain a new operational plan to ensure primary healthcare to the urban population and address the climate change impact on health.
The project also aims to enhance collaboration between the Ministry of Health and Family Welfare and the Ministry of Local Government, Rural Development, and Cooperatives to ensure effective provision for urban primary healthcare services.