The Fourth Dimension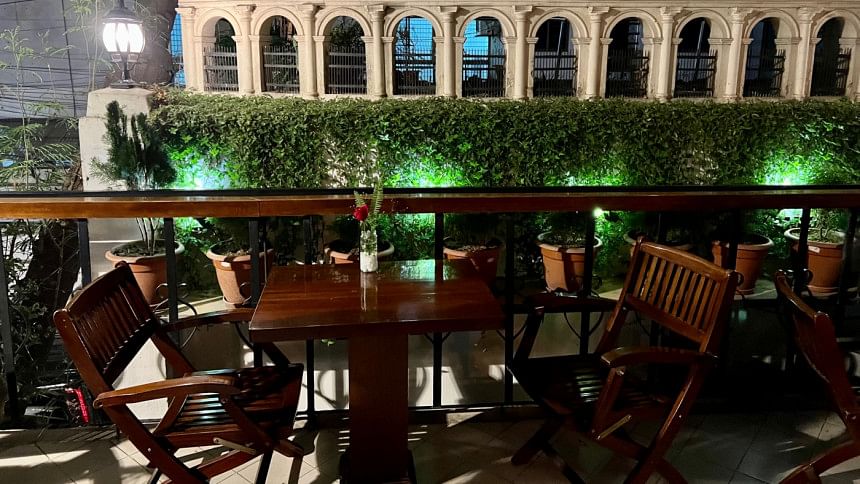 Tucked in a quiet corner behind the busy chatter of urban Dhaka, she is truly a hidden gem that speaks elegance and gastronomy in the same breath. It's like finding a cute little European family home that beckons the oft-finicky gourmet to a few tricks up her sleeve. You can easily mistake her for someone's house in Dhaka, and drive right past it.
To me, the best gastronomic experience stems from a combination of great food and a lovely ambience. Well, what about a third dimension? While many have enjoyed both, only a few perhaps dined in the presence of the person that owns everything on the menu and proudly rises to the demands of a discerning palate.
Our good friends invited us for dinner and seemed quite assured of our approval. This one, they said — with an air of omniscience — was a charmer. It looked like a romantic two-story cosy white house with a courtyard, and an L-shaped staircase leading to a small balcony that preceded the entrance. Instantly, she evoked the charm and warmth of Italy. I've always found the Italians to be very passionate in what they do, and she assured me that whatever she specialised in, she surely did it with style. It was like popping into a welcoming home where every little thing is cared for with a personal touch, waiting to be explored. I recalled a visit once to a Long Island tea shop with exotic brands of tea served in elegant tea cups in a homely setting in the company of books, music and flowers. That was more of a home than a shop. I don't quite know why I instantly thought of Italy, but she surely conjured up memories of that homey tea shop. Perhaps, I tried to associate my fond memories of Italy with her persona.  
The stairs gave way to a small balcony leading to a tastefully decorated room, which, in turn, connected to the others. The smallness of the place conveyed an air of exclusivity and elegance. A quiet hide-away from the boisterous disorder outside, she resembled a charming quietude. Another stand-out feature that caught my eye was the miniature façade of the Roman Colosseum, accentuated by white lighting, built right next to the quiet balcony where we dined. At another occupied table, a mild-mannered gentleman sat. He seemed to be chatting with his friend over dinner. As we stepped onto the balcony, he glanced at us and stood up to warmly greet us. Before we could speak, he introduced himself as the proud chef of the restaurant.
Faisal Aziz appeared ready to charm us with his culinary gifts. The indomitable curiosity in me prompted me to strike up a conversation with the man behind the façade.
What a coincidence! Never did I realize that the chef would be on hand to entertain us with what he had neatly kept in reserve for the most curious, lacing the cuisine with personal stories. Our entire dining experience that evening was greatly enhanced by a lively conversation with him and his alacrity to make us feel at home.
Faisal, a jazz aficionado, is quite a raconteur, for he lets out his stories just the way a magician does his endless tricks. He hails from Texas with impressive culinary credentials. At a young age, he extensively travelled from the United States to Italy, France, and Greece, where he learned his craft. Although a lifetime member of the American Culinary Federation and the Accademia Italiana della Cucina, certified as a Certified Executive Chef and a Chef De Cuisine respectively, he is mostly trained in Classical French and Mediterranean cuisines. He also has other prestigious certifications.  
He says his love for the Mediterranean heritage influences his cuisine because he spent a lot of time there as a student. He passionately talks about how his art was influenced, shaped, and perfected by his passion, and his mentors. He fondly talks about his towering mentors Chef Brandenburg, Chef Clemente Piccione, and of course his current one, Asheque, the designer of Raffinato. He has dabbled in many culinary techniques and traditions on the way to enriching himself. Now, he says his star in the kitchen is a boy he found in the slum in Dhaka whom he trained with all his heart. This boy, he says, can cook Italian better than many Italians he knows.
But this isn't where his expertise ends. He is also an accomplished pastry chef in his hometown of Dallas. When I told him that my wife also makes beautiful party cakes, he instantly invited her to his kitchen to bake a cake with them as his special culinary guest.
I started out with Bruschetta Muffuletta – grilled slices of crusty bread with olives and herbs, Tortellini in Brodo - a pasta soup, Panzanella – a Tuscan bread salad, and then slowly progressed with Salmone Grigliato con Spinaci e Patate al Parmigiano – a grilled Norwegian salmon fillet, Parmagiano di Vitello – a classic Italian veal dish, Pollo alla Griglia – a grilled chicken dish with zucchini, and of course Calamari Fritti – a fried Calamari dish, which is my obsession. All these dishes were scrumptious and bore signs of an artistic touch. Although I didn't order initially, Faisal insisted on having a fresh cheese ensemble adorned with cherry tomato and topped with a tasty sauce. It was truly delicious and reminded me of the quality of authentic tapas in Barcelona. We stuck around quite long to savour all that we could until it was late in the evening.
I fondly recall, not only the exquisite dishes, but also the personal accounts of artistry and passion behind them. Maybe, those stories make up the fourth dimension of a rich gastronomic experience. I realized, that perfection, after all, stems from the heart, not just from culinary training and skills. That caress of the heart? Well, that is the last mile that makes a dish truly great, and the experience unforgettable. Grazie, Faisal.