Challenges of being a sensitive man in the real world
You might think that living in an era of unprecedented empathy and sensitivity would be a sign of the rise of the sensitive man. Contrary to the situation, the realm of the sensitive man is still shrouded by doubt, unfair treatment, and stigma. Why though? Why is it that nice guys are destined to finish last? What makes being sensitive such an issue even in this modern society?
First, what does it exactly mean to be a sensitive man, you might be wondering? Put simply, you are processing a lot more information in our daily lives. You put more thought into an action or a word than someone else. You deliberate your actions/words a lot more and how they will affect others. And you are way more aware of the people in your surroundings and avoid stepping on toes for as long as possible. You simply care more, for the people and the environment around you.
Growing up in the '80s or '90s, you had to be careful (if you cared for your own mental peace) regarding whom you showed your sensitive side. At an early age, we were told to keep our heads up high, we must always be a monolithic statue, along with being assigned a possible future career as a lawyer, doctor, or engineer.
Even if you were not subjected to all that, the other guys your age probably were, and their influences and life views were just as impactful to you as your parents. Suddenly, you would realise that if you happened to be a sensitive guy at heart, you had to live a double life; being manly, detached and cool on the outside, but when alone, seeking out chicken soup for your soul, maybe through movies or music or art. And God forbid if you ever cried!
Asif, a 34-year-old banker, faced a similar situation growing up, saying, "I can't begin to explain to you how difficult it was to put a lid on my feelings. While my household never pressured me on these types of 'gender roles,' my friends, sadly, did.
"Growing up, if I were to try and have a heart-to-heart, or show concern for someone, those actions would be labelled as 'sissy' or 'meye der moto' (acting like a girl). Nowadays, in more dignified circles, you'd be cancelled outright. But make no mistake, these tendencies still persist, because some people were too deeply indoctrinated with the 'macho man' ideals."
Even though things are a lot better, the challenges facing a sensitive soul are still vast. But for the purposes of this article, let's condense these issues into more relatable scenarios.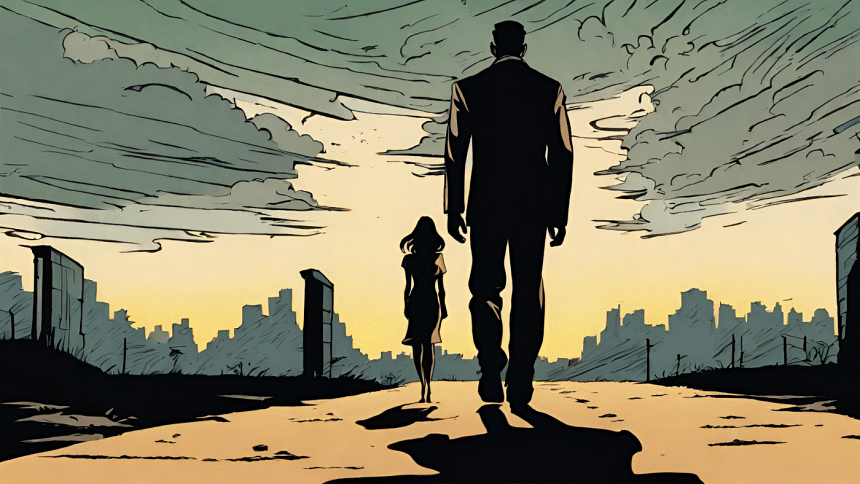 Relationships
In theory, with the correct partner, relationships should usually go well with sensitive men. However, not everything goes according to plan in the real world. Sensitive guys face tonnes of challenges in relationships. For one thing, they are sometimes extremely in tune with their emotions, which can be tricky for their partner.
Imagine feeling things extra deep, all the time. This can make it tough to navigate disagreements or handle tricky situations without getting overwhelmed. Also, being so tuned in to emotions can make it tricky to open up. They might worry about being judged or misunderstood, so they might try to bottle up those feelings, leading to more emotional turmoil, and ending up in a vicious cycle.
They are also paranoid about messing things up, constantly balancing on an emotional tightrope, trying not to step on any toes or say the wrong thing. This worry can sometimes make them hold back or avoid expressing themselves fully.
Sensitive men also find themselves often overthinking every move/action their partner makes in a relationship.  However, this constant analysis creates the impression of distrust in their partners. This can be exhausting for both sides. It needs to be understood that the overthinking comes from a place of deep caring and not from a lack of trust.
Career
We live in an era where we do not hide our light under a bushel anymore, we try to advertise our strengths to as many people as possible. This is not a narcissistic move; it is simply how workplaces operate these days. If you do not brand yourself and your abilities, management will usually gloss over you. And this is yet another challenge facing the sensitive man, as he would feel out of place talking about himself, leaving his team out.
They are also less likely to voice concerns for fear of causing unrest, or extra work on others. And all the while they are being nice, management would put them down as unable to take charge.
In the workplace, being tough sometimes gets a gold star, and sensitive people might struggle to fit in. Also, when it comes to criticism, even the constructive kind, it tends to hit them a bit harder. It's not that they cannot handle it; it's just that they take it to heart, wanting to do their best.
Mental wellbeing
For sensitive guys, it can often feel like riding a rollercoaster of emotions. They often find themselves battling negative emotions, ranging from mild blues to the deep, dark corners of their mind. Their extra processing of sensory input can also lead to overstimulation, landing them in places that are not ideal.
Seeking solitude — a common defence mechanism — can sometimes worsen the issue if there's no support to help tackle those thoughts. The need to figure things out alone might make them seem selfish, leading to isolation, frustration, and a feeling of not fitting in.
They often suppress their true feelings to avoid conflict, but this emotional hiding can snowball into mental health problems. Society's expectations of macho manly men and hiding emotions do not help matters either.
Anxiety is a frequent companion, causing worries about appearance, or social interactions. Mood swings, often concealed until they cannot be, become a common sore spot. Repressed anger can turn explosive, surprising both them and those around them. It's a constant juggling act of emotions that can leave them feeling hopeless, and others labelling them difficult or drama queens.
Challenges still persist for the sensitive man, but hope remains on the horizon, for it is not the sensitive man that has to change, society does. For now, we sensitive guys just have to work on making people understand the pros of being sensitive. It will need effort but I believe it's worth it.