A champion in the fight against climate change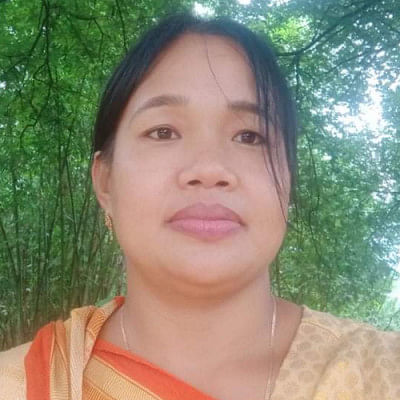 "My life was not easy. When I was only 17 years of age, my family married me off against my will. I wanted to go to school and finish my education, but the responsibilities of my husband's family fell on my shoulders. As a result, I was only able to study up to the eighth grade," said Shantona Khisa, now 38 years old.
However, she always possessed wit and sensibility that made her aware of her surroundings—both people and nature. Shantona possessed a strong voice against all injustices, particularly in the fight for women's rights in her community.
This led to her eventual appointment as the "Karbari" (traditional village head) of Ramharipara, Ghilachari Union, Naniarchar Upazila, Rangamati.
The hill tracts have seen massive deforestation, hill cutting, and other man-made environmental hazards, slowly pushing the nature of livelihoods of the areas' people into grave risks. This phenomenon deeply concerned Shantona, as someone who was just as close to the nature as her people. She realised how climate change had impacted her life for the last two decades and those of other women from her community. This realisation came particularly after an incident of a landslide that took the lives of 19 people in her area, including children.
Shantona wanted to work on these issues, and soon after, became a central committee member of the CHT Village Common Forest (VCF) Network and the secretary of CHT women headman (traditional mouza head) and Karbari Network.
As part of these two bodies, Shantona contributed to conserving natural forests and resources, monitoring VCF management, and protecting safe habitats for wildlife. She received several trainings, participated in workshops, meetings, seminars, conferences, dialogues, learning visits, and conveyed messages on deforestation and watershed conservation to her locality and beyond. To make a sustainable environmental impact, she developed sustainable VCFs and registered them under the Rangamati Hill District Council.
Even then, the fight was far from over. VCF's property was converted to personal property and sold by influential quarters with ill motives. This resulted in a decrement in the number of VCFs in Naniarchar from 15 to 8.
Shantona became vigilant, and kept monitoring the remaining eight VCFs. She disseminated conservation messages received from USAID and UNDP projects to VCF committees, and has been working even harder to register more VCFs under the network to conserve natural forest.
"In the future, I hope to continue helping people who are struggling with their lives. If I can help those who are helpless, provide shelter to the homeless, and give food to those who need it, then I will be happy," concluded Shantona.