Dream houses: 5 most beautiful houses of footballers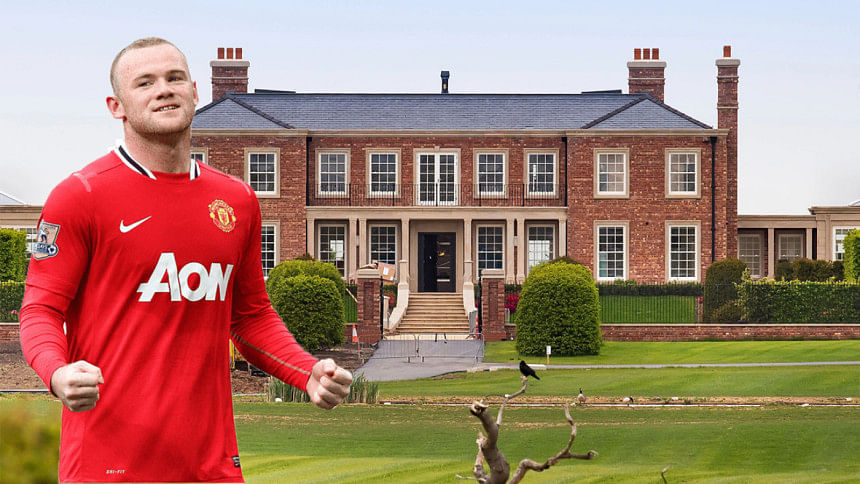 We know that football players work extraordinarily hard to reach the heights of success and the payment they receive for it often makes us feel extraordinarily poor. Not only do we swoon over their lifestyle, some footballers' tastes, as reflected in their homes, have left us speechless more than once. 
So, here are 5 most beautiful houses of footballers that make us wish we could live there:
Didier Drogba
Drogba's $21 million ivory mansion looks like something straight out of a big-budget Hollywood movie. Complete with seven bedrooms, a leisure complex with an indoor pool, and a wooden staircase spiralling through the middle of the house, this insanely beautiful 11,000 square-feet property is complete with a sports museum within itself. The absolute show-stopper of this house has to be the pool that opens up to a beautiful garden through bi-folding doors. 
Wayne Rooney
Yes, this Manchester United striker has been among the highest-paid footballers in the world for many years and clearly has the money to buy a palace anytime he wants. But that is not what landed him on our list. After buying the Cheshire Mansion for $6 million, Rooney invested his time, effort, and a huge sum of money to turn it into his own dream home. Currently standing on a market valuation of approximately $18 million, his home now includes a large indoor pool, a home theatre, beautifully landscaped gardens, and a sports museum. There is also a golf simulator inside the house. You know, just in case Rooney gets tired of winning too many football matches. 
Cristiano Ronaldo
People say that you can tell a lot about a person from their house and it could not be truer for Cristiano Ronaldo. The star Portuguese player's $7.2 million house is a breath-taking beauty, perfectly portraying the extravaganza in the true Ronaldo fashion. Featuring a whole 8000 square feet of elegance and class, Ronaldo's house consists of seven bedrooms, two swimming pools, a beautiful garden, and a trophy room for him to showcase all his awards. The architectural beauty of this mansion's interior is also presented through various reflective surfaces in the bedroom, living room, and dining hall that speak class and elegance like none other. 
Andres Iniesta 
Andres Iniesta is someone who manages to make a gigantic house look quite homely. The beautiful house was custom-built for him nearly ten years ago, with almost every corner of the house containing a personalised touch as per the player's requirements. His name and shirt number are featured on the exterior wall while his badges from Barcelona and Spain adorn other walls. 
The star player has five bedrooms, a large swimming pool, and a small chapel built inside the house, along with a line of A-class facilities at his disposal. 
David Beckham
Any list of luxury is incomplete without mentioning this iconic English footballer. Beckham and his family currently reside in a mansion befitting their royal image, with eight bedrooms, a spa, a gym, nail bars, and an indoor waterfall! 
The $65 million property has been dubbed the "Beckingham Palace II", with their previous estate in the British countryside to be known as Beckingham Palace I. Oh! And let's not forget David and Victoria's latest purchase, a countryside estate with ten bedrooms overlooking a land large enough to have 380 football pitches. A mic-drop moment for the Beckham pair, and a jaw-drop for us!