You are what you make
What if you could be tricked into revealing yourself through your work? While words could often conceal who we are, our work does not. Food may be as good as the compliment it gets. Or should I say, it's as good as the person making it with a personal touch?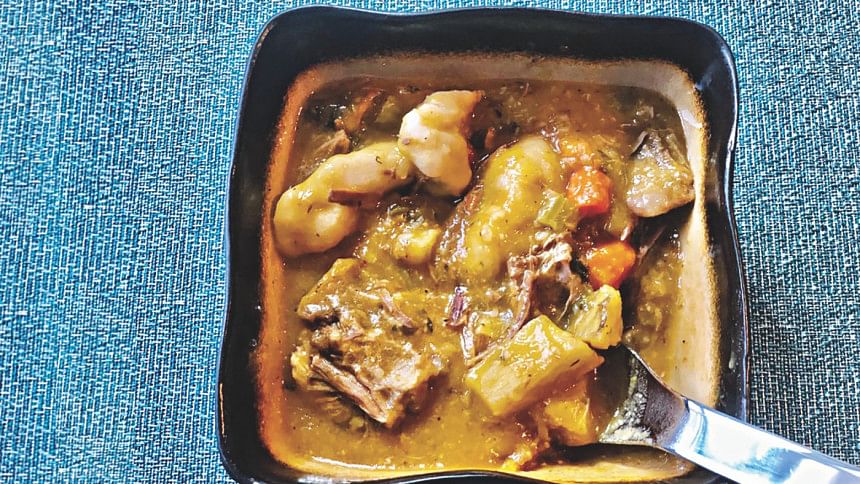 I believe this is when it rises to the level of a delicacy. Others might define a delicacy to be something rare, not common, or off limits because of price, or controversy. Truffles for the price, and foie gras for the controversy? But both are praised for their taste too.
Personal touches and stories associated with food can add to its taste. In my attempts to get to know peoples by — among other things — their food, I have discovered that the identity of a people is ingrained not only in its food, but also in how its preparation, because often the same food can come in varied tastes and flavours in different hands and cultures.
People proudly point to their cuisine as a means of identifying themselves, setting them apart. I see food as a way of self-expression.
When recently, my wife and her friend made the same cake, I could see their different dispositions so clearly— the main difference was in the way each decorated it, their personalities oozing out of the finished products. Having praised them, I surreptitiously mapped their personas to their products. It's just not the food, but them in it, the creator's truth showing through unwittingly. Such is the power of food!
As a food connoisseur, I challenge people to a stunning effect.
While teaching my son about former powers and their colonies, an interesting thought crossed my mind. Why not explore two delicacies related to a coloniser and its colony — one from France, the other from Haiti, a small former French colony? While the first one is about personal style, the second one is about history.
Macaron
Although this — a colourful round cookie — is synonymous to France, it actually originated in Italy. The Medici family brought it over to France through marriage to the king of France. It had been sold as a simple cookie for years, until a confectioner in Paris transformed it into what it is today, by coming up with a sort of sandwich configuration with ingredients of choice tossed in between. This opened up endless possibilities.
My wife having recently mastered the art of making macarons, was raring to go. I call it 'art' because of the passion and personal style she incorporates into them: the colour and composition of the dough, the choice of filling, and the presentation. Not easy to make, they sure can taste different depending on who is making them. Her style jumped out on me through her work.
Method
Powdered sugar and almond flower are combined into a fine mixture. Egg-whites are separately beaten to meringue-like consistency. Then the two are folded together to make a foam. The foam is piped and left to form a skin for about 45 minutes. It is then baked.
Two types of buttercreams can be used for the filling — egg yolk, granulated sugar, butter (French style); softened butter and confectionary sugar, milk and vanilla extract (American style).
French buttercream is very light, and smooth. It is selected for macarons for the rich and smooth texture.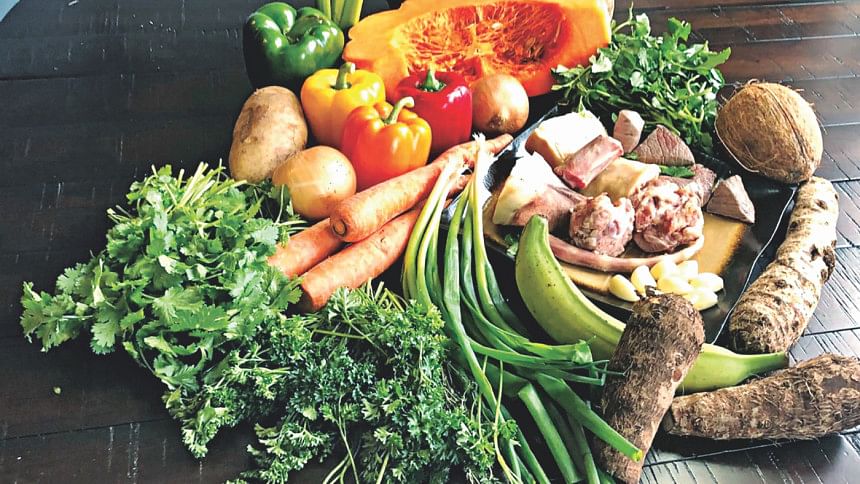 Soup Joumou
Gina, our friend from Haiti, always exudes positive energy. I had asked her to treat us to something unique that could bring out her passion, her roots. She obliged.
From the moment you step into her home, you get the unmistakable vibe of Haiti. Tastefully decorated with paintings and artwork, her home projects proudly showing her roots, as if to remind a visitor that this is a little piece of Haiti ready to be shared.
She offered Soup Joumou, a native soup all Haitians enjoy and take pride in. This is a soup that the Haitians have enjoyed every New Year's Day since their independence from France in 1804.
The French masters would refuse to let them have it, and so, when Haitians were finally liberated, their very first resolution was to embrace something that had been forbidden.
Soup Joumou is their soul. What better way to celebrate it?
Gina beamed with joy while preparing the soup, as if to make a point about her longing to share a story of her identity. It was celebrating freedom through a carefully orchestrated dish in her very Haitian kitchen.
Method
The soup makes use of beef chunks commonly used for stews (beef feet, ox tail); sometimes it is mixed with chicken.
All meat is cleaned with lime and rinsed. Then some water is boiled, poured over the meat, and it is left to sit for about 5 minutes. Green onions and garlic are then processed and added to the meat. The meat is cooked with salt, onions, hot peppers, cloves, thyme, and some lime juice until it is tender.
Squash is cut into big pieces with skin and then boiled to soften. Cooked squash is peeled and blended to a smooth consistency and set aside.
For dumplings, salted water is added to flour to make the dough firm enough, and rolled into sticks.
All vegetables are cut into small pieces, herbs are chopped to add to the cooked meat, along with the dumplings. The meat is then cooked with all ingredients — onions, bell peppers (red, green, orange, yellow), celery, garlic, thyme, cilantro, parsley, green onions, Scotch bonnet or habanero pepper, cloves, rigatoni, yellow yams, white yams, potatoes, green plantains, carrots, green cabbage, calabaza squash, or butternut squash, Yautia Lila, Yautia Blanca, salt — until they become soft and some seasoning is added for taste. 
I sampled both the above, and not only loved their tastes and presentations, but also appreciated the immense depths of artistry and personality of both the individuals expressed through the dish they prepared. They were both eager to show who they are through their work, but is it the food that I am more interested in, or is it the person behind it?
Photo: Arif Shahjahan