The march of a dreamer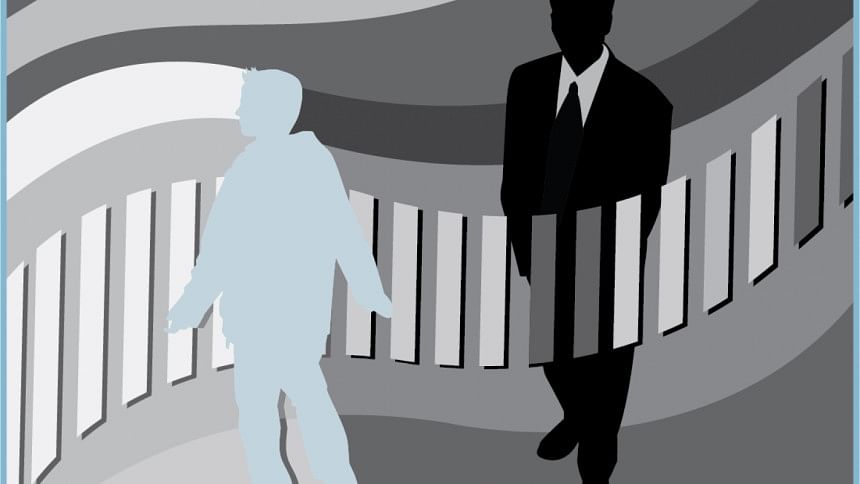 As I sip my smoking hot coffee in the flickering light of the fireplace, looking out the window, I feel the incessant rain has almost turned bland for my imagination. The rain has gone on for so long that she has lost her novelty, and is now just a drone, with only this song and my coffee keeping my senses up and running. That pendulum on the wall swings with endless monotony, trying to match the seemingly endless torrent. Perhaps I can't do much to stop this sway, but all my life, I've fought off its predictability. To me, a pendulum is a symbol of predictability that kills off imagination and the urge to dream. That ant is taking too long to cross the parquet floor, and each second seems like a minute. I am bored alright, even though I am humming to my favourite song. Another long second elapses, and then — all of a sudden — in this insensate ennui, I find something intriguing that is changing erratically; a dizzying array of droplets of water.
It's their very genesis and journey that piques my interest. I witness a splash, the birth of a new droplet, and follow it as it winds down the window pane, dodging some with intense skill, while joining the others playfully to get bigger, as if to never stop. One of them almost wanes, but suddenly joins another one and comes alive with a renewed glory. They are all relishing every moment of their unpredictable paths, eager to see what lies beyond. I flash a smile and sit up in my chair. By now, the embers in my fireplace have lost most of their glow. Nowhere is that more evident than in my fading shadow on the wall. I scurry to get some fresh logs to stoke the flame. I will not let the fire die on me because I want to witness this journey that reminds me of my very own.
Where have I seen these droplets before? Wait a minute! Not only have I seen them, but have also shared their enthusiasm with every fibre of my being — all my life. I ride the time machine, going through memory lanes to summon my moments that defied predictability and monotony.
Cricket has been my passion. I remember when I first played as an opening batsman, donning a white hat, and wielding my bat. I walked to the middle to a rousing reception and the warm applause, for which I had prepared painstakingly. The weight of this position was my motivation, the applause my inspiration, and the anticipation my driver. I was on a mission, not just to play out there, but to carry the innings forward with pride and finesse. Success would take me to the seven skies, and failure to the dungeons. The honour of the position psyched me up to rise to the occasion, and in the middle, a mission was launched as I sweated profusely. I could feel the tremor in my heart as the fielders got placed, and the bowler slowly walked down to his mark. My nervousness manifested itself in my fidgeting as I tasted my salty sweat. Every sound around me subsided and died down, and I could only feel the vibration now and see things in slow motion. I enjoyed the eerie calm because it was replete with anticipation. A few seconds elapsed. Then the moment came as the bowler pelted the new ball at me with ferocity and I was caught by surprise. The journey commenced and I was ready to roll. I didn't know how the next delivery would be, and the next — and that thrilled me to my core. There was no finality in my mind, there was only this anticipation. The next delivery was just a guess, a possibility. I could be out, but could also score a boundary. Failure would be scary, but my entire being was preoccupied with the thought of being in the middle for as long as I could. I was on stage and that's where I belonged. Every second was mine, and mine alone, and that mattered. 
Isn't life supposed to be like this; being in the middle, on stage, anticipating? I don't know how far I strayed, and for how long, but a struggling small droplet pacing down like a snail — unable to maintain the same speed and spirit — jolts me to the present. A deep sigh moves out of me. It's still marching ahead, but I sense a closure of some sort, a desperation. I appear unable to accept the slowdown that is so poignantly inevitable. As the words, "to boldly go where no one has gone before," ring in my ears, I know that the anticipation is greater than the journey, and the journey is greater than the destination. 
Meet my son. He has a tiny heart brimming with effervescence, and an even tinier smile. He's tinier than I am in every way, except one; he has boundless dreams in his eyes, much bigger than mine. There's this passion to break through. To my relief, he has not seen a pendulum, and the only thing he has known is that digital clock that moves forward to something unknown. His soul is blissfully free of any sense of destination as he craves the winding paths, to be surprised and to be challenged. That makes me joyful.
I don't divulge to him that there is still a boring pendulum lurking that will try to swing to one side and back in a repeating frenzy, and that he will have to fight it off all his life. With hope in my heart, I let him bask in the anticipation and keep the dream alive in his inquisitive eyes. He is not tiny after all.
I know no drama can last forever despite the bravery of the dreaming protagonist, and my sense of an eventual slowdown prompts me to cede control of the bridge, because my protracted stay at the command could only circumscribe his journey, cutting my own dream short. It is time to have him in me to keep going a minute longer, or maybe more.
The new captain stands ready to lead the starship without inhibition — and is devoid of all pre-conceived notions. He may ask me to remain on the bridge for as long as the last vestiges of my passion is alive. On this bridge, my goal is to keep him in me so that I am still a part of a new dream of exploring new frontiers in a way I never thought was possible.
As he orders warp speed ahead, I say, "Aye, aye Captain, warp speed engaged!"