New Thai PM sworn in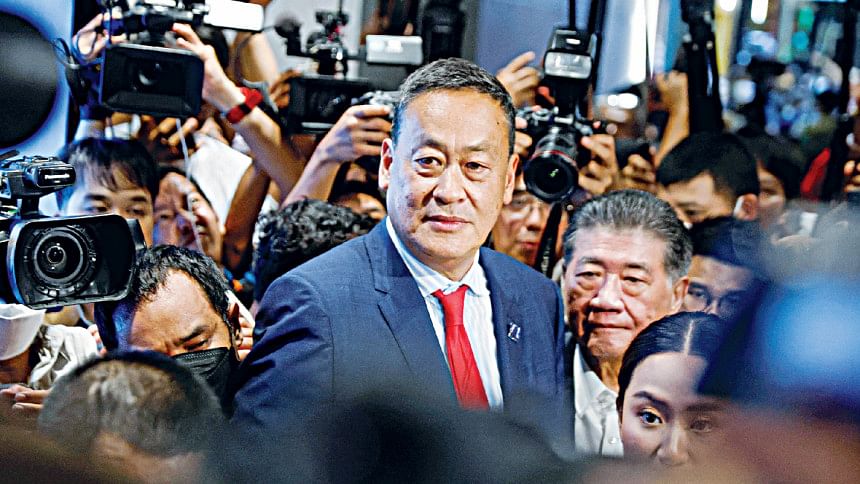 Thailand's new prime minister vowed to bring four years of change to the kingdom as he took office yesterday.
He will head a controversial coalition that includes pro-military parties linked to former coup-makers.
The appointment of former property mogul Srettha Thavisin -- of the Pheu Thai party long associated with billionaire ex-premier Thaksin Shinawatra -- ends months of political deadlock following May's general election.
The 61-year-old was confirmed by parliamentary vote on Tuesday, just hours after Thaksin returned to the kingdom from 15 years of exile and was immediately jailed on old graft charges.
Srettha received King Maha Vajiralongkorn's official written command to form a government in a ceremony at Pheu Thai headquarters at 6:00pm (1100 GMT).
"The good of the country is my highest priority. I am confident the next four years will be years of change," Srettha said after accepting the royal endorsement, pledging to work "tirelessly".
Outgoing prime minister Prayut Chan-o-cha -- a former army chief who overthrew the last Pheu Thai government in a coup -- congratulated Srettha and wished him luck.
Prayut suffered a heavy defeat in May's polls as the upstart progressive Move Forward Party (MFP) rode a wave of youth and urban discontent with nearly a decade of military-backed rule to win the most seats.
But MFP's push to reform royal insult laws and take on powerful vested business interests spooked the kingdom's elite and saw leader Pita Limjaroenrat blocked from becoming prime minister.
This opened the way for election runners-up Pheu Thai to build a coalition that includes Prayut's party and another linked to the generals who ousted Thaksin in 2006 and his sister Yingluck in 2014.
The last two decades of Thai politics have been coloured by the bitter tussle between pro-Thaksin parties and the kingdom's powerful pro-military and royalist establishment.
Thaksin was jailed for eight years on Tuesday, but the timing of his return, along with Pheu Thai's decision to share power with pro-military parties, has led many to speculate that a backroom deal has been struck to grant him leniency -- though the party denies it.
The former Manchester City football club owner, 74, was moved from a prison quarantine facility to a police hospital yesterday.
Thai media reported he had been installed in a private VIP suite on the 14th floor of the Police General Hospital, which overlooks an exclusive private members' golf course in downtown Bangkok.
Officials said he was suffering from multiple health problems, including heart trouble, and needed monitoring in hospital.
Loved by the rural poor for policies including cheap healthcare and the minimum wage, Thaksin is reviled by the kingdom's elite, who saw his 2001 to 2006 rule as corrupt, authoritarian and a threat to the Thai social order.
Pheu Thai's coalition shuts out MFP, and so despite winning the most seats, the party will sit in opposition, with leader Pita on Tuesday saying the coalition "contradicted the wishes of the people".
Srettha received congratulations from Indian Prime Minister Narendra Modi, Cambodia's new Prime Minister Hun Manet and the European Union's foreign policy chief Josep Borrell.