Thaksin Shinawatra: Thailand's divisive former PM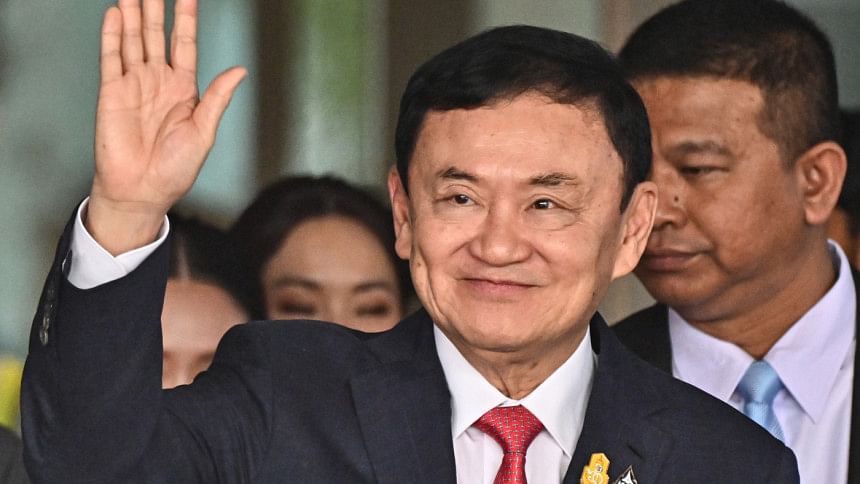 He was ousted in a coup 17 years ago and spent the last 15 of them in self-imposed exile, but Thailand's billionaire former premier Thaksin Shinawatra still casts a remarkable shadow over the kingdom's politics.
Loved and loathed in almost equal measure, the 74-year-old transformed Thailand's political scene in the early 2000s with populist policies that won him and his party enduring loyalty from the rural masses.
But that success came at a cost: he is despised by Thailand's powerful elites and conservative establishment who saw his rule as corrupt, authoritarian and destabilising on social order.
Ousted as prime minister by the army in 2006, Thaksin took himself into exile two years later but never stopped commenting and meddling in the kingdom's affairs.
He pledged repeatedly to return, and on Tuesday finally made good on his vow.
"He's the most divisive figure in the country," a trusted Thaksin associate told AFP on condition of anonymity.
"Nobody had ever stood up to a coup. Everyone (else) who was overthrown in a coup faded out and got out of politics. The guy is a fighter."
- Telecoms fortune -
Thaksin was born on July 26, 1949, into one of the most prominent ethnic Chinese families in northern Chiang Mai province.
He served as a police officer before amassing a vast fortune founding a series of data networking and mobile telephone firms that would become telecoms giant Shin Corp.
In 1998, he launched his own political party, Thai Rak Thai (Thais Love Thais), and was elected as prime minister in 2001, becoming the country's first premier to serve a full term.
With the Thai economy on its knees from the Asian financial crisis, Thaksin promised to use his business savvy to rebuild and lift poor rural villagers out of poverty with his "Thaksinomics".
His "war on drugs", which Human Rights Watch says resulted in around 2,800 extrajudicial killings, brought international condemnation.
He was re-elected in a landslide victory in 2005, thanks to huge support from rural voters grateful for cash injections and debt relief.
The following year he was dogged with corruption allegations and mired in controversy over the tax-free sale of Shin Corp shares.
Months of mass protests culminated in the nullifying of elections, and in September 2006 army tanks rolled into Bangkok and toppled Thaksin's government while he was at the United Nations in New York.
Despite his Thai assets being frozen in 2007, he purchased Manchester City football club and later sold it for a sizeable profit.
- Family business -
Thai Rak Thai was dissolved by court order after the 2006 coup but eventually evolved into the Pheu Thai party, which brought Thaksin's sister Yingluck to power in 2011.
Thaksin is seen by many as the true master of Pheu Thai, which came second in May's general election and is set to lead a new coalition government.
Yingluck laboured under claims she was a Thaksin stooge and eventually she too fell to a coup.
From exile in Dubai, divorced Thaksin regularly took to the Clubhouse social media platform under the moniker "Tony Woodsome" to address supporters in Thailand.
Over the past year he has thrown his weight behind his daughter Paetongtarn as she took up the Pheu Thai mantle and led the party's election campaign.
He is believed to be particularly close to Paetongtarn, 37, and has said his main motivation for returning to Thailand is to spend time with his grandchildren.
But first he faces the prospect of prison after being convicted in his absence in several criminal cases and sentenced to 10 years in jail.
After years of saying the charges were politically motivated, Thaksin now says he is willing to face justice -- though rumours have swirled of a deal for leniency and it is not clear how long he will serve.
The decision to return came after Pheu Thai made what many see as a Faustian bargain to go into coalition with military-backed parties -- including the ex-army chief who ousted Yingluck in 2014.
The deal has enraged some supporters.
"This is a betrayal for Red Shirts people who have fought against the establishment," Jatuporn Prompan, a former leader of the "Red Shirt" pro-Thaksin protest movement, told AFP.