Cases under DSA: 'It feels unreal to be free'
Says Khadija after walking out of jail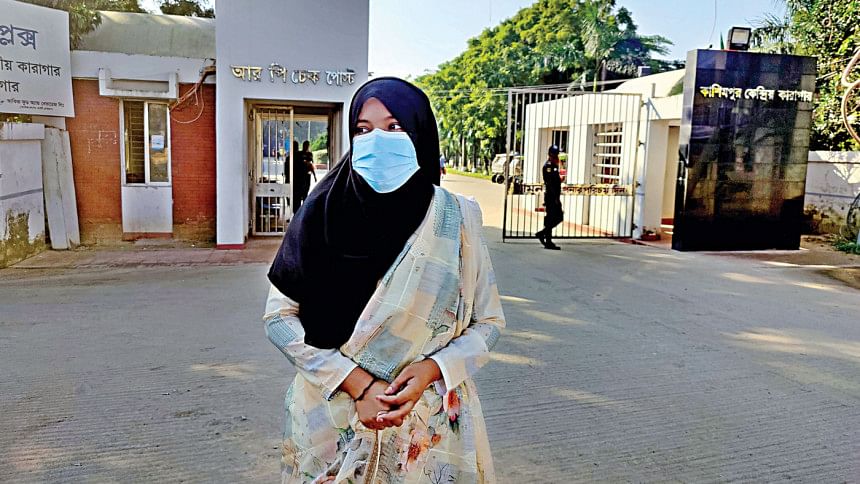 The phone number of Sirajum Munira, the elder sister of Khadijatul Kubra, a Jagannath University student who was in jail for over 14 months in DSA cases, flashed on the screen of this correspondent's mobile.
From the other end came the words: "Hello, it's me Khadija." Then a pause and she adds, "It feels unreal to be free!"
After six unsuccessful bail petitions, Khadija got out of the jail around 9:15am yesterday and was finally on her way back home in the capital's west Monipuri Para.
But not before serving time for an offence where the only prima facie evidence against her was the fact that she was present -- silently so -- in a webinar where another participant made contentious remarks about the government.
"I cannot explain to you what it will feel like to embrace my mother again," she said with palpable excitement.
They had met several times over the past 14 months as Khadija flitted in and out of the court for hearings. However, each time her hands were bound, or she was flanked by a horde of cops.
Inside the prison, meetings with family members happened with barricades in between and under the strict watch of the guards.
"There were women inside the prison who really cared for me, but nothing can be compared to the feeling of being able to embrace my sister right at the jail gate after getting out."
Khadija looked forward to eating the beef curry her mother cooked for her. It was a delicacy made on special days for the family, which runs on the meagre earnings of her migrant worker father -- a house staffer in Kuwait.
"But I won't be able to eat until the evening. I am fasting," said Khadija about a practice she developed in prison.
"Every day I prayed for a miracle. I used to fast only on Mondays and Thursdays. But I have been fasting every day from last month till November 16 [the day she was granted bail] and praying for this miracle."
After her bail pleas were repeatedly rejected by a lower court, the High Court granted her permanent bail on February 16.
However, the state immediately filed two petitions with the Supreme Court, challenging the bail order, which was then stayed by an SC chamber judge.
Later, Khadija sought justice from the Appellate Division, praying that the chamber judge's stay order be vacated.
But on July 10, her prayer was stood over for four months by a full Supreme Court bench, led by Chief Justice Hasan Foez Siddique.
The student received bail only after Chief Justice Obaidul Hassan took over the helm of the judiciary.
During the hearing, he had asked the lawyers how long Khadija had been in jail – and was visibly astonished when he heard the answer.
Khadijatul Kubra was arrested on August 27 last year after police pressed charges against her in two Digital Security Act cases, filed by Kalabagan and New Market police on October 11 and October 19, 2020.
The student was sued at the age of 17 for hosting the Facebook webinar, where guest speaker Delwar Hossain, a retired army officer, made the contentious remarks.
Although Khadija was sued as a minor, she had to undergo a full adult trial and incarceration.
Even after getting bail, her release was fraught with difficulties.
The jail authorities received the bail order finally on Sunday evening and though her family waited the entire day in front of the gate of Kashimpur Females' Central Jail, they had to return home without her.
Khadija's sister Munira said, "When we asked the jail authorities why Khadija was not yet being released, a police official came out and told us that they were waiting for clearance from other agencies and law enforcement units because the cases were under the Digital Security Act."
Barrister Jyotirmoy Barua, her lawyer, termed it a contempt of court.
A student of political science, Khadija went back to university right after being released.
While the law enforcers and the judiciary debated whether or not it would be safe to release her, all Khadija cared about was not failing out of college.
"My fourth-semester final exams are going on and I'm prepared for them. I sat for my statistics exams today and was able to answer three out of the four questions!
"I should be able to do better in the coming exams as I can study at home now."