15th amendment put an end to illegal power grab: PM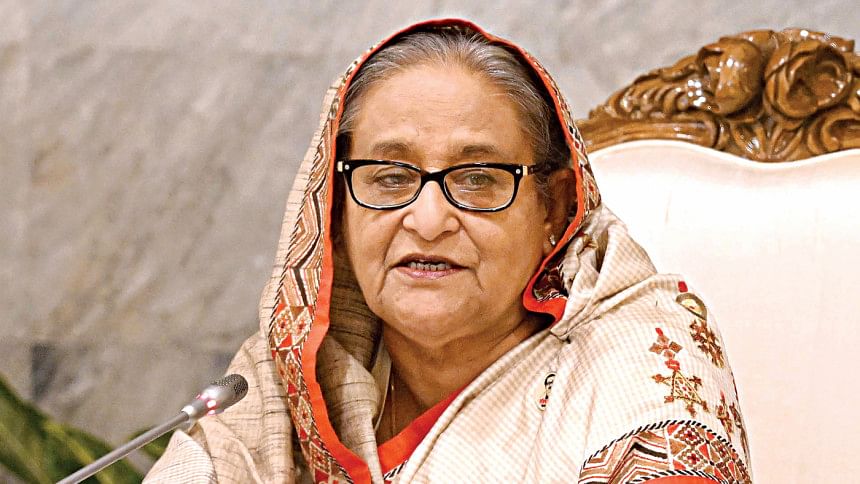 Prime Minister Sheikh Hasina yesterday said the 15th amendment to the constitution has strengthened the country's democracy and empowered the people to decide who will go to power.
"Stability has been prevailing in the country since the 15th amendment leading to the long-continued democratic process," she said.
The premier made the remarks while addressing the oath-taking ceremony of the newly-elected mayor and councillors of Rangpur City Corporation at her office in the capital.
The 15th amendment, passed by the parliament on June 30, 2011, made some significant changes to the constitution including the one that ended the illegal take-over of state power.
But, the empowerment of the people has become a cause of heartburn for a section of so-called intellectuals as they never come to power through people's votes, she said, adding that, they have been trying to disturb the democratic process time and again.
The PM reminded all that the Awami League government was the only one in the history of Bangladesh, which handed over state power peacefully on the completion of its 1999-2001 tenure.
She also mentioned that the transparent ballot box and preparing electoral rolls with photographs had been introduced in accordance with the proposal of the Awami League-led grand alliance to hold elections in a free and fair manner.
Hasina said the Election Commission has been constituted through a search committee as per a new law enacted by her government that has made it more transparent and accountable.
The government has given the EC full financial independence so that it can hold a free and fair election.
At the ceremony, the PM administered the oath to the new RCC mayor Mostafizar Rahman Mostafa, who was elected as a Jatiya Party candidate.
Besides, LGRD and Cooperatives Minister Md Tajul Islam administered oaths to the councillors including those who got elected from the reserved seats.
Jatiya Party candidate Mostafa won the mayoral race for the second consecutive term in the Rangpur City Corporation elections held on December 27 last.