Budget not for common people
Say speakers at CPD Budget Dialogue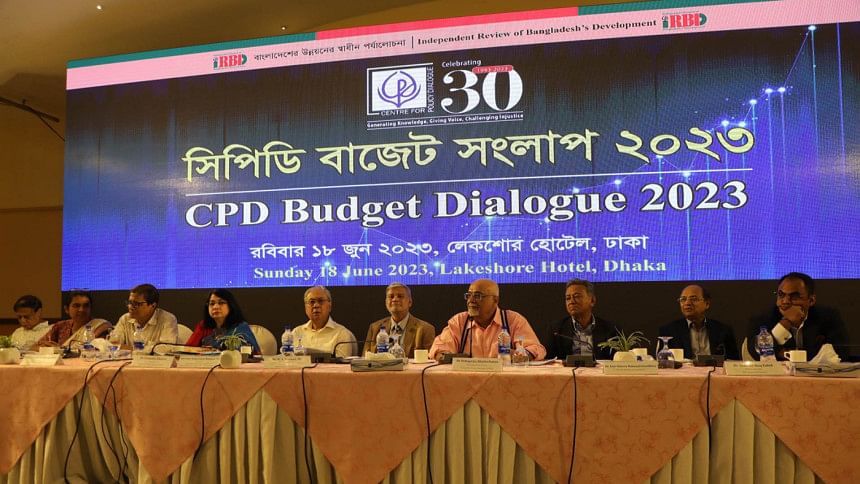 The members of parliament are not adequately involved in formulating the national budget even though they are an integral part of the parliament, Jatiya Party Co-chairman Anisul Islam Mahmud said yesterday.
Even some ministers were not consulted before the budget was prepared, said Anisul Islam Mahmud, chairman of the parliamentary standing committee on the ministry of expatriates' welfare and overseas employment.
The prescriptions given by the International Monetary Fund about various reforms in the financial sector were discussed for over 10 years now but we did not listen to them. Instead, the dollar exchange rate was artificially maintained stable for 10 years and now the rate has drastically jumped as a result, said Mahmud while speaking at the CPD Budget Dialogue-2023 at a hotel in Gulshan yesterday.
Ministers, members of parliament, political leaders, economists, labour leaders, researchers and officials from different non-governmental organisations participated in the discussion expressed their views on the budget for the next fiscal.
CPD's Distinguished Fellow Debapriya Bhattacharya moderated the discussion while the keynote speech was delivered by CPD Executive Director Fahmida Khatun. Planning Minister MA Mannan was present as chief guest.
Raising questions about whom this budget is intended for, BNP Standing Committee Member Amir Khasru Mahmud Chowdhury said that this government is all about favouring the rich or those who help this government stay in power.
The macroeconomic stability has been broken down due to wrong government policies and the high inflation was created because of the government's artificial exchange rate over past 10 years. The government printed Tk 75,000 crore taka, which also aggravated the inflation, he said.
Most of the large loans in the banking sector are politically linked and a large amount of money from the Export Development Fund (EDF) was not returned and a section of people siphoned off the money from the EDF, he said.
MA Mannan said if anyone can prove that the Awami League government is doing anything violating laws, they can go to the court. He reiterated that the incumbent government has ensured good governance at all levels.
The proposed budget for the fiscal 2023-24 is unscientific, non-political and bureaucratic as it doesn't reflect people's expectations, said Debapriya.
Such a budget is not expected ahead of the general election, he added.
M Shamsul Alam, energy adviser of the Consumers Association of Bangladesh (CAB), called the economy as a predatory one.
Kazi Nabil Ahmed, MP, member of the parliamentary standing committee on finance ministry; Ahsan H Mansur, executive director of PRI; Shamsul Huq Zahid, editor of The Financial Express; professor Shamsul Alam; Naser Ezaz Bijoy, president of Foreign Chamber of Commerce and Industry (FICCI); Barrister Sameer Sattar, president of DCCI; and Taslima Akter Lima, president of Bangladesh Garments Sramik Sanghati, among others, spoke at the event as panel discussants.