'You're the man who brought glory for Argentina'
PM tells Martinez during the Argentina goalkeeper's courtesy call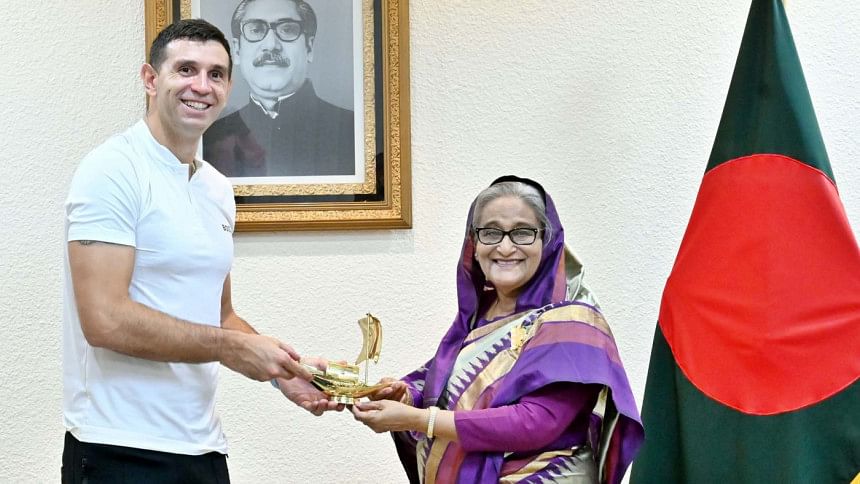 Emiliano Martinez, Argentina's World Cup-winning goalkeeper, paid a courtesy call on Prime Minister Sheikh Hasina at her office in the capital today.
During the meeting, the PM appreciated the Argentine footballer for his performance that contributed to winning the 2022 Fifa World Cup title. "You are the man who brought glory for Argentina. I wish you all the success," she said.
PM's Press Secretary Ihsanul Karim briefed reporters after the meeting.
Hasina said football is the most popular game in the world and Bangladeshis are very crazy about the game.
Mentioning her family's passion for sports, she said, "My father and grandfather were footballers."
The PM said her government has been constructing upazila-level mini-stadiums across Bangladesh to promote football and other games.
Emiliano Martinez, the Golden Gloves winner of the 2022 World Cup, has become overwhelmed after knowing that Bangladesh has a huge fanbase of Argentina football.
"I am very happy to be here and happy to know that passion for football among Bangladeshis," he said.
Satadru Dutta, an Indian organiser and founder of "A Satadru Dutta Initiative", and Santiago Liotta, lawyer and Martinez's personal manager, were among the visiting delegation members.
LGRD and Cooperatives Minister Md Tazul Islam, PM's Private industry and investment adviser Salman Fazlur Rahman, State Minister for LGRD and Cooperatives Swapan Bhattacharjee, State Minister for Foreign Affairs M Shahriar Alam, PM's Principal Secretary M Tofazzel Hossain Miah, Sheikh Helal Uddin MP and Sheikh Tonmoy MP were present.