71 years on, frosty relations continue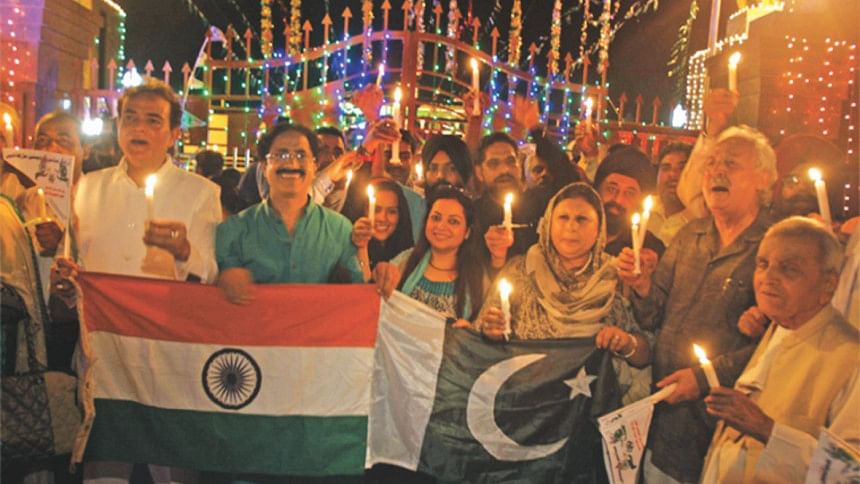 It was August 12, 1947, three days before India became free. My father, a practicing doctor, summoned us, the three brothers, and asked what our plans were. I told him that I wanted to stay in Pakistan just as the Muslims would in India. My elder brother, who was studying medicine at Amritsar, intervened to say that Muslims would ask the Hindus to vacate the house in West Punjab just as the Muslims living in East Punjab would be asked to leave. I asked how that could be possible if the Hindus did not agree to quit. He replied that we would be forcibly ousted.
This was precisely what happened. On August 17, two days after the independence of India, some Muslim gentlemen came to us and requested us to leave the house. I asked one of them, "Where will we go?" He gave the keys of his house at Jalandhar and said we would not have to do anything because his house was already well-furnished and ready for occupation. We declined the offer.
But after they left, all of us sat around the dining table to decide on our future. I told them that I was staying back in Pakistan and they said they would be going to Amritsar and come back once the disturbances were over. We agreed that we could be back, at the most after a month. My mother remarked when she was locking the house that she had a strange feeling that they were not coming back. My elder brother agreed with her.
I packed a shirt in a blue canvas bag and departed, saying that we would meet at our maternal uncle's place at Darya Ganj in Delhi. My mother gave me Rs 120 to sustain myself until we met in Delhi. My father had made my journey easier. He told a brigadier, who was his patient, to take his three sons across the border. He said he had no space in his Jonga and could accommodate only one of us. The following morning, I was pushed into his vehicle. I could not conceal my tears and wondered whether we would all meet again.
The journey from Sialkot to Sambrawal was uneventful. But from there, caravans full of people from either side—the Hindus moving to the Indian side, and the Muslims to the Pakistani part—were on the move. Suddenly, our Jonga was stopped. An old Sikh stood on the way and begged us to take his grandchild to India. I told him politely that I was still studying and would not be able to carry his grandson, however fair his request was.
The old man said that he had lost all his family members and the only survivor was his grandson. And he wanted him to live. I still recall his tearful face but I had told him the facts. How would I bring up the child when I myself was not sure about my future? Then we moved on. And, as we travelled, we could see luggage scattered all over but the dead bodies had been removed by the time. The stench, however, was very much in the air.
At that time, I promised myself that I would try to foster good relations between the two countries. That was the main reason why I started lighting candles on the Wagah border, a process that began some 20 years ago. It was a small movement with just 15-20 people to begin with. Now roughly one lakh people on this side and the people of Pakistan, though in limited number, have joined the cause. 
Peoples' enthusiasm knows no bounds. But the governments are in the way. There is curfew in the entire area and one has to take permit to reach the border. I have written to Home Minister Rajnath Singh to instruct the authorities, both Border Security Force and Central Reserve Police Force, to allow us to reach the zero point, where the steel gates check the movement into either side, for lighting candles.
This exercise is confined to a few individuals. I wish that the border could be made soft and the situation became calm so that the enmity between the two countries is banished. I was on the bus that Prime Minister Atal Bihari Vajpayee rode to Lahore. There was bonhomie on both sides and I thought that the trip would resume a regular exchange of trade, joint ventures and people-to-people contact between the two nations.
But I feel disappointed when the barbed wires on either side of the border prevent people's passage into each other's country with so much of visa restrictions. In the past, intellectuals, musicians and artists could meet and hold joint programmes. But today, even that has stopped, with the governments showing rigidity in issuing visas. There is practically no contact, official or even non-official.
Pakistan's new Prime Minister-designate Imran Khan has said in an interview that he would ensure trade and business. My only worry is that his proximity to the army may not allow him to carry out his promises. But maybe, the army angle is being exaggerated. It also wants to have peace because it's their men who have to fight the war and all that it entails.
The sticking point is that the decision in India is taken by the elected members of parliament unlike in Pakistan, where the army has the last word. That's where the problem comes. Whether or not Imran Khan will be able to convince the army top brass is difficult to imagine.
New Delhi should make an effort—but it has adopted a harsh stand not to negotiate with Islamabad until Pakistan stopped providing shelters to the terrorists and punished those who were instrumental in the Mumbai blasts. Imran Khan should take the initiative, keeping in view India's demands for any cordial relations between the two countries.
---
Kuldip Nayar is an eminent Indian columnist.
---
Follow

The Daily Star Opinion

on Facebook for the latest opinions, commentaries and analyses by experts and professionals.
To contribute your article or letter to The Daily Star Opinion, see our

guidelines for submission

.
---