Virginia senate recognises Bangladeshi-owned Washington university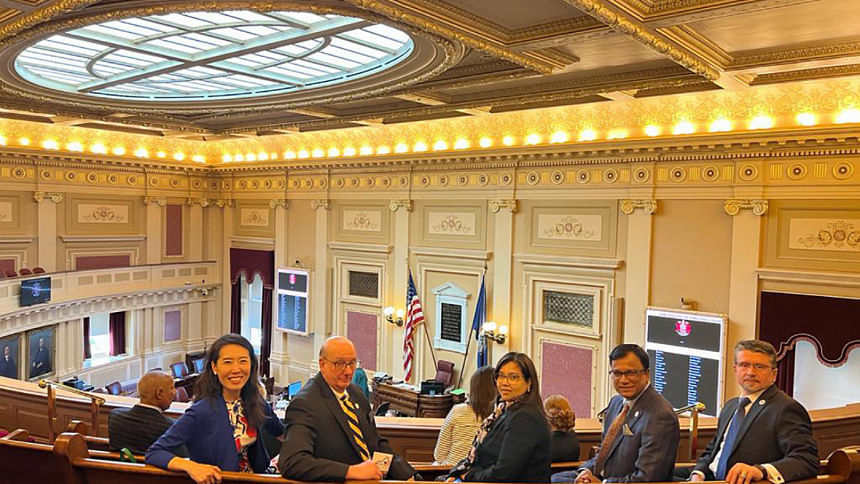 Washington University of Science and Technology (WUST) has been recognised at Virginia state senate assembly.
Virginia's Fairfax State Senator John Chapman Peterson on January 18 lauded the activities of the only Bangladeshi-owned university in the US at their senate general assembly where state senators from 40 districts were present, according to a WUST press release.
The assembly, headed by Lieutenant Governor Winsome Earl Sears, greeted WUST with big rounds of applause.
Praising the university, Senator John Chapman Peterson said it has been making contributions to technology and skills-based higher education.
A six-member delegation, led by WUST Chancellor Abubokor Hanip and President Hasan Karaburk, attended the event.
Farhana Hanip, CFO of the university, Prof Mark Robinson, director of The Business School, Yuan Lee, assistant director, General Education and Center for Student Success, and Nayeem Hasan, a student representative, were also part of the delegation.
Established in 2008, the university's ownership changed hands in 2021 when Abubokor Hanip took over.
In 2021, Abubokor Hanip began the journey with 300 students. Within two years, the number of students increased to more than 1,200.
US citizens and green card holders are now choosing this university as their place of study, said WUST authorities.
Later, in a reaction, WUST Chancellor Abubokor Hanip said, "Every work is expected to be recognised. The name of Washington University of Science and Technology has come up in the state assembly as recognition. This will provide new impetus to our way forward.
"When all state senators and other guests were clapping for our university in the assembly hall, I felt proud to be a part of it. The scene will be remembered for a long time," he added.
"It was a memorable day for the Washington University of Science and Technology in Virginia, USA," said Hasan Karabark, president of the university.