Biman plans to expand business, aims yearly turnover of Tk 9,500cr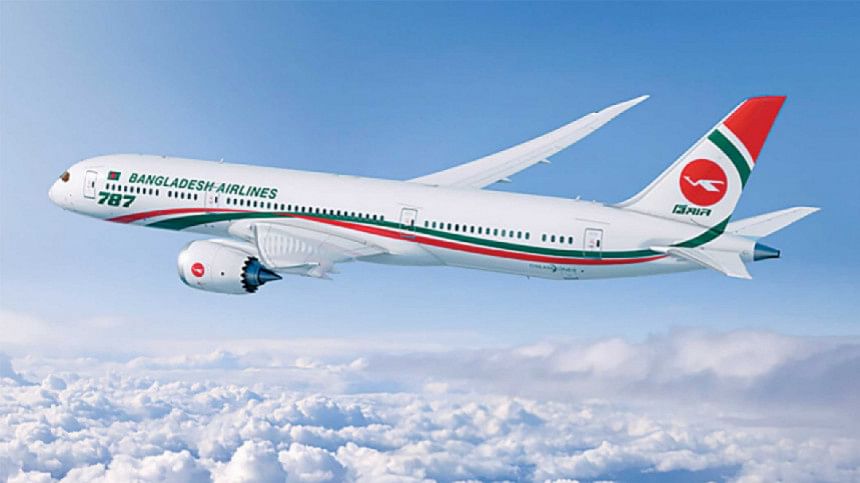 Biman Bangladesh Airlines has planned to expand its business in a bid to make a yearly turnover of Tk 9,500 crore from the current turnover of Tk 6,650 crore, Biman Managing Director and CEO Zahid Hossain said today.
"We want to establish and run Biman as a commercial entity like 10 other commercial airlines. Running Biman as a commercial entity is now the biggest challenge," he said while speaking at the "Meet the Press" programme at the Biman's headquarter at city's Kurmitola.
The Biman boss said the customer service and luggage handling services of the national flag carrier is not at the expected level. "There are opportunities to bring improvement in the quality of customer service of Biman."
"Why will people buy our tickets if we cannot provide them services according to their expectations? There are 10 other airlines in the market. We will have to compete with those," he also said.
The Biman MD said, "We will get more passengers if we can improve the quality of customer services," he added.
All pilots and cabin crews have been asked to bring changes in their behaviour with passengers on board.
He said at present the national airliner makes yearly turnover of USD 700 million. "But we want to increase it to USD 1 billion by expanding our business."
Zahid said, "In a bid to expand our business, we will make the optimum use of our existing fleet of 21 aircraft. Biman will expand its routes in different new destinations including the USA. We will also increase the number of flights on different demandable routes."
LUGGAGGE HANDLING
On the much talked about issue of poor service quality in luggage handling, the Biman MD said ground handling services of Biman at the Hazrat Shahjalal International Airport is not at the expected level due to several limitations.
He added that the situation has improved in recent days.
Zahid Hossain expressed regret due to delay in getting luggage at the HSIA.
"As the chief executive officer, I am responsible for that. I won't blame others."
The Biman MD said there is a shortage of manpower in the ground handling services as there was no recruitment in this section for long.
"We are hopeful to start the recruitment process to fill the manpower shortage," the Biman MD said.
GOOD RESPONSE IN TORONTO ROUTE
About Biman's newly launched Toronto flight, Zahid Hassain said they are getting good response from passengers on this route and around 250 passengers on an average are travelling on this route.
He also said around 70 to 80 transit travelers of India and Nepal are flying to Toronto on Biman's flight which is a good sign.
On the demand of providing alcohol by a section of passengers in the Toronto flight, the Biman said they are thinking of bringing diversification in the inflight entertainment system and food menu. He, however, denied to elaborate in this regard.
On the issues of back to back accidents in front of the Biman's hangar in April and June at the Dhaka airport, Zahid said supervising failure is responsible for those incidents.