Japanese firm will run HSIA 3rd terminal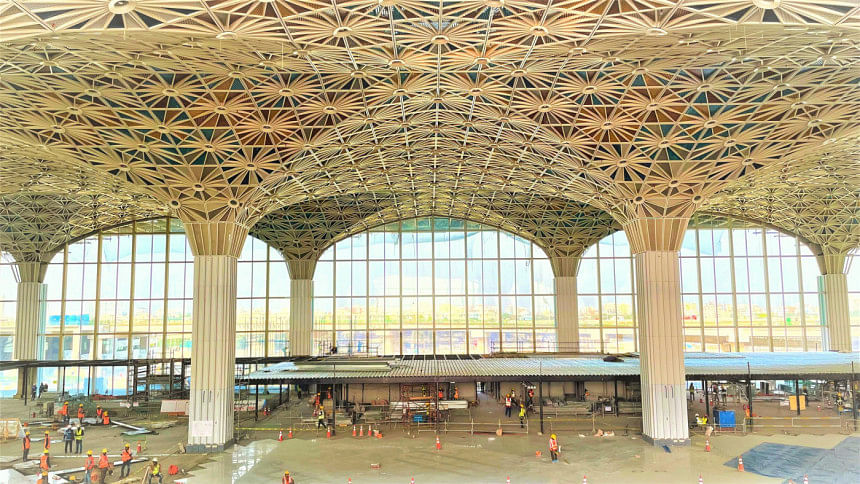 A Japanese company will be appointed to operate the third terminal of Hazrat Shahjalal International Airport, and the job will include ground and cargo handling, said the Civil Aviation Authority of Bangladesh (CAAB) yesterday.
CAAB Chairman Air Vice Marshal M Mafidur Rahman said this at a dialogue organised by Aviation and Tourism Journalists Forum of Bangladesh (ATJFB). The event, held at the HSIA, was moderated by ATJFB President Tanzim Anwar.
Though the Japanese company will be in charge of terminal operations, the administration, security, immigration and customs services will be provided by officials and employees of government agencies, CAAB officials told this correspondent after the dialogue.
CAAB recently appointed Japanese consulting firm Nippon Koei to determine how an operating company would run the terminal, how profits and expenditures would be shared, and who would be responsible for what, sources said.
Several domestic and foreign companies have shown interest in operating the third terminal.
The government in January approved in principle that the third terminal would be operated and maintained under a public-private partnership.
Currently, Biman does the ground and cargo handling in all eight airports of the country.
Ground handling is a major source of income for Biman as it earns around Tk 1,500 crore yearly.
Amid widespread dissatisfaction over poor luggage-handling services, CAAB decided to outsource the job to a company that can deliver international standard services and serve passengers in the best possible way.
The construction work of the third terminal is about 77 percent completed, and its partial opening is expected to be in October.
The terminal building is already visible. At the moment, the interior designing and installations of various equipment are going on in the building.
The terminal, the construction of which began in 2019, is expected to be fully functional by 2024.
The construction will cost Tk 21,399 crore, with 70 percent of the funding coming from the Japan International Cooperation Agency.
The three-storey and 2.30 lakh square-metre terminal building will be built by Japan's Mitsubishi and Fujita, and Korea's Samsung.
Around two crore passengers will be able to use the HSIA every year following the construction of the third terminal.