Kidnapped, tortured abroad: PBI arrests 8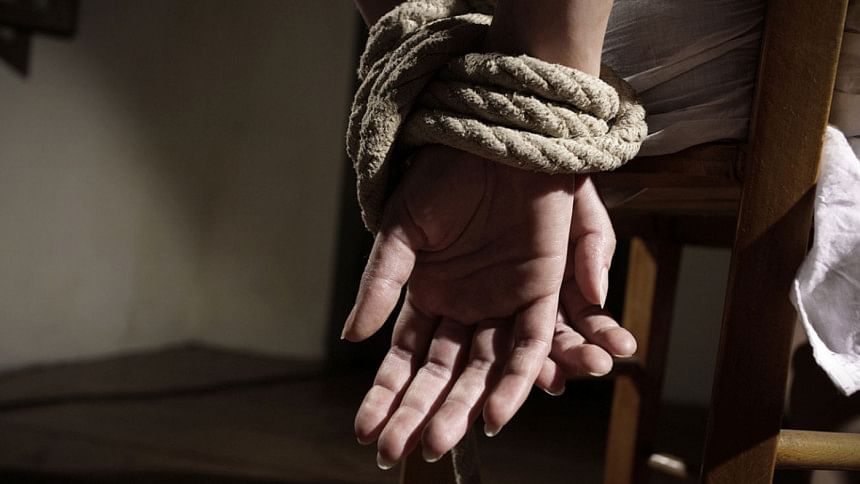 Moslem Molla, 30, of Dhaka's Nawabganj area, went to Iraq for work back in 2016, hoping to make himself a fortune. While living there, he met another Bangladeshi called Selim Mia in 2021. Selim enticed Moslem with dreams of a better job, but then handed him over to a gang of kidnappers.
The gang locked Moslem in a room, snatched away US$ 2,000 and an iPhone from him. They then tortured him, captured videos of the torture and sent them to Moslem's family, demanding Tk 7 lakh as ransom from his mother Khateja Begum.
Initially, Khateja transferred Tk 6 lakh using MFS to the family members of the kidnappers who were in Bangladesh. However, they did not release Moslem and instead demanded Tk 3 lakh more. At that point, Khateja filed a case with Nawabganj Police Station.
While investigating the case, the Police Bureau of Investigation (PBI) arrested eight cohorts of the kidnappers from Barishal, Gazipur, Munshiganj, Narayanganj, Magura and Khulna districts, at various times between September 2021 and August 2023.
The arrestees are -- Ali Hossain, 49, Md. Shamim, 25, Shirin Sultana, 35, Mohammad Gharami, 51, Rabiul Gharami, 24, Shahida Begum, 52, Shahnaz Akhtar Lipi, 38 and Md Akbar Sardar 55.
Speaking at a press briefing at PBI Headquarters in Dhaka, Superintendent of Police, Qudrat-e-Khuda today said after Moslem's abduction, the criminals used the IMO app to show the scene of Moslem's suffering to his mother. She transferred a total of Tk 6 lakh, over 26 transactions, to 12 BKash numbers as specified by the kidnappers.
PBI identified the captors in Iraq as Anwar, Shahnewaz, Ruhul Amin, Monir, Hasibur, and Sabbir.
Despite the fact that they were located in Iraq, their family members residing within the country managed to withdraw the ransom funds using various bKash agents and their personal bKash accounts, he said.
Moslem, who was present at the press conference, said, "They locked me within a room in a house. There were three other victims besides me in that room. All of them were shackled and tortured.
"Those whose families paid money were tortured relatively less," he said.
Moslem said that one day he managed to escape by opening the shackles while in captivity. Then he returned to Bangladesh.
The PBI official said that Shahnewaz is the ringleader of the kidnapping gang and that there are multiple cases pending against some of the accused.
Among the eight arrestees, six of them gave confessional statements under section 164, admitting their involvement in the incident.