Malaysia labour market: 2 agencies get 'recruitment approval'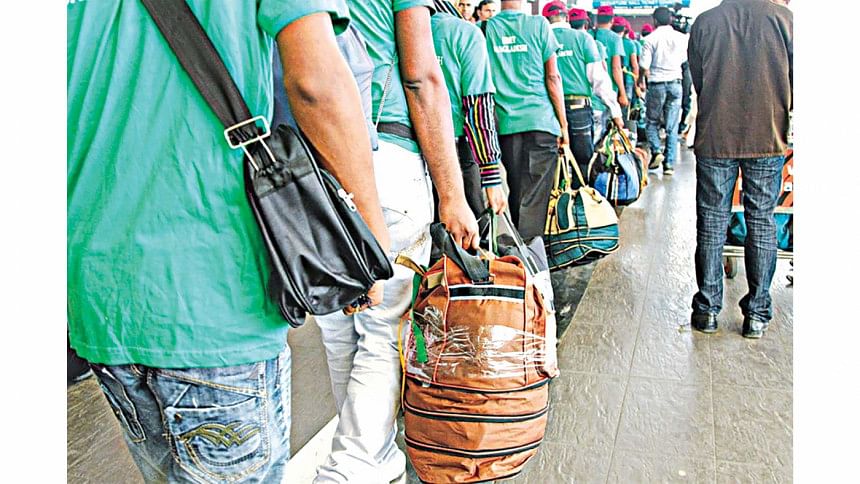 The government yesterday gave recruitment approval to two agencies for sending migrant workers to Malaysia amid allegations of attempts to create a "syndicate of 25 agencies".
The two agencies -- Ahmed International and Amial International -- got the approval based on their submissions in this regard to the expatriates' welfare ministry.
The proprietor of Ahmed International is Benjir Ahmed, a ruling Awami League lawmaker from Dhaka-20 and former president of Bangladesh Association of International Recruiting Agencies (Baira).
Benjir's agency got the approval for sending 15 factory workers to Lifong Furniture Sdn Bhd, according to an employment permit paper uploaded on the ministry's website.
Amial International got approval for sending 180 factory workers to two separate companies -- 150 workers to Aspic Industries Sdn Bhd and 30 workers to Kurnia Sejati Sdn Bhd.
Contacted, Secretary of Expatriates' Welfare Ministry Ahmed Munirus Saleheen last night said they gave the recruitment permissions in line with the ministry's due procedure after necessary documents were attested by the Bangladesh High Commission in Malaysia.
Asked how many agencies will get the opportunity to send workers to Malaysia, he said the ministry does not know the number yet. "We have sent a list of 1,520 agencies to Malaysia. They will ensure fairness in selecting the agencies," he told this newspaper over the phone.
As per a memorandum of understanding, Malaysia is entitled to select Bangladeshi recruiting agencies whereas the expatriates' welfare ministry gives recruitment approval to agencies based on their submissions of documents for sending workers abroad.
Bangladesh and Malaysia signed the MoU in December last year in Kuala Lumpur that lifted a moratorium on labour import imposed by Malaysia in 2018 over allegations of malpractices and irregularities by a 10-member "syndicate" of Bangladeshi recruiting agencies.
However, sending of fresh migrant workers has been delayed amid allegations raised by Baira members that a section of them have been trying to create a "market oligopoly" by creating a "syndicate" of 25 agencies.
According to sector insiders and media reports, both Ahmed International and Amial International are part of the 25-agency syndicate.
This correspondent last night called both Benjir Ahmed and proprietor of Amial International Shah Jamal Mostafa over phone for comments regarding the matter.
None of them received the phone calls.
As per the ministry's employment permit papers issued to the agencies, the migration cost at Bangladesh end will be Tk 78,990 for each worker.
Besides, the agencies have to select workers from the database of Bureau of Manpower, Employment and Training.
The workers' monthly wage will be 1,500 Ringgit while migration cost including levy and airfare incurred at the Malaysia end will be borne by the respective employer.