Migrants' jobs in UAE: Bangladesh wants more work visas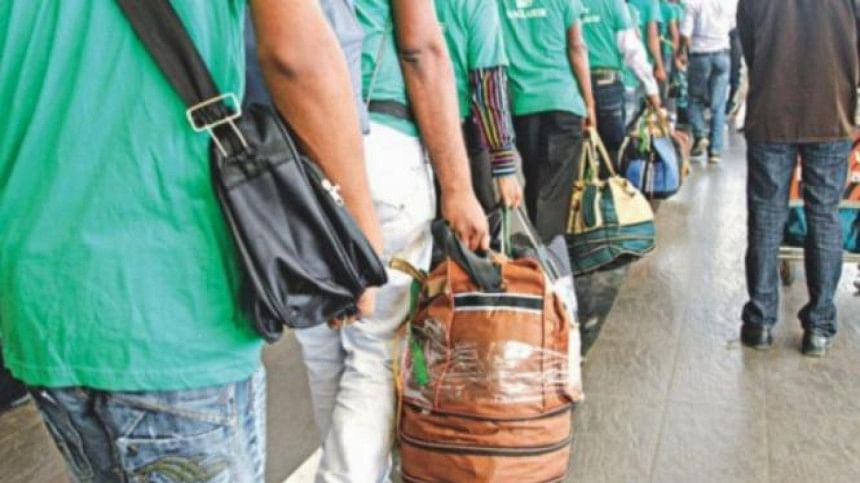 Bangladesh wants the UAE to increase the number work visas for its citizens in the Gulf country as the figure has dropped significantly in recent years.
A proposal in this regard was put forward at the Bangladesh-UAE Second Foreign Office Consultation, held in Cox's Bazar on Thursday, said foreign ministry sources.
Foreign Secretary Masud Bin Momen led the Bangladesh delegation to the meeting while the UAE side was headed by its Assistant Minister for Economic and Trade Affairs Abdul Nasser Jamal Al Shaali.
"Many Bangladeshis now travel to the UAE on visit visas, but a large number of them returns home after failing to change visit visas into work visas," a foreign ministry official told The Daily Star yesterday.
Therefore, he said, the Bangladesh side requested the UAE to issue more employment visas.
From 2006 to 2012, Bangladeshis secured over 2 lakh jobs each year on average in the UAE. Between 2013 and 2020, the figure went down to between 1,082 and 25,271, shows data of the Bureau of Manpower Employment and Training (BMET).
In 2021, the number was 29,000 and this year so far the figure has crossed last year's.
The foreign ministry official said jobs in the UAE are on the rise, but most of the Bangladeshis go there on visit visas. As many of them fail to change their visit visas into employment visas, Bangladesh favours issuance of more work visas to its citizens.
According to an estimate of the Bangladesh mission in Abu Dhabi, about 8 lakh Bangladeshis now stay in the UAE.
SM Shaon, an expatriate Bangladeshi investor in Dubai, said it was good that there was an arrangement for Bangladeshis' travel to the UAE on visit visas and changing those into employment or investor visas.
"However, majority of the Bangladeshis coming here on visit visas fail to arrange jobs. Only the skilled professionals are able to do it. This leaves many Bangladeshis incurring financial losses," he told this correspondent over the phone.
It would be great if the UAE authorities issue employment visas for low-skilled Bangladeshi workers, Shaon said.
During Thursday's Foreign Office Consultation in Cox's Bazar, officials of the two countries took stock and reviewed all aspects of bilateral, regional, and multilateral cooperation, including enhanced commerce and trade, UAE investment in Bangladesh's exclusive economic zones, and human resource development, according to a foreign ministry statement.
The two sides discussed collaboration on food security, energy and power, civil aviation, blue economy, and climate change. They also touched on roadmap for future cooperation, including high-level visits to mark the Golden Jubilee of Bangladesh-UAE Diplomatic Relations in 2024.