Dedicated centre for migrant workers in works
Says expatriates' welfare ministry secretary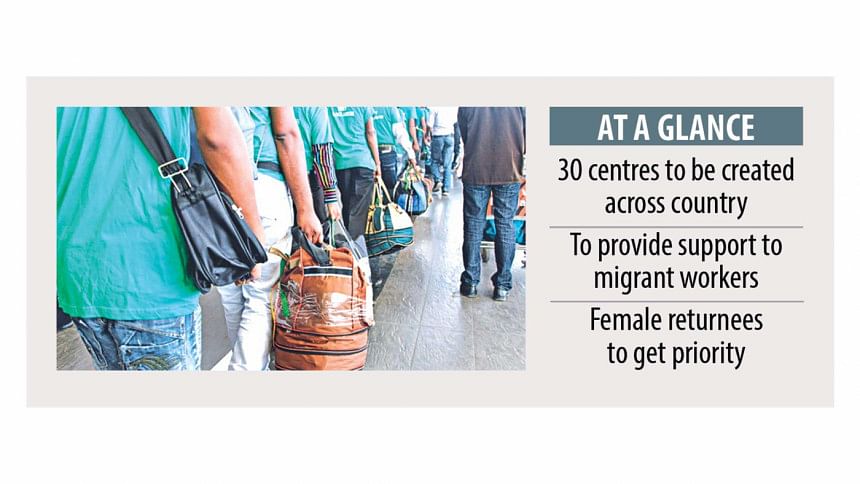 The government will build a dedicated centre to provide support to both outbound and home-bound migrant workers, said Expatriates' Welfare Ministry Secretary Ahmed Munirus Saleheen yesterday.
"Whether female or male, if they wish to stay at the centre before departure or after arrival… accommodation will be arranged," he said.
The secretary was talking to reporters at the ministry, marking a project agreement between the government and the World Bank.
He said they will build the centre near Dhaka airport, hoping to open it this year.
He added that they are working to develop a type of standard operating procedure to determine, among other issues, whether migrant workers can avail accommodation at the centre by paying a fee or for free.
At a programme on October 17, Expatriates' Welfare Minister Imran Ahmad said around three acres of land near the airport have been arranged for the centre.
Under the World Bank-funded project, about two lakh returnee migrants, who came home amid the pandemic, are expected to be benefited. The project will be implemented by the wage earners' welfare board (WEWB).
Secretary Saleheen said under the project, about 30 welfare centres will be created across the country to ensure migrant workers' wellbeing.
Each beneficiary will receive Tk 13,500, he said, adding that besides the cash support, the beneficiaries will be provided with various services regarding their reintegration.
An official of WEWB said female returnees will get priority under the project.